printer friendly version
Analogue to HD for industrial estate
September 2014
Industrial (Industry)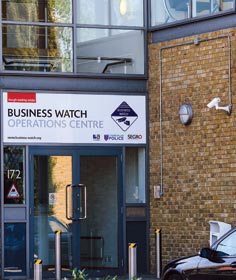 Video technology by Dallmeier provides security for a massive industrial estate in West London: Slough Trading Estate has relied on Dallmeier for many years, and when it was decided to modernise the installation the company has again confirmed its faith in the German manufacturer's products.
The Slough Trading Estate is the largest industrial estate in Europe under single ownership. It extends some 500 acres and has 687 482 m² of business space. It has a diverse community of over 400 companies from small retail units, food outlets, high tech IT data centres, multinational mobile telephone providers and the famous Mars chocolate factory.
Business Watch Scheme
The Slough Trading Estate Business Watch Scheme was founded in the mid-1990s for the purpose of tightening up security on the estate, in response to the growing incidence of break-ins and thefts, mainly from vehicles. The programme also included a CCTV installation, the benefit of which was felt immediately, and accompanied by a marked decline in criminal activity. By 2002, video security equipment was providing coverage for the whole estate.
All the cameras on the Trading Estate are monitored 24/7 by SIA licensed operators who over the years have received a number of awards for their professionalism and dedication to their work. They are supplemented by an out-of-hours mobile patrol that provides a visible deterrent to those with criminal intent and reassurance to those who work and visit the estate. This patrol responds to the needs and concerns of the estate community, from attending suspicious incidents reported through the control room, to monitoring anti-social behaviour which sometimes occurs on the periphery of the estate, where they observe and report until a police presence arrives.
The close working partnership between Business Watch and Thames Valley Police is such that the Slough Trading Estate is the only privately owned estate that has a Police Airwave (TETRA) radio within its control room and its own call sign on the net. This is a unique relationship. The police are able to view images directly into their own control room.
New Business Watch Operations Centre
With the evolution of the successful security regime and the advance of modern technology, Slough Trading Estate, now known as SEGRO, has invested £500 000 in new premises for Business Watch. Advance Security UK, a nationwide provider of security services including manned guarding, mobile, key holding and alarm response, was tasked to design and deliver a relocation and upgrade of the control room that also included the delivery of a Dallmeier SeMSy solution.
The control room went live in November 2013, and has been renamed the Business Watch Operations Centre to reflect that it is more than just a control room. It is the centre of operations, as the name suggests, and Advance Security UK has been awarded the contract to provide the operators at the Business Watch Operations Centre, besides providing the ongoing support for all electronic security for all of SEGRO's estate.
Modernising the video system
The video system from Dallmeier has been operational for 10 years now, with considerable success, as Business Watch Manager Jim McLaughlin explains: "SEGRO has had a relationship with Dallmeier for many years. This has included recording systems not only on the Slough industrial estate but also on many remote sites throughout the UK."
With the inauguration of the new Business Watch Operations Centre, it was decided that the video system should also be modernised. SEGRO prepared a shortlist of several manufacturers, and tested them all thoroughly, recounts Jim McLaughlin. "Throughout the selection process, Dallmeier proved to offer not just the best quality images, live and recorded, as had been the case across the estate, but also proved the flexibility and future proofing of their video management system, SeMSy, and also of their emerging, high quality IP-HD camera range. This and their comprehensive knowledge of IP networking were key factors in the process of choosing the right manufacturer, namely Dallmeier."
Upgrading to HD cameras
Until that time, the entire industrial estate was monitored by a system of just under 200 analogue cameras. Now, selected areas were to be equipped straight away with IP-HD cameras – with the option to replace the remaining analogue cameras gradually with HD network cameras.
For this, SEGRO uses high-speed PTZ cameras from the Domera range and high-resolution box cameras with integrated infrared illumination depending on the requirements of the deployment area.
Images are recorded on Dallmeier appliances, the VideoNetBox and DLS 1600 with Smavia recording server. Both recording systems are capable of recording from both analogue and IP cameras. This means that they are ideal for SEGRO, because the upgrade to exclusive use of network cameras can be carried out incrementally, and the recording systems can continue in use in the future.
One of the most useful functions of the Dallmeier recorders for SEGRO has always been the PRemote transmission method, with which even HD and megapixel streams can be displayed using limited bandwidth. "The Dallmeier unique transmission method PRemote has allowed Business Watch to provide the same level of service to our 14 remote locations as is given to the main Slough Trading Estate," explains McLaughlin.
For more information contact Dallmeier Southern Africa Office, +49 941 8700 209,  [email protected], www.dallmeier.com
Further reading:
Accelerating your Zero Trust journey in manufacturing
IT infrastructure Cyber Security Industrial (Industry)
Francois van Hirtum, CTO of Obscure Technologies, advises manufacturers on a strategic approach to safeguarding their businesses against cyber breaches.
Read more...
---
A robust OT cybersecurity strategy
Editor's Choice Cyber Security IT infrastructure Industrial (Industry)
Cyber experts are still struggling to convince senior management to spend money to protect their control system assets, resulting in a lack of even basic measures to protect control systems.
Read more...
---
Driving reliable wireless security
Elvey Security Technologies Perimeter Security, Alarms & Intruder Detection Industrial (Industry) Products
Ajax wireless technology provides reliable system to provide uncompromising perimeter intruder detection for security at vehicle manufacturing plant.
Read more...
---
Functional safety, cybersecurity protection on 32-bit MCU
Industrial (Industry)
The PIC32CM JH microcontroller is a 512 KB Flash, 5 V, dual CAN FD device that delivers premium features typically only available on more expensive, higher-performance devices.
Read more...
---
The current and future state of smart OT security
Technews Publishing Industrial (Industry) Cyber Security IT infrastructure
Nearly 60% of survey respondents also revealed that their organisation suffered at least one OT breach during the past 12 months, with 10% experiencing four or more.
Read more...
---
Cyber resilience is more than security
Industrial (Industry) Cyber Security IT infrastructure
Kate Mollett, regional director at Commvault Africa advises companies to guard against cyberattacks in the shipping and logistics sector using an effective recovery strategy.
Read more...
---
Optimised people, processes and technology
Industrial (Industry) Integrated Solutions
When embarking on an industrial digitisation project, it's important to consider how people, processes and technology will work together and complement the other.
Read more...
---
Powder coating provides durable finish
Turnstar Systems Access Control & Identity Management Industrial (Industry)
Turnstar's powder coating line provides corrosion resistance, high-quality surface finishing and a long-term environment-friendly impact for all access control components the company manufactures.
Read more...
---
Preventing cyberattacks on critical infrastructure
Industrial (Industry) Cyber Security
Cyberattacks have the potential to disrupt our lives completely, and in instances where critical national infrastructure is attacked, they could disrupt the country's entire economy, leading to loss of life and livelihoods.
Read more...
---
Security and safety in food manufacturing
ASSA ABLOY South Africa Industrial (Industry)
Food safety, employee health and site security must all work in harmony to ensure the efficient operation of a large-scale food producer.
Read more...
---