printer friendly version
Master Power solar solutions
September 2014 Industrial (Industry), IT infrastructure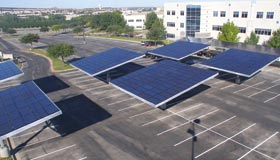 Master Power Technologies has launched a new range of photovoltaic solar solutions to complement its current range of products for use in industrial applications in hot, arid regions, or wherever utility power is expensive or unreliable. The solar power systems are designed to supplement or replace utility power to save money and reduce the user's carbon footprint, and some designs can feed excess power back into the power grid.
"The Master Power Technologies' battery-free solar power solutions have been designed with characteristics such as low heat degradation and high durability, making the equipment ideal for power installations throughout Africa," explains Andre Naude, strategist for business development at Master Power Technologies. "Some of the benefits we have designed into the product include a constant power-output curve to maintain the elec­tricity supply needed to meet peak demands, the ability to operate without active cooling mechanisms and almost no energy loss at high ambient temperatures."
The company has a range of grid-connected, grid-tie (or on-grid), stand-alone and off-grid solutions to choose from.
Grid-connected photovoltaic power systems are energised by photovoltaic panels that are connected to the utility grid. Unlike stand-alone photovoltaic power systems, they seldom have batteries or diesel generators attached.
"Grid-tie systems are advantageous as the electricity generated is used by the owner during the day," says Naude. "During the evenings, when solar electricity is not generated, electricity is drawn from the grid, avoiding the need for costly battery banks."
Stand-alone photovoltaic power systems, on the other hand, are electrical power systems that are independent of the utility grid. These types of systems may use solar panels only or may be used in conjunction with a diesel generator. Master Power Technologies also supplies off-grid solar generators.
"Our integrated commercial-grade solar-powered and energy efficient grid-tie systems can meet clients' needs today and in the future," Naude adds. "Our platforms offer an efficient and reliable solution to those institutions looking to lower their energy costs while also reducing their carbon footprint."
For more information contact Master Power Technologies, +27 (0)11 792 7230, [email protected], www.kva.co.za
Further reading:
Accelerating your Zero Trust journey in manufacturing
IT infrastructure Cyber Security Industrial (Industry)
Francois van Hirtum, CTO of Obscure Technologies, advises manufacturers on a strategic approach to safeguarding their businesses against cyber breaches.
Read more...
---
Cyber resilience is more than cybersecurity
Technews Publishing Editor's Choice Cyber Security Integrated Solutions IT infrastructure
Hi-Tech Security Solutions held a round-table discussion focusing on cyber resilience and found that while the resilience discipline includes cybersecurity, it also goes much further.
Read more...
---
Keeping devices in check
Cyber Security Asset Management, EAS, RFID IT infrastructure
Kaspersky patents new technology for analysing relationships between electronic devices to counter cyberattacks launched through connected IoT devices.
Read more...
---
Considering cloud downtime insurance?
Arcserve Southern Africa Cyber Security IT infrastructure Security Services & Risk Management
Byron Horn-Botha, business unit head, Arcserve Southern Africa, reveals three vital steps that you must consider to ensure business continuity before you buy insurance.
Read more...
---
A robust OT cybersecurity strategy
Editor's Choice Cyber Security IT infrastructure Industrial (Industry)
Cyber experts are still struggling to convince senior management to spend money to protect their control system assets, resulting in a lack of even basic measures to protect control systems.
Read more...
---
IT security at the core of smart cities
Cyber Security IT infrastructure Government and Parastatal (Industry)
The success of service delivery and public access to universal Wi-Fi, home automation and smart sensors is based on increased IT security.
Read more...
---
Cloud can cut your security risks
Cyber Security IT infrastructure
Todd Schoeman, BT client business director in South Africa, explores the ways that organisations can reduce security risk by using the cloud.
Read more...
---
Driving reliable wireless security
Elvey Security Technologies Perimeter Security, Alarms & Intruder Detection Industrial (Industry) Products
Ajax wireless technology provides reliable system to provide uncompromising perimeter intruder detection for security at vehicle manufacturing plant.
Read more...
---
Data recovery is key
Cyber Security IT infrastructure
As we become more firmly entrenched in the cloud, it is imperative to evaluate the measures that have been put into place to prevent an attack, but also the tools and protocols to help a business recover.
Read more...
---
Infinidat releases new enhancements
Technews Publishing News Cyber Security IT infrastructure
Infinidat announced a series of significant enhancements to its InfiniBox and InfiniGuard platforms, expanding capabilities, guaranteed SLAs and capacity.
Read more...
---