printer friendly version
Interdist to represent Axis in Africa
September 2014
News
Axis Communications has announced the appointment of Interdist Alliances as its authorised distribution partner for all African regions outside of South Africa. Through this agreement, Interdist will distribute the full range of Axis Communications security cameras across these regions.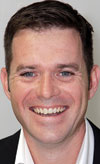 Jason McGregor, Axis Communications sales manager.
This is according to Jason McGregor, sales manager for Axis Communications' South Africa hub, who says that Interdist has a focused African footprint, a solid business and reseller network and a strong technical competence that aligns with Axis's brand and its African strategy.
"Interdist Alliances will be bringing global best practices and business value to our customers in these regions," he says. "With quality, reliability and accessibility being key requirements for our operations to maintain the high level of customer service and support expected of us, we believe we've chosen well in this regard."
Kris Tierney, general manager at Interdist says it is their commitment as a value added distributor to help companies like Axis find new opportunities and provide reliable, responsive support making full use of the reach offered through the company's growing network.
McGregor says this move marks an important milestone for the company globally. "Africa is most certainly the fastest growing emerging market in the world," he says. "Our continent has gone through a remarkable decade of economic transformation and has become a very busy place to do business with talk of new investment, new cities, new airports and even new refineries. All of these places are going to need to be secured and it would be remiss of us were we not to find our place amongst the buzz."
For more information contact Axis Communications, +27 (0)11 548 6780, [email protected], www.axis.com
Credit(s)
Further reading:
Improving data security for a hybrid society
News
Researchers from Tokyo University of Science develop a method that can perform computations with encrypted data faster and at a lower cost than conventional methods, while also improving security.
Read more...
---
Cybersecurity in 2023: The latest trends and developments
News
In 2023, experts predict that several trends will shape the cybersecurity landscape, including the growing use of artificial intelligence (AI), the increasing focus on the Internet of Things (IoT), and the rise of quantum computing.
Read more...
---
Two all-in-one pendant speakers
Axis Communications SA Products
Axis Communications has announced the AXIS C1510 and AXIS C1511 network pendant all-in-one speakers, which make audio announcements smart and easy.
Read more...
---
Enterprise threats in 2023
News Cyber Security
Large businesses and government structures should prepare for cybercriminals using media to blackmail organisations, reporting alleged data leaks, and purchasing initial access to previously compromised companies on the darknet.
Read more...
---
Trends in the proptech industry for 2023
News
By mixing real estate with technology to optimise industries, create new ones, and generate efficiencies or capabilities that improve revenue generation, something as fundamental as the concept of parking has been turned on its head.
Read more...
---
31 percent of all IoT SIMs managed with third-party IoT CMPs
News Integrated Solutions
Berg Insight recently released new findings about the market for IoT connectivity management platforms (CMPs), a standard component in the value proposition from mobile operators and IoT MVNOs around the world.
Read more...
---
Off-highway vehicle telematics systems
News
The installed base of off-highway vehicle telematics systems to reach 12.2 million units worldwide by 2026, says Berg Insight.
Read more...
---
Best practices for cybersecurity and network health in 2023
Axis Communications SA IT infrastructure
Securing a network from outside threats while making it easily accessible to employees can be challenging. What are the tell-tale signs of poor network security, and what should organisations do to secure their networks?
Read more...
---
Axis launches P3265-LVE dome camera
Axis Communications SA Products CCTV, Surveillance & Remote Monitoring
Based on ARTPEC-8 — the latest Axis system-on-chip (SoC) — Axis' latest dome high-performance camera includes a deep learning processing unit (DLPU), and cybersecurity features.
Read more...
---
Industrial control systems under attack
News Cyber Security
According to Kaspersky ICS CERT statistics, from January to September 2022, 38% of computers in the industrial control systems (ICS) environment in the META region were attacked using multiple means.
Read more...
---