printer friendly version
Turbo your analogue
September 2014
News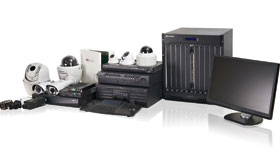 Analogue CCTV users can now enjoy HD resolution while safeguarding their investment in existing cabling infrastructure with Hikvision's Turbo HD Analogue. This technology supports latency-free 1080p HD over up-to 500 metres of coaxial cable and offers seamless compatibility with traditional SD cameras, Hikvision IP cameras and HDTVI-compliant cameras and DVRs. At launch, the Turbo HD product family consists of a 32-strong range of Hikvision DVRs and 720p/1080p cameras, including bullet, dome, PTZ dome, turret, varifocal, vandalproof and low-light units.
The Hikvision Turbo HD product family is based on HDTVI (High Definition Transport Video Interface) technology and is suited to upgrading existing standard definition systems at low cost. It retains the ease-of-use of an analogue system while offering up to 1080p HD video output.
All Hikvision Turbo HD products adhere to the HDTVI open standard, which guarantees trouble-free connection to other HDTVI-compliant cameras and DVRs. The Hikvision Turbo HD DVRs can also connect with traditional SD analogue cameras and all Hikvision Turbo HD cameras can access third-party DVRs equipped with HDTVI technology from other manufacturers.
The Hikvision Turbo HD DVR offers simultaneous connections to network, analogue and Turbo HD cameras, auto-detecting the incoming signal and recording accordingly. This means that existing systems can be upgraded simply by replacing the current cameras and DVR while new areas may be covered with the addition of IP network cameras.
HDTVI technology guarantees up to 500 m of high quality and reliable transmission at 720p / 1080p via coaxial cable. A conventional analogue solution will struggle to achieve this resolution while HD-SDI solutions are limited in terms of long distance capability. In addition, the Turbo HD Analogue solution supports UTC for remote set up and configuration and enables control of the OSD menu and PTZ control via coaxial cable. This means that users no longer have to go to the camera to make changes and enables much faster and easier camera installation and management.
According to Keen Yao, international marketing director of Hikvision, "Turbo HD is a high-tech tour-de-force in zero-latency, long distance HD-over-coax that demonstrates our commitment to pushing the boundaries of CCTV technology. Until recently, the only option for HD CCTV resolution was the wholesale adoption of IP cameras and their associated technology. Now, with the launch of the Hikvision Turbo HD Analogue solution, users can enjoy 720p/1080p without even upgrading to IP or even replacing their existing cabling structure."
Hikvision remains in pole position
For the third consecutive year, Hikvision was ranked as the world's largest CCTV and video surveillance equipment provider in 2013 with a dominant 10.9% market share. This is up by more than a third, from 8% in 2012, according to the latest report from IHS.
In a year of significant achievements, Hikvision maintained or gained position in every market segment. Its most striking success was becoming the top hardware NVR manufacturer from not being in the top 10 in 2012. In addition, Hikvision maintained its position as global DVR leader for the fifth consecutive year, gained two places to become the world's No. 1 supplier of security cameras with an 11.9% market share, and rose one place to be No. 2 in network security cameras with a 13% share of the market. As for the VMS category, it achieved third having risen from fifth place in 2012.
"This outstanding performance across the board serves, once again, to prove Hikvision's continuing dedication to innovation and excellence in all aspects of video surveillance products. It's also evidence of the success of Hikvision's international marketing strategy and in-depth local customer services," says Polo Cai, VP at Hikvision.
For more information contact Hikvision, +86 571 8700 6060, [email protected], www.hikvision.com
Credit(s)
Further reading:
The future of AIoT
Hikvision South Africa News CCTV, Surveillance & Remote Monitoring
Hikvision hosted its 2022 Shaping Intelligence Summit in Bali, Indonesia, on 29-30 November, where the company, its customers, and technology and solution partners, looked into the future of AIoT and explored paths to shared success.
Read more...
---
Top fraud trends to watch in 2023
News Security Services & Risk Management
Even though financial concerns remain a significant obstacle for companies in implementing new anti-fraud technologies, 60% of businesses expect an increase in their anti-fraud technology budgets in the next two years.
Read more...
---
Be cautious when receiving deliveries at home
News Perimeter Security, Alarms & Intruder Detection Security Services & Risk Management
Community reports of residents being held up at their gate when collecting fast food deliveries at home are once again surfacing.
Read more...
---
Securiton and Dallmeier announce partnership
Dallmeier Electronic Southern Africa News
Securiton AG Switzerland is now integrating the Panomera and Domera camera systems from Dallmeier to ensure its customers benefit from the highest standards of privacy and security.
Read more...
---
KPMG 2022 CEO Outlook, South African edition
Editor's Choice News
Mid-November saw the release of the latest KPMG 2022 CEO Outlook, South African edition, aptly sub-titled 'Potential Growth in Uncertain Times'.
Read more...
---
Mending Africa's digital infrastructure gaps
News
inq. Fabric is the first African-developed cloud connectivity, network-as-a-service software for automated provisioning and routing.
Read more...
---
Suprema renews international privacy and security standard certifications
Suprema News Access Control & Identity Management
Suprema has simultaneously renewed two important international standard certifications regarding information security management (ISO/IEC 27001) and privacy information management (ISO/IEC 27701).
Read more...
---
Technoswitch partners with Ciqurix for video fire detection
Technoswitch Fire Detection & Suppression News Fire & Safety
Technoswitch is pleased to announce the signing of an exclusive distribution agreement with Ciqurix (UK), a leading supplier of video fire detection products.
Read more...
---
From the editor's desk: No fond goodbye
Technews Publishing News
      Welcome to the final issue of Hi-Tech Security Solutions for 2022. Personally, I have absolutely no regrets seeing this year ride off into the sunset, or preferably be set on fire. However, it is the ...
Read more...
---
Crossing the chasm
Editor's Choice News Security Services & Risk Management Training & Education
Industry reports suggest that in the next ten years, millions of jobs could go unfilled because there simply are not enough people to fill them.
Read more...
---