printer friendly version
Manager's guide: Tailor-made security policy
August 2014
Cyber Security
With the never ending number of security threats to business information it is imperative that managers take the initiative to establish working and evolving security policies that protect the business and its assets. As the popular saying goes, "prevention is better than cure" and nothing could be more pertinent to the importance of having a security policy in a business. But where to start?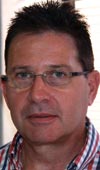 Gregory Anderson, country manager at Trend Micro South Africa.
Establish security threats to your business
In order to face up to threats you need to be savvy about them. With today's identity theft, spam and spyware – software that secretly monitors a user's activity with the intention of information theft – you may be surprised by how fundamental some of the biggest threats are. IT threats are constantly evolving, which is why it's important that your security policy and plans do the same. Keep your system flexible enough to meet not only present but future problems as well.
Bear in mind the legislation involved in your IT responsibilities, privacy and electronic communication responsibilities and your treatment of employees as well as the regulations from the European Commission. Also remember that every business has different information security threats, some unique and some universal, the manager's job is to account for all existing and possible threats to security and tailor a security policy that will counteract them.
Establishing a security policy
All-encompassing IT security is built on the foundation laid by a company security policy. A good place to start when creating a security policy for your business is with the risk analysis of what threats are posed to your business. A layered approach is necessary to cover all bases starting with a mission statement from a manager and moving into physical devices, roles and responsibilities of staff, including references to acceptable use and how security breaches will be dealt with. This is also a great place to host your business continuity and disaster recovery plans.
Next, you need to sort out what to include in the security policy. A clear explanation of the purpose of the policy, its ultimate goals and strategic importance of information security to the business should be the first thing on the agenda.
Make a list of the training available to employees to help them better understand information and security risks. It is imperative to give the policy authority by including a statement of support from senior management demonstrating a commitment to information security. Remember that every business will have different security needs so the most important things to include in the security policy will differ from business to business.
Protecting your IT assets
IT asset protection starts with providing your staff with clearly communicated guidelines on acceptable use, confidentiality and standards for security measures. An explanation of what is and isn't allowed on company time and company computers and outlines the repercussions for disregarding the policy ensures that staff do not expose the company to malware, share confidential information over the Internet or take sensitive information off-site on laptops or USB drives.
Staff will understand the importance of an acceptable use policy as long as it strikes a balance between pragmatism and control and the company is clear about the risks it is trying to avoid. In order to weave acceptable policy usage into the culture of the company tie them into employee contracts and disciplinary procedures.
A functioning security policy
Think of your company security policy as a never ending work in progress that you definitely shouldn't leave collecting dust. For a security policy to be meaningful it needs to be a living, breathing document that management and staff access and refer to. The fundamental elements of a security policy are management's visible commitment to it, employee awareness and education on the security policy as well as ensuring that the policy remains relevant and up to date.
After you have put together the company security policy you need to determine how you will administer security which will come down to a mixture of people, policies, processes and technology all of which play a critical part in ensuring overall security. If businesses are small it is unnecessary to take on additional staff to administer IT security systems, you can rather give the responsibility to existing managers. However, if an external consultant is called upon to set up the security policy, ensure that they report back to management at every step as you shouldn't leave it to an outsider to keep you safe.
As a manager it is your responsibility to ensure that your staff and colleagues understand the importance of the security policy. With the number of IT security threats increasing and strengthening constantly it is important to be aware that your business is as viable a target as anyone else's. Breaches to security are no longer a question of 'if' but 'when' and if you have tailored a security policy to your business you and your staff will be prepared to handle inevitable breaches of security.
For more information, visit www.trendmicro.com
Further reading:
The dark side of apps
September 2019, Kaspersky Lab , Home Security, Cyber Security
In 2019 the number of worldwide mobile phone users is forecast to reach 4.68 billion, of which 2.7 billion are smartphone users.
Read more...
---
Does your digital life need a spring clean?
September 2019 , Home Security, Cyber Security
With the right information, cybercriminals can easily gain access to private aspects of your life and exploit that for monetary gain.
Read more...
---
Cybersecurity for video surveillance systems
September 2019 , Cyber Security, CCTV, Surveillance & Remote Monitoring
Video surveillance systems are increasingly accessible over any IP network, which has led to the rise of potential cyberattack.
Read more...
---
Cyber-securing your surveillance infrastructure
September 2019, Genetec, Hikvision South Africa , Editor's Choice, CCTV, Surveillance & Remote Monitoring, Cyber Security
When it comes to cybersecurity, understanding the risks and the solutions as well as engaging in open communication helps everyone.
Read more...
---
Cybersecure surveillance partnership
September 2019, Bosch Building Technologies, Genetec , Cyber Security, CCTV, Surveillance & Remote Monitoring
With Bosch and Genetec, you can feel confident that your data is protected by one of the world?s best security solutions, end to end, day after day.
Read more...
---
Keeping your things to yourself
October 2019, Technews Publishing , Editor's Choice, Cyber Security, Integrated Solutions, IT infrastructure
Three experts spoke to Hi-Tech Security Solutions to offer advice on keeping your IoT working for you and not for cyber criminals.
Read more...
---
IoT in security
October 2019, Duxbury Networking, Technews Publishing , Editor's Choice, Cyber Security, Integrated Solutions, IT infrastructure
Using the Internet of Things is not really optional these days, but securing the Internet of Things is compulsory, no matter what industry you operate in.
Read more...
---
Your business needs synchronised security
September 2019 , Cyber Security, Products
This complete security portfolio from Sophos offers endpoint, servers, firewall, Wi-Fi, mobile, email and encryption that is fully scalable to grow as your business does.
Read more...
---
NFa2p security certification
October 2019 , News, Cyber Security
Advisor Advanced obtains the highest level of certification to the NFa2p Electronic Security Standard for a complete security system.
Read more...
---
SOAR an essential part for security operations
October 2019 , Editor's Choice, Cyber Security, Security Services & Risk Management
MJ Strydom, MD of cybersecurity specialist company DRS discusses the challenges around the security incident response lifecycle.
Read more...
---