printer friendly version
Hi-tech solutions for new Miro head office
August 2014 CCTV, Surveillance & Remote Monitoring, IT infrastructure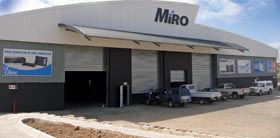 Wireless IP convergence company, Miro, recently moved into its new high-tech facilities in Samrand in response to an upward growth trajectory and the need to increase its stockholding of products. Geared around increased customer interaction, the facilities needed to be representative of the company's capabilities as a provider of networking, wireless, security and VoIP solutions. Primary needs were in-house security, safety and stock control.
Bertus van Jaarsveld, CEO of Miro, says it is vital to build a solid base for any network, which is why Edge-corE was the natural choice for its switches. "We decided to build totally separate networks for voice, data and video to simplify management of both network load and user access. Edge-corE switches were used throughout, providing a reliable and fast (gigabit) network backbone, and also supplying Power over Ethernet for cameras and VoIP telephones.
"Due to the size of the premises, we needed to deploy fibre optic cable to remote points such as entry gates, the guardhouse and warehouse receiving. We decided to run a single gigabit fibre to each remote point. Terminating the fibre was as simple as connecting it to a fibre module and slotting it into the Edge-corE switch. To separate the different networks over the single fibre, we used VLANS to tag the packets and split them to their respective switches in the server room," he adds.
Miro needed an indoor wireless solution to provide fast and secure wireless access throughout the building to staff and customers. The solution had to provide seamless roaming throughout, multiple SSID's for staff and customers and also flexible and fast configuration. The Engenius EWS Series provided this solution and with all the APs being managed from a single controller, the initial setup took no longer than 45 minutes.
"The user interface of the controller is easy to master and it has functions like clustering that makes network planning a breeze. The APs offer concurrent 2.4 and 5.8 connections and provides band-steering to offer each client device the fastest possible connection. Reporting and statistics is part of the analytics package and is very useful for administering the network," Van Jaarsveld says.
Top notch surveillance
The choice of cameras was driven by Miro's Vivotek and Sunell distributor status. "Our new facilities required an IP video solution to secure and protect our warehouse stock, together with the rest of the building and the perimeter. Keystone Consultants, one of our certified Vivotek installers, assisted us with the installation and provides us with off-site monitoring and remote patrolling," says Van Jaarsveld.
Miro selected a combination of Milestone XProtect Enterprise software, as well as the Vivotek VI-FE8174V, CC-8130, IP8161 cameras, and the Sunell SN-IPR2-DN-W and SN-IPS2-IR cameras. "Milestone XProtect give us the flexibility and scalability to increase our system at any time. With its Smart Search function, it will allow us to search any incident and deliver quick evidence that can be used to our benefit. With the new metadata Push Video from Milestone, any Miro staff member can use their cellphone with the app installed to record any suspect or suspicious incident and it will record this onto the Milestone server," says Van Jaarsveld.
The VI-FE8174V cameras give Miro the flexibility to cover a large area and are aesthetically pleasing. The CC-8130 cameras cover three areas and the IP8161 is a 2-megapixel fixed network camera that is able to operate normally during the day and then continue to function at night when used with infrared lighting. It was a good choice for monitoring our gates and outside area. With its H.264 video compression it will minimise bandwidth usage without compromising the video quality.
"The Sunell SN-IPR2-DN-W 2 MP varifocal 3.3-12 mm bullet network camera with 30 m IR and wide dynamic range provides a good IR range at night and readily handles the light changes. The Sunell SN-IPS2-IR is a 2 MP speed dome with 100 m Smart IR and x22 zoom and we chose this particular camera to cover a large open area. With the zoom option we can zoom in on any suspicious activity and resolve issues quickly," Van Jaarsveld continues.
He adds: "We were in a fortunate position to plan the system from the ground up in a new building and with our expertise on converged IP technology, it allowed us to build a totally integrated solution. All systems run on an IP platform, allowing us to apply great integration services and interactive solutions which are simply not possible with analogue solutions. I can arm/disarm the alarm system from my phone, get alerts when Eskom power goes down and the generator starts up, remotely view any camera on the site, open and close gates via the Internet and so much more. We will build more features onto the system as we have the time and technology becomes available."
Most of these systems will be accessible from the new state-of-the-art demo facilities which opened at Miro's offices in July.
For more information contact Miro distribution, 086 123 MIRO,  riandi@Miro.co.za,  www.Miro.co.za
Credit(s)
Further reading:
Camera Selection Guide 2019
September 2019 , CCTV, Surveillance & Remote Monitoring
Read more...
---
The era of smart surveillance
September 2019, Forbatt SA , CCTV, Surveillance & Remote Monitoring, Products
Professionals in the surveillance industry know CCTV is not what it used to be. Smart functions on cameras are no longer nice to haves, they have become a necessity.
Read more...
---
Improved security for Diamond Trust Bank in Tanzania
September 2019, Hikvision South Africa , CCTV, Surveillance & Remote Monitoring, Financial (Industry)
Diamond Trust Bank in Tanzania installed over 1000 Hikvision EasyIP 3.0 cameras in a project to replace its analogue infrastructure and centralise its surveillance security.
Read more...
---
Intelligent analytics and the brains to match
September 2019, Bosch Building Technologies , CCTV, Surveillance & Remote Monitoring, Integrated Solutions
What if the brains behind our security cameras could be trained to improve their cognitive ability to pay attention, learn, and problem-solve according to specific rules and situations?
Read more...
---
AI-powered autonomous Drone-in-a-Box
September 2019 , CCTV, Surveillance & Remote Monitoring, Integrated Solutions
Organisations in the mining, energy and industrial, oil and gas, ports and terminals sectors can optimise security and business operations, whilst reducing risks and operational costs
Read more...
---
Distributed architecture lowers TCO, increases scalability
September 2019, Technews Publishing , CCTV, Surveillance & Remote Monitoring, Transport (Industry)
Faced with a number of security challenges and planned future expansion, a major airport decided it was time to implement a scalable security surveillance solution.
Read more...
---
Cybersecurity for video surveillance systems
September 2019 , Cyber Security, CCTV, Surveillance & Remote Monitoring
Video surveillance systems are increasingly accessible over any IP network, which has led to the rise of potential cyberattack.
Read more...
---
A platform approach to innovation and value
September 2019, Technews Publishing , Editor's Choice, CCTV, Surveillance & Remote Monitoring, Integrated Solutions, IT infrastructure
Moving to the platform model of doing business holds tremendous advantages for end users and smaller developers, but also for the whole technology supply chain.
Read more...
---
Back to manufacturer uniformity?
September 2019, Dallmeier Electronic Southern Africa , CCTV, Surveillance & Remote Monitoring
Decision makers often have to choose between an all-inclusive, complete solution from one manufacturer and the products and services of several different providers.
Read more...
---
Open does not always mean easy integration
September 2019, VERACITECH, Technews Publishing , Editor's Choice, CCTV, Surveillance & Remote Monitoring, Integrated Solutions
Customers who opt for best-of-breed solutions will have to rely on their integrators to develop customised integrated solutions for them.
Read more...
---