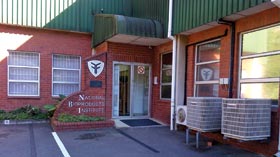 Medical grade access control
August 2014, Healthcare (Industry), Access Control & Identity Management
The National Bioproducts Institute (NBI) is a non-profit pharmaceutical company whose core business is the manufacture of human plasma derived medicines using a complex process of fractionation to extract lifesaving therapeutic proteins. The injection and infusion products released must meet stringent quality, safety and efficacy standards. The challenges associated with the manufacture of products with no terminal sterilisation step, include strict control of the manufacturing environment.
An outdated access control system had been in place at NBI and given the very stringent requirements of a sterile manufacturing facility outlined in the SA Good Manufacturing Practice guidelines published by the Medicines Control Council of SA, the implementation of a more sophisticated, reliable and programmable access system was seen as an essential component of improved facility design. By providing secure and controlled access to different manufacturing areas, this important facility that makes a number of products listed in the Department of Health's essential drug list, required a solution that would include strict access control, biometrics, interlocking doors and time & attendance (T&A) capabilities.
The installer, First Technology, was given the task of providing the optimum solution for NBI. Below is a list of the solutions the company implemented:
* Access control. Impro Technologies IXP400i system was chosen due to its ability to configure multi-layer interlocking and zone routing. There was also a fair level of integration required, such as biometrics, graphic runtime and T&A, hence another reason for the choice of Impro's IXP400i system.
* Interlocking was required to control entry to and from areas that needed to be secured against two or more doors being open simultaneously. It is vital in the sterile pharmaceutical manufacture environment to maintain airtight seals and to prevent dust, particle and microbial contamination.
* Inter-leading zone routing was necessary so that only authorised and trained personal were able to gain access to particular areas. Personal were required to present their fingerprint to clock into the T&A system before clocking into their work stations.
* Biometrics was required for added security and verification at sensitive access points based on employee access profiles linked to their specific job.
* Graphics runtime – Impro's IXP400i includes a graphics runtime module to give a graphical overlay of the facility and deliver early notifications of potential issues to administrators.
* SMS and email integration – the IXP400i allows for full SMS and email integration, essential for real-time alerts to the administrators. For example, when a glass break is triggered an email and SMS notification is sent.
Access control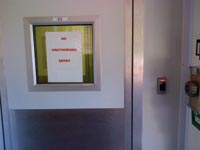 Impro Technologies' IXP400i was chosen because of its ability to configure multi-layer interlocking, zone routing and its superior integration abilities.
A number of door controllers had to be used for this application given the nature of the complicated interlocking solution. iTRT controllers were used because of their ability to connect with the reader at up to 150 m. Some readers are in locations that are exposed to temperatures of -4°C.
The new generation MDR readers were used and connected to centralised iTRT zones. These zones enabled easy access so that if a unit went offline, it would assist the on-site technician in resolving the issue. Readers were also positioned with their fixed address on display so that if a unit had to go offline, it would assist the on-site technician in resolving the issue, thereby limiting the downtime the client would perhaps encounter.
Interlocking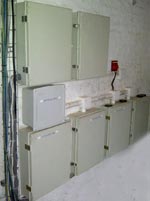 Due to the nature of the particular area and sterile processing, employees are required to dress in sterile, purpose-made protective clothing to minimise the risk of product contamination. The solution required the system to have Door 2 locked if Door 1 was opened, and remain locked till Door 1 was closed. Only then could the employee advance through to the next area. The same set-up was required in the case of Door 2 & 3.
The challenge came in where there was a common area with more than two doors. So if Door 3 was opened, Door 4 & 5 had to remain locked until Door 3 was closed. The same applied for opening either Door 4 & 5. A series of lights were also installed that are zone specific and would flash depending on the door/zone in the event that one of the locations is compromised.
Interleading zone routing and biometrics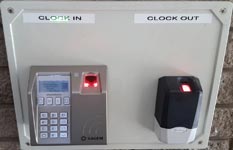 An additional layer of security came in the form of biometrics which ensured that no unauthorised personnel entered certain high risk zones. Each staff member had to validate his/her entry by verifying their identity through biometrics. The Sagem MA500 was installed for its accurate and reliable performance, as well as to capture time and attendance.
Graphic runtime module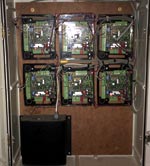 IXP400i provides a user-friendly Graphic Runtime Module that provides an easy to use platform for viewing imported sites, buildings and floor plans. Graphic runtime is designed to provide an early warning for any faults or triggered alarms. All alarms are graphically represented, showing their actual position on floor plans. Graphic runtime also supports the 'Find Tagholder Now' feature, which indicates the last location the tagholder presented their tag at. The SMS and email integration allows notifications to be sent direct to administrators any time of day, so the correct person is notified should there any alerts or status changes.
The results
The challenge was to create a highly secure facility without prohibiting the daily manufacturing operations at NBI. It was vital that the security system protect the facility and ultimately the products as well as integrate smoothly with the overall systems.
In essence, the solutions put into place have improved GMP, increased security and the overall safety of the products and instituted better control of staff access, as well as lowered NBI's risk of product failure due to potential facility contamination because of poor access control.
Fact file
Project scope: Tagholders 500
Installer: First Technology
NBI Engineer: Preggie Pat
For more information contact Impro Technologies, +27 (0)31 700 0700, elizabethp@impro.net, www.impro.net