printer friendly version
AccessData, ARM partner in Africa
August 2014
News
AccessData, an international provider of incident resolution solutions, has signed a distribution agreement with African Risk Mitigation (ARM), a value-added distributor of cyber security and other IT software products in Africa. This partnership will see ARM growing AccessData's footprint across the continent and building the company's channel partner community.
Simon Whitburn, senior vice president and general manager at AccessData says, "Traditionally we invested in a very small number of technology partners because our heritage business in the forensics space was very niche and focused almost entirely on the law enforcement vertical. However, our operations in Africa now need to be driven by a larger channel. This is because the corporate sector in this region demands the capability to conduct their own in-house digital investigations, as well as in-house rapid detection and response to defend against hackers, malware and advanced persistent threats.
"They want the option to control their own information assurance and cyber security programmes without having to resort to a third-party or divulge information to law enforcement, as the threat of cyber terrorism and breach attacks continues to grow."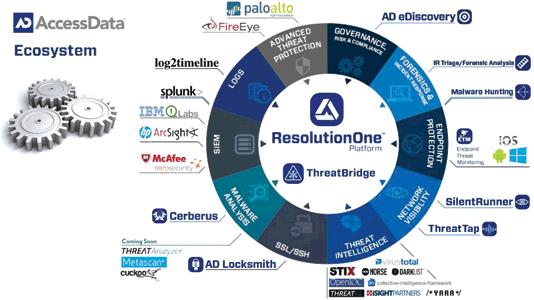 The AccessData integrated security ecosystem.
Together, the two companies are introducing AccessData's new ResolutionOne Platform to Africa, the world's first Continuous Automated Incident Resolution (CAIR) platform, delivering comprehensive, real-time insight, analysis, response and resolution of data incidents.
"Every organisation needs advanced and integrated security and forensic solutions to successfully investigate cybercrimes, internal policy violations and security incidents. Each case presents unique challenges as the data can often be hidden in plain sight. It is important for organisations to understand how to sift through the digital incident trail, reconstruct a timeline of events and identify the 'who, what, when and how' of a breach," says Lucas Zaichkowsky, enterprise defence architect at AccessData.
Francois Els, general manager at ARM, says, "Organisations across Africa should be prepared to combat cyber attacks. It is no longer, 'if', but rather 'when' the enterprise will be attacked. According to HP's Cyber Risk Report 2013, in today's world of rising e-crimes and growing demands for secure software, it is imperative to eliminate opportunities for stealing important information that is valuable for attackers. This applies to Africa as it is no different to any other region when it comes to the acceptance of emerging technologies and the vulnerabilities that they bring."
ResolutionOne delivers the workflows and capabilities necessary to detect, analyse, and resolve any data event – from security breaches to e-discovery and other governance, risk and compliance (GRC) issues. It is the industry's first integrated, and automated platform to work seamlessly across third-party security solutions and the sharing of incident data across organisations.
The ResolutionOne Platform integrates network, endpoint and malware analysis, end-to-end e-discovery and remediation technologies into a single, scalable solution. This makes it possible for all security, legal and compliance teams to do their jobs using one platform, automating tasks and collaborating in real time to address virtually any security incident or legal matter.
Additional Resources
Videos
AccessData's ResolutionOne Platform for Faster Response to CyberAttacks.
AccessData CISO Panel at RSA 2014 : Living in a World of Continuous Compromise.
Overcoming Piecemeal PCI Compliance: Integrating Technologies and Processes.
Whitepapers
Ponemon Study: Threat Intelligence and Incident Response.
Weaponizing Incident Response.
Cerberus: Malware Triage and Analysis Technology.
For more information contact African Risk Mitigation, +27 (0)11 463 2173, jordannaf@armafrica.co.za, www.armafrica.co.za
Further reading:
From the editor's desk: More things change
September 2019, Technews Publishing , News
Welcome to the CCTV Handbook 2019. This year's handbook breaks a long tradition of publishing the handbook in the first half of the year by releasing it along with the October issue of Hi-Tech Security ...
Read more...
---
From the editor's desk: Six-and-a-half impossible things
October 2019 , News
When it comes to people named Alice, there are two that are noteworthy in the greater scheme of things and specifically when it comes to security in South Africa. Interestingly enough, they both faced ...
Read more...
---
Invixium and Pyro-Tech partner in South Africa
October 2019 , News, Access Control & Identity Management
Invixium, a manufacturer of IP-based biometric solutions and Pyro-Tech Security Suppliers have announced a new distribution partnership.
Read more...
---
Hikvision achieves ISO 28000:2007 certification
October 2019, Hikvision South Africa , News
Hikvision has announced its ISO 28000:2007 certification, marking a further strengthening of the company's supply chain security assurance.
Read more...
---
SALTO Systems SA partners with Training Ninja
October 2019, Salto Systems Africa , News, Training & Education
SALTO Systems has partnered with Training Ninja to extend its training footprint to the coastal regions of South Africa.
Read more...
---
Duxbury partners with TVT
October 2019, Duxbury Networking , News, CCTV, Surveillance & Remote Monitoring
Duxbury Networking has announced its new partnership with TVT Digital Technology to provide South African resellers and customers with a wider range of options for surveillance equipment.
Read more...
---
Mallett appointed as Elvey sales director
October 2019, Elvey Security Technologies , News
Ernest Mallett has been appointed as sales director of the Elvey Security Technologies group of companies.
Read more...
---
Three words that could save your life
October 2019 , News
Technology company what3words has mapped the world into a grid of 3m x 3m squares, and given each one a unique what3words address.
Read more...
---
Securex West Africa returns in 2020
October 2019 , Conferences & Events, News
See more than 100 exhibitors over two days and join over 2500 professionals from more than 20 countries.
Read more...
---
Suprema receives FBI PIV/FAP30 certification
October 2019, Suprema , News, Access Control & Identity Management
Suprema has announced that the company's BioMini Slim 3 has received FBI PIV (Personal Identity Verification) and Mobile ID FAP30 certification.
Read more...
---