printer friendly version
Beyond surveillance
July 2014
CCTV, Surveillance & Remote Monitoring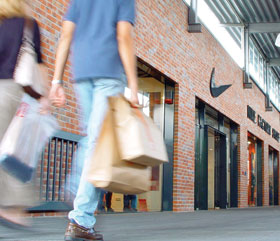 "A picture is worth a thousand words" – how often have you heard that phrase? The notion that embedded within a single picture is a complex and significant amount of information waiting for the viewer to discover and interpret it for themselves.
In the video surveillance industry this holds more weight than ever as VMS (video management systems) move beyond just security applications, where operators observing an image on a screen, or reacting to a system triggered event are only part of the story. By scientifically analysing the complex information contained in a picture through the use of smart algorithms, intelligent business data can be extracted from simple video camera streams.
The extraction and analytics of this embedded data provides business intelligence not previously easily captured, but yet almost immediately accessible to the business owner. The result is improved effectiveness of current management and business operations when they are required most, enabling an immediate response, resulting in the streamlining of the entire business process and not just the security.
With the 'grudge purchase' project cost of security installations generally exceeding the allocated budget, being able to spread the scope and usefulness of the surveillance system within the business significantly improves the ROI of the system and hence the involvement from different departments, including their financial support of the project. Buy-in from marketing, training and operations departments to name a few, now becomes a reality when the direct impact of the intelligent data presented is pertinent to their effectiveness.
Captured data of people movement on an hourly, daily, weekly and monthly basis around the isles of a retail store can aid the marketing department in shelf product layout and the positioning of promotions and marketing material for maximum effect. The store operations management can use the same foot-count data to evaluate the floor layout to avoid congestion in specific areas and lack of customers in others, while getting immediate feedback through automated notifications regarding queue lengths, helping optimise the number of tills open at any given time.
Point-of-sale (POS) monitoring not only has the benefit of a reduction in fraud and shrinkage, but can be used to identify deficiencies and strengths in operator training, thereby helping the training department to enhance their programme. Customer relations are able to monitor the customer interaction and attitude at till points to help streamline the payment process and make it as pleasant an experience as possible for the customer. Customer queries regarding the payment process can be speedily resolved through the reviewing of recorded footage linked to the till, date and time of the transaction, or even their till slip number.
Overall store operations management have real-time event monitoring and recording to aid in the optimal use of their available resources. Notifications of movement or lack thereof, in critical areas such as goods receiving or dispatch can evoke an immediate response from assigned personnel. Energy requirements within the business can be managed more efficiently by monitoring the personnel usage of power hungry resources – switching on air-conditioners and lights only when the office is occupied for example.
Through the integration of third-party devices and systems in the VMS, a single information source is achieved for safety and security. A VMS linked burglar alarm, fire alarm and access control system can give immediate notification with video footage of system events enabling the correct assignment of resources to the affected area. Incidents involving the public for which the business could be held liable can be minimised through abandoned object detection algorithms. Loitering on company property can be identified to increase business and customer security.
VMS has moved on from a security grudge purchase offering only a security surveillance solution to become a business intelligence tool that is able to deliver a broader ROI beneficial to more than just a business's security solution.
For more information contact Cathexis Africa, +27 (0)31 240 0800, info@cathexisvideo.com, www.cathexisvideo.com
Credit(s)
Further reading:
Reinventing network camera security
Issue 1 2020, Axis Communications SA , CCTV, Surveillance & Remote Monitoring
Now in its seventh generation and celebrating its 20th anniversary, the Axis ARTPEC chip was launched in 1999 designed to optimise network video.
Read more...
---
Cloud-based fleet and driver management
Issue 1 2020, Graphic Image Technologies , CCTV, Surveillance & Remote Monitoring
Graphic Image Technologies (GIT) has announced the availability of a cloud-based dashcam designed to improve on-the-road behaviour and assist in improving fleet management.
Read more...
---
Cathexis specialises in integration
Issue 1 2020, Cathexis Technologies , CCTV, Surveillance & Remote Monitoring
The integration of multiple systems is intrinsic and essential to the goal of creating an effective and efficient operational environment.
Read more...
---
Do wireless networks meet modern surveillance demands?
Issue 1 2020, Duxbury Networking, RADWIN , CCTV, Surveillance & Remote Monitoring
It is predicted that video will account for 15,1 zettabytes (1 zettabyte = 1 trillion gigabytes) of data annually, which is more than any other IoT application.
Read more...
---
Traffic doesn't have to be this way
Issue 1 2020, Dahua Technology South Africa, Axis Communications SA , CCTV, Surveillance & Remote Monitoring
More effective traffic management is something that would save us all a lot of frustration and wasted time, and it's one of the areas where AI and big data can have a significant impact.
Read more...
---
Dahua launches Hunter Series
Issue 1 2020, Dahua Technology South Africa , CCTV, Surveillance & Remote Monitoring
Dahua launches a new dual-PTZ camera that enables flexible and multi-scene panoramic monitoring.
Read more...
---
8 MP fisheye camera
Issue 1 2020, Dallmeier Electronic Southern Africa , CCTV, Surveillance & Remote Monitoring
Dallmeier's new 8 MP fisheye camera combines AI-supported object classification and H.265 in a compact design.
Read more...
---
Using ANPR to enhance security
Issue 1 2020, Duxbury Networking , CCTV, Surveillance & Remote Monitoring
Deep learning and AI-based algorithms enable ANPR cameras and their associated software to detect and recognise number plates with an extremely high level of accuracy.
Read more...
---
AI supercharges surveillance
Issue 1 2020 , CCTV, Surveillance & Remote Monitoring
The ability to analyse live video through AI techniques means that untapped footage from existing, passive cameras can be used to identify patterns, trends and anomalies.
Read more...
---
IDIS launches new cameras with on-board analytics
Issue 1 2020 , CCTV, Surveillance & Remote Monitoring
IDIS has launched a lineup of Edge VA bullet and dome cameras, featuring on-board analytics that will transform the efficiency of security operations.
Read more...
---