printer friendly version
A new level of security for a new level of fraud
July 2014
Access Control & Identity Management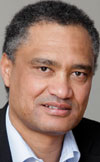 Stan Khan, Managing Director of Muvoni Biometric and Smartcard Solutions.
With the Internet and technology creating an ever-interconnected world, the amount of information businesses need to manage to remain secure is staggering. One particular issue the private sector has to compete with is increasing levels of fraud – especially identity fraud.
Globally, the number of people to fall victim to identity fraud in 2013 was at a massive 13.1 million. To grasp the severity of this, someone was a victim of identity fraud every two seconds.
In South Africa's insurance industry in 2013, 30% of all insurance claims were estimated to be fraudulent, amounting to about R15 billion. In banking, the South African Banking Risk Information Centre reckons that in the first nine months of 2013, the industry losses from fraud related to credit cards amounted to R367 million. Clearly, fraud is a problem and will continue to be so until sufficient measures are taken to combat it.
Considering it is a well-known fact that our green ID books are easily falsified, sectors like banking and insurance desperately need added levels of security for not only their own security, but for their customers too. This is where biometrics comes in. While somebody can forge an ID book, it is significantly more difficult, near impossible, to forge a fingerprint.
Biometrics are anything that is inherent to an individual and can be used to uniquely identify them. This can be anything from fingerprints, to the retina and iris, to even the sound of your voice. While the origins of fingerprint identification crept up over a century ago, particularly in law enforcement, biometrics are becoming increasingly relevant in the corporate space.
The ability to accurately identify someone, be it a customer or client, is of critical importance. But biometrics are only useful when done properly. A lot of companies implement biometrics, but are not ensuring that they capture good quality prints, making it easier for fraudsters to take advantage. When partnering with a biometrics company for business security purposes, one has to be as accurate as possible to ensure the most secure and trusted modus operandi.
Beyond the fingerprint, signature authentication is another biometric that is full of promise. With this, we have the technology to accurately identify a person and, more specifically, documents. Biometrics have evolved to the point where the style of handwriting, pressure used on the pen, as well as time taken to sign, are all unique to the individual and can be identified. This has far reaching applications in the business world as fraud can be as simple as forging a signature.
The simple answer is that biometrics are the way forward when gunning for business security. It is not only the banking and insurance industries who fall victim to identity fraud, it is you, it is me, it is everybody. The faster we move towards biometrics as a system of identification, the faster we can deal with the ludicrously high levels of fraud experienced every day in almost every sector.
For more information contact MBSS, +27 (0)12 679 2900, stan@muvoni.com, www.mbss.co.za
Credit(s)
Further reading:
A contact-free hotel experience
Issue 7 2020, Technews Publishing , Access Control & Identity Management
Check-in and go straight to your room without stopping at the reception desk at Hotel Sky in Sandton and Cape Town.
Read more...
---
AI digitises coronavirus management
Issue 7 2020, NEC XON , Access Control & Identity Management
NEC XON is using NeoFace Watch and specialised thermography cameras to measure temperature and identify employees and visitors.
Read more...
---
Combining visual and IR face recognition
Issue 7 2020, Suprema , Access Control & Identity Management
The FaceStation F2 offers face recognition and anti-spoofing performance.
Read more...
---
Anviz unveils FaceDeep5
Issue 7 2020, ANVIZ SA , Access Control & Identity Management
Anviz Global has unveiled its new touchless facial recognition identity management and IoT biometric device.
Read more...
---
Touchless biometric options
Issue 6 2020, Entry Pro , Access Control & Identity Management
When it comes to estate access control management, the foremost topic of conversation at the moment seems to be the importance of touchless biometrics.
Read more...
---
Fast access to Kevro production facilities
Issue 6 2020, Turnstar Systems , Access Control & Identity Management
Employee and visitor access at Kevro's Linbro Park premises in Gauteng is controlled through eight Dynamic Drop Arm Barriers from Turnstar.
Read more...
---
Know your facial recognition temperature scanner
Issue 6 2020, ViRDI Distribution SA , Access Control & Identity Management
Facial recognition with temperature measurement is, for the most part, available in one of two technologies – thermopile and thermography/IRT.
Read more...
---
Suprema integrates with Paxton's Net2 access control
Issue 6 2020, Suprema , Access Control & Identity Management
Suprema has announced it has integrated its devices with Paxton's access control system, Net2.
Read more...
---
Contactless check-in at hotels
Issue 6 2020 , Access Control & Identity Management
Onity has delivered the DirectKey mobile access solution to hotel chains around the globe, which allows for contactless check-in and property access.
Read more...
---
UFace facial recognition now in SA
Issue 6 2020, Trac-Tech , Access Control & Identity Management
Trac-Tech has secured the distribution rights to the UFace range of contactless biometric facial recognition and identity management IoT devices.
Read more...
---