printer friendly version
A new level of security for a new level of fraud
July 2014
Access Control & Identity Management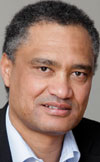 Stan Khan, Managing Director of Muvoni Biometric and Smartcard Solutions.
With the Internet and technology creating an ever-interconnected world, the amount of information businesses need to manage to remain secure is staggering. One particular issue the private sector has to compete with is increasing levels of fraud – especially identity fraud.
Globally, the number of people to fall victim to identity fraud in 2013 was at a massive 13.1 million. To grasp the severity of this, someone was a victim of identity fraud every two seconds.
In South Africa's insurance industry in 2013, 30% of all insurance claims were estimated to be fraudulent, amounting to about R15 billion. In banking, the South African Banking Risk Information Centre reckons that in the first nine months of 2013, the industry losses from fraud related to credit cards amounted to R367 million. Clearly, fraud is a problem and will continue to be so until sufficient measures are taken to combat it.
Considering it is a well-known fact that our green ID books are easily falsified, sectors like banking and insurance desperately need added levels of security for not only their own security, but for their customers too. This is where biometrics comes in. While somebody can forge an ID book, it is significantly more difficult, near impossible, to forge a fingerprint.
Biometrics are anything that is inherent to an individual and can be used to uniquely identify them. This can be anything from fingerprints, to the retina and iris, to even the sound of your voice. While the origins of fingerprint identification crept up over a century ago, particularly in law enforcement, biometrics are becoming increasingly relevant in the corporate space.
The ability to accurately identify someone, be it a customer or client, is of critical importance. But biometrics are only useful when done properly. A lot of companies implement biometrics, but are not ensuring that they capture good quality prints, making it easier for fraudsters to take advantage. When partnering with a biometrics company for business security purposes, one has to be as accurate as possible to ensure the most secure and trusted modus operandi.
Beyond the fingerprint, signature authentication is another biometric that is full of promise. With this, we have the technology to accurately identify a person and, more specifically, documents. Biometrics have evolved to the point where the style of handwriting, pressure used on the pen, as well as time taken to sign, are all unique to the individual and can be identified. This has far reaching applications in the business world as fraud can be as simple as forging a signature.
The simple answer is that biometrics are the way forward when gunning for business security. It is not only the banking and insurance industries who fall victim to identity fraud, it is you, it is me, it is everybody. The faster we move towards biometrics as a system of identification, the faster we can deal with the ludicrously high levels of fraud experienced every day in almost every sector.
For more information contact MBSS, +27 (0)12 679 2900, stan@muvoni.com, www.mbss.co.za
Credit(s)
Further reading:
Managing staff effectively
September 2019, dormakaba South Africa, iPulse Systems , Integrated Solutions, Access Control & Identity Management
Workforce management solutions allow organisations to track the relationship between productivity and the cost of employment, incorporating issues such as health and safety, T&A, rostering and more.
Read more...
---
Hennie Lategan joins Centurion as head of exports
September 2019, Centurion Systems , News, Access Control & Identity Management
Centurion Systems has announced the appointment of Hennie Lategan as the head of the company's exports department.
Read more...
---
New AlproMAX7 secures maximum rating
September 2019 , Access Control & Identity Management, Products
Alpro has launched a new range of ultra-secure mechanical mortice deadlocks, the AlproMAX7 which comply with BS EN 12209.
Read more...
---
ViRDI UBio Tab 5
September 2019 , Access Control & Identity Management, Products
ViRDI Distribution SA (ViRDI Africa) has announced the release of its long-awaited UBio Tablet to the South African market.
Read more...
---
Visitor access control at Ruimsig Country Club
September 2019, Elvey Security Technologies , Access Control & Identity Management, Products
Cost-effective access control solution that would control the ingress and egress of people, without hindering the traffic throughput of members.
Read more...
---
Estate-focused visitor management solution
September 2019, Vox Telecom , Access Control & Identity Management, Residential Estate (Industry)
Vox has expanded its cloud-based visitor management solution to cater specifically for the needs of small multi-dwelling unit estates and large residential estates.
Read more...
---
Biometrics control airport railroad
September 2019, Suprema , Access Control & Identity Management
63 km railroad to Incheon Airport is centrally controlled and secured by Suprema biometric hardware and software.
Read more...
---
Dual energy X-ray inspection system
September 2019, Regal Distributors SA , Products, Access Control & Identity Management
The ZKX6550 X-ray inspection system increases the operator's ability to identify potential threats; the device is designed to scan briefcases, carry-on baggage, small cargo parcels.
Read more...
---
ZKTeco parking barrier
September 2019, Regal Distributors SA , Products, Access Control & Identity Management
The PB3000 parking barrier is an ideal automatic car park barrier for parking lot and security control; it can easily integrate with revenue collection and access control systems.
Read more...
---
ZKTeco automatic bollard
September 2019, Regal Distributors SA , Products, Access Control & Identity Management
The high-quality automatic bollard is used to protect security areas from vehicle intrusion; in case of power failure, the bollard can be lowered manually.
Read more...
---