printer friendly version
University cuts energy costs through effective management
July 2014
Security Services & Risk Management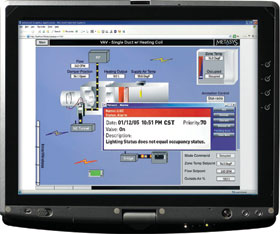 Nelson Mandela Metropolitan University (NMMU) is a South African higher education institution located along the country's southeastern coastline in the city of Port Elizabeth. It offers vocational training and professional degrees up to doctoral level, has six campuses and approximately 27 000 students.
The main NMMU campus is built on an 720-hectare nature reserve. The South, North and Second Avenue campuses are all situated close to the beach. The Bird Street Campus is in the Central Business District of Port Elizabeth, while the Missionvale Campus is 20 km away from the main campus. The George Campus is 300 km further west along the coast.
Demand for remote multi-campus management, energy management
The former University of Port Elizabeth installed a Johnson Controls Metasys building management system (BMS) in the 1970s. In 2005, NMMU was formed through the merging of three institutions: the University of Port Elizabeth, the Port Elizabeth Technikon and Vista University. After the merger, NMMU found itself challenged to adequately manage an additional 140 000 m² of geographically remote administrative, lecture, research and residential facilities.
In 2006 the Metasys BMS was expanded to incorporate the additional sites. In 2008, spurred by an energy crises in the country which has seen energy costs continue to escalate sharply, the need to incorporate energy management across all campuses became a priority. Upgrading of the entire BMS took place in 2012, with improved electrical metering, full remote management, energy management and detailed reporting.
"We needed a BMS solution that would assist us to manage a multi-campus facility. It had to be simple and easy to manage, and it had to go beyond alarm response and managing building comfort levels to incorporate energy management," says Peter Peters of Technical Services at NMMU.
NMMU's Facilities Management Department worked with ITD Airconditioning, an approved Johnson Controls Building Controls Specialist (ABCS), to upgrade the entire system to the latest Web-based Extended Application and Data (ADX) system and to install new Network Automation Engine (NAE) controllers. The upgrade took place over eight months, with the hardware change followed by the installation of new software onto the NMMU servers and the development of more than 130 graphic pages. The Johnson Controls Energy Essentials reporting package was also installed for enhanced and automated electrical consumption reports.
Driving operations, getting results
The BMS is used in the day-to-day operations of the university. It monitors and controls electrical consumption; street and walkway lighting; heating ventilation and air conditioning equipment; hot water generation at residences; fire alarms; critical equipment alarms; and climate control chambers used in research areas and laboratories. The Johnson Controls Metasys BMS is also an important element of the energy management programme implemented by NMMU. With more electrical meters directly connected to the BMS, consumption can be measured more accurately, maximum demand usage monitored and load shedding implemented to meet maximum demand targets – all in real time. The ability to monitor the overall and sub-metered energy consumption of each individual building has proven an important element of the success of the energy management programme.
To date, approximately 50 of the identified 100 metering points have been installed. The target date for completion is 2016. Nonetheless, over the last six months approximately 10% has been cut from NMMU's energy bill. This is over and above the fact that energy consumption increased in the same period, with approximately 11 000 m² of new buildings having been constructed and student numbers having continued to climb. The actual savings made are therefore much larger.
As more meters are installed and the university's load shedding abilities increase, the university hopes to achieve greater savings, supported by green campus initiatives offering students incentives to achieve targets.
An energy management committee has been formed, with ITD Airconditioning assisting with implementing identified initiatives, continually refining targets and the responsiveness of the system.
NMMU will achieve full return on its investment in the Metasys BMS upgrade in one year, measured in energy savings alone. What is more vital for the university, however, is the additional control and accompanying savings in time and manpower that the remote monitoring and management capability of the BMS provides. Says Peters: "Building management systems directly impact multiple aspects of NMMUs operations, from creating a comfortable environment for teaching and learning, to ensuring control of sensitive environments for research purposes, managing energy use in residences, driving security and, an increasing important factor, managing costs. The Metasys BMS is an invaluable tool – without it we would not be able to effectively manage the buildings on the university's multiple campuses."
For more information contact Johnson Controls, +27 (0)11 921 7141, neil.cameron@jci.com, www.johnsoncontrols.com
Credit(s)
Further reading:
Industrialisation or imperialism?
Issue 7 2020 , Security Services & Risk Management
4IR has to be a matter of national agenda; national economic and political sovereignty and national security - necessitating commensurate prioritisation.
Read more...
---
PCI DSS can be your PoPIA security blueprint
Issue 6 2020, Galix Group , Security Services & Risk Management
Some of the requirements of PCI DSS can also be used to comply with PoPIA, South Africa's data privacy law.
Read more...
---
Monopoly: AI edition
Issue 6 2020 , Security Services & Risk Management
Due to the inherent nature of artificial intelligence (AI), AI-powered industries naturally tend towards monopolisation.
Read more...
---
eVisa solutions for Botswana
Issue 6 2020 , Security Services & Risk Management
Travelers to Botswana will soon be able to complete visa applications online and ease their entry into the country.
Read more...
---
Three steps to kick-start POPIA compliance
Issue 6 2020 , Security Services & Risk Management
Complying with data privacy, security laws and regulations can be a daunting task for any organisation.
Read more...
---
Digital evidence handling in the cloud
Issue 5 2020 , Security Services & Risk Management
Investigate Xpress is a free, cloud-based digital evidence management solution designed to make police forces more efficient and productive.
Read more...
---
The evolution of security in residential estates
Residential Estate Security Handbook 2020 , Editor's Choice, Integrated Solutions, Security Services & Risk Management
Two large estates discuss their security processes and the ever-expanding scope of responsibilities they need to fulfil.
Read more...
---
Bang for your security buck(s)
Residential Estate Security Handbook 2020, Alwinco , Editor's Choice, Security Services & Risk Management
Hi-Tech Security Solutions asks how estates can maintain a good security posture in the time of the ever-shrinking budget.
Read more...
---
More efficient guarding through the effective use of technology
Residential Estate Security Handbook 2020, Technews Publishing, OnGuard, Stallion Security, Active Track , Security Services & Risk Management
Technology in its many forms can be used to optimise the efficiency and performance of on-site guarding.
Read more...
---
Range of grid-independent power systems
Residential Estate Security Handbook 2020, Specialised Battery Systems , Products, Security Services & Risk Management
SBS Solar has a range of solutions to provide power, save on costs and above all provide peace of mind.
Read more...
---