printer friendly version
What you need to know about surveillance: iLegal 2014
July 2014
News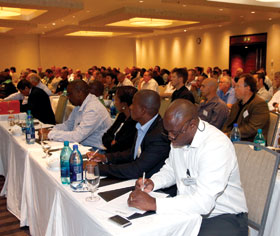 Back by popular demand, iLegal 2014, hosted by Hi-Tech Security Solutions and Dr Craig Donald, will be taking place on 5 August 2014. The event will cover critical issues in CCTV surveillance and its impact on operations, as well as specific issues regarding the implementation, applicability and the benefits of surveillance and other integrated security technologies.
iLegal 2014 will highlight both legal and practical insights into how the Protection of Personal Information Act (PoPI) impacts security operations. Attendees will be able to listen to a legal perspective on PoPI, followed by a presentation on the practical issues of the Act as they apply to day-to-day security operations.
Best practices in implementing, running and staffing effective city surveillance projects is also on the agenda, and Dr Craig Donald will discuss the integration of humans and technology in attaining the optimal operational solution.
A concept that's fairly new to South Africa is wearable surveillance technology. This will be discussed, including the benefits and potential legal pitfalls of this trend. Attendees will also have the opportunity to delve into the latest in remote vehicle monitoring trends and technologies, as well as best practices in dealing with theft and hijacking, even if the vehicle is far from the control room.
And while integration is a hot topic in the security world, iLegal 2014 will be looking beyond the hype to determine how integrating surveillance technologies with other security products can deliver added value, not only in terms of security operations, but also measurable benefits to other business areas within a company.
Finally, iLegal 2014 attendees will be given an overview of the latest emerging security technologies, not simply in terms of what's new, but what is useful and practical for today's security installations.
Everybody involved in the use and operation, installation and implementation or any aspect of surveillance, from security managers, executive managers, IT leaders and technology providers, and installers will benefit from this regular, hype-free conference covering the most important aspects of security surveillance.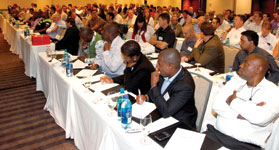 Presenters
The following two experts are among the prestigious presenters booked for iLegal 2014.
Francis Cronjé
Francis Cronjé is an information governance specialist with a strong legal background and years of practical experience, advising large entities on the powerful impact of PoPI. Apparently, his corporate clients refer to him as the 'Cleaner'.
Cronjé obtained an LLM degree from the University of Oslo's Norwegian Research Centre for Computers and Law, specialising in data protection, and advised Parliament on PoPI, where he served on the relevant portfolio, technical and NCOP committees. He is the co-author of POPI – 101 Questions and the co-author and editor of Cyberlaw@SA. He serves as the IAPP's chairperson in Cape Town and also acts as an adjudicator and appeal panellist at WASPA & ISPA. He has written numerous articles and is a regular speaker on PoPI and ICT law.
CCTV is one of the most information-intensive gathering and handling processes that exists and the Protection of Personal Information Act (PoPI) goes to the core of what is being done by all of those involved with CCTV and security. Cronjé will provide some background on PoPI and some perspectives on why it covers what it does. He will discuss why it is going to fundamentally affect everybody, from those making decisions in the boardroom, to those viewing and installing the systems.
Rob Anderson
Rob Anderson is a professional electrical engineer who has been a part of a wide variety of interesting and challenging projects during his long career spanning 36 years to date. At the start, in the electrical construction industry he was involved in large industrial projects. He moved to consulting work, still in the electrical engineering field and spent many years there doing, among other projects, particularly interesting work in conjunction with civil engineers.
After starting his own consulting practice in 1997, he has taken on the challenge of providing holistic security solutions based on sound engineering principles for a wide variety of clients both local and international. Anderson has done projects in the field of security engineering in Oman and Angola and has also done investigation work for security provision for clients in Morocco, Cabinda, Nigeria and Ghana. He has also provided innovative security solutions for National Keypoint Positions and companies which fall within their boundaries. Secure Estates, both office and residential, have become his speciality and his clients have included estates such as Zimbali, Thesen Island and 12 others.
Anderson will provide practical case study examples of where and when PoPI needs to be considered for CCTV and other security applications, covering real world examples you have probably never thought of. Given the responsibilities and obligations of the PoPI legislation, he will highlight what you should be doing to protect yourself, the reputation of your company and your clients.
For more information on booking your place for iLegal 2014, please contact Angie Beaumont, angie@technews.co.za, +27 (0)11 543 5800, or go to www.ilegal.co.za
Credit(s)
Further reading:
From the editor's desk: More things change
September 2019, Technews Publishing , News
Welcome to the CCTV Handbook 2019. This year's handbook breaks a long tradition of publishing the handbook in the first half of the year by releasing it along with the October issue of Hi-Tech Security ...
Read more...
---
A platform approach to innovation and value
September 2019, Technews Publishing , Editor's Choice, CCTV, Surveillance & Remote Monitoring, Integrated Solutions, IT infrastructure
Moving to the platform model of doing business holds tremendous advantages for end users and smaller developers, but also for the whole technology supply chain.
Read more...
---
Open does not always mean easy integration
September 2019, VERACITECH, Technews Publishing , Editor's Choice, CCTV, Surveillance & Remote Monitoring, Integrated Solutions
Customers who opt for best-of-breed solutions will have to rely on their integrators to develop customised integrated solutions for them.
Read more...
---
The impact of AI on the surveillance industry
September 2019, G4S South Africa, Hikvision South Africa, Myertal Tactical Security, Technews Publishing , Editor's Choice, CCTV, Surveillance & Remote Monitoring
What the impact of AI will be on companies, the services and solutions they supply, as well as on the jobs people do.
Read more...
---
Video analytics and AI
September 2019, Axis Communications SA, Dallmeier Electronic Southern Africa , Hikvision South Africa, Technews Publishing, Dahua Technology South Africa , Editor's Choice, CCTV, Surveillance & Remote Monitoring, Integrated Solutions
Artificial intelligence has the potential to deliver real benefits in the world of video analytics and many companies are already delivering customer benefits.
Read more...
---
Integration insights
September 2019, Gijima Electronic and Security Systems (GESS), Technews Publishing, neaMetrics , Integrated Solutions
The security industry would be a vastly different place if installers and integrators were not able to make a range of different products work together.
Read more...
---
Taking analogue to HD
September 2019, Dahua Technology South Africa, Technews Publishing, Hikvision South Africa , CCTV, Surveillance & Remote Monitoring
Hi-Tech Security Solutions spoke to two companies that are driving the two primary analogue HD technologies.
Read more...
---
Security surveillance architecture
September 2019, Technews Publishing , Editor's Choice, CCTV, Surveillance & Remote Monitoring
IP video surveillance solutions typically have two distinctive surveillance architectures: centralised and distributed. Dean Coleman explains the difference.
Read more...
---
Selecting the right surveillance storage
September 2019, Capsule Technologies, Technews Publishing , Editor's Choice, CCTV, Surveillance & Remote Monitoring, IT infrastructure
Storage is an integral part of a surveillance installation and the solution chosen can make or break the success of your project.
Read more...
---
Arteco launches new management platform
September 2019, Arteco Global, Technews Publishing , CCTV, Surveillance & Remote Monitoring, Products
Arteco has released its latest management platform, Omnia, designed to be faster and more responsive to operators? needs.
Read more...
---