printer friendly version
The molecular gastronomy of security
June 2014
Integrated Solutions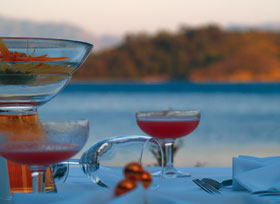 Restaurant business can be seasonal, but not security. Code-breakers, law-breakers and just plain thieves operate twenty four/seven, three sixty five days a year. But the two businesses do operate very much on similar principles, which is not to say that connoisseurs of good food have anything in common with their more criminally inclined brethren.
Bollywood movies, in their attempt to be original, often give strange twists to well-established scientific principles as well, and one of the otherwise forgettable films from the seventies firmly rests in the collective memories of generations of the Indian populace just because of one casual on-screen remark made by the suave Mafia-gangster-boss-actor of the time – Ajeet. The situation is like this. A heroic cop is trying to break into the gang's operations. The minions have caught him and there is the debate whether he should be best left dead or alive, and the boss nonchalantly suggests – put him into liquid oxygen. The liquid will not let him live and the oxygen will not let him die.
This has often made me wonder if every home should have a liquid oxygen thing that could be foisted on unsuspecting burglars, and they be left there till the police arrive. While the cryogenics of it may have its challenges, and would be drastically different from today's invisible beams and electric fences, it may not be that far from reality any more.
For many years now, we have had the pleasure of enjoying the tastes, flavours and textures of molecular gastronomy – if we have been able to afford it and if we managed to get a table after waiting for many months. Such haute cuisine now regularly deploys a close liquid cousin of oxygen, namely nitrogen that is perched just one place away on the periodic table that we loved so much when we did school chemistry.
Liquid nitrogen is what makes milk look like snow, and even octopus like a flower. It could also make honey look like egg-yolk and fruit juice feel like soapy water, and many more such marvellous looking preparations that also leave our taste buds pleasantly surprised.
As the converted start to adopt such culinary practices at home, it is likely that we would soon have the friendly neighbourhood supplies established, and liquid nitrogen would be only a phone-call away. But you would still require the igloo-like container that can hold it at the minus whatever degrees temperature, and if you thought that was unrealistic, who would have thought a hundred years ago that homes would have refrigerators.
However, if you needed that to double as a burglar trap, it would need to be somewhat larger, but that is just a matter of detail. The pundits of molecular gastronomy have used many important words to describe this novel cuisine, and among them are both – constructivist as well as de-constructivist. Indeed psychologists would be happy too, if thieves could be de-constructed and somehow elements of their behaviour could be altered in touch, feel and … taste, though biting burglars may not be a clever strategy most of the time.
Oh, it would be so much more fun then and surely it all sounds like a major breakthrough that would change our lives, forever.
Imagine preparing a full meal using the astonishing principles of molecular gastronomy. Of course, by then your kitchen would be fully equipped with tools of this wonderful trade: carbon dioxide for making bubbles and foam, anti-griddles, thermal immersion circulators, dehydrators, centrifuges and having maltodextrin, lecithin and assorted hydrocolloids along with the spices. You would even double the inkjet printer from your office to micro-spray edible fruit inks on edible soya paper, with which you could surprise your spouse by scribbling an edible 'Happy Birthday'. But of course the star would be the liquid nitrogen igloo that could help you create new desserts for the special occasions in your life, and some morning, imagine the surprise and excitement that makes you exclaim – ouch there is a thief in my milk and honey.
Polonius, when not appearing in Shakespeare's Hamlet, is a Hi-Tech Security Solutions' writer who travels the world in search of tasty criminals.
Further reading:
Managing staff effectively
September 2019, dormakaba South Africa, iPulse Systems , Integrated Solutions, Access Control & Identity Management
Workforce management solutions allow organisations to track the relationship between productivity and the cost of employment, incorporating issues such as health and safety, T&A, rostering and more.
Read more...
---
Increase security efficiency, decrease costs
September 2019 , Security Services & Risk Management, Integrated Solutions
Trackforce offers customisable mobile and web applications to increase security operational efficiency and lower costs.
Read more...
---
Augmented security with drones
August 2019, Drone Guards , Editor's Choice, Integrated Solutions
Drone Guards is moving into an untapped market of using drones to secure residential estates and other high-value assets such as mines, farms and commercial properties.
Read more...
---
10 things to consider when shopping for a VMS
August 2019, Genetec , CCTV, Surveillance & Remote Monitoring, Integrated Solutions
Today's video management systems (VMS) provide a wide range of tools and capabilities that help make security personnel more efficient by allowing them to focus on what really matters.
Read more...
---
Residential security – caveat emptor
August 2019, Stafix , Integrated Solutions, Security Services & Risk Management
When it comes to improving your property's security, make sure you take all the options into account as you build a layered approach to keeping people safe and assets secured.
Read more...
---
End-to-end security solutions for residential estates
August 2019, Elvey Security Technologies , Integrated Solutions, Residential Estate (Industry), Products
While there are a multitude of security options available for residential estate body corporates, unfortunately the solutions are not always able to integrate seamlessly, resulting in a hotchpotch of disparate systems.
Read more...
---
Integrated residential estate surveillance
August 2019, Forbatt SA , Integrated Solutions, CCTV, Surveillance & Remote Monitoring, Residential Estate (Industry)
Integrated solutions bring the best-of-breed out of each technology to give personnel all the tools they need for access control management and security.
Read more...
---
From fog to foxes
August 2019, Axis Communications SA , Perimeter Security, Alarms & Intruder Detection, CCTV, Surveillance & Remote Monitoring, Integrated Solutions
What makes radar devices so valuable is the fact that they can provide a high range of accurate data while barely relying on external factors, such as weather or light.
Read more...
---
Communications management within your security platform
August 2019, Genetec , Integrated Solutions, Residential Estate (Industry)
In the physical security industry, communications management systems, such as intercom solutions, are becoming an integral part of developing effective and comprehensive security strategies.
Read more...
---
The hidden claws of proof of concept
August 2019 , Editor's Choice, Integrated Solutions
Proof of concept is a proven methodology for testing new technologies, but it isn't perfect, and it can be more of a hindrance than a help.
Read more...
---