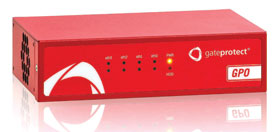 Small businesses are safe with gateprotect
June 2014, IT infrastructure
Westcon is introducing the gateprotect GPO 110. The firewall provides a competitively priced and robust security solution for small companies.
"With its advanced security features the GPO 110 provides an easy-to-use firewall for up to 15 users with resilient protection for the network, e-mails and secure interconnection via VPN for price-sensitive customers. Another option is that the UTM firewall, together with the firewalls belonging to the GPO series, can be extended to a WLAN access point as well as fixed with features to include endpoint protection," says Alex Van Zyl, channel manager, gateprotect at Westcon Security Solutions.
The GPO 110 provides SME companies in the local market with a durable firewall developed in Germany with all the functions needed for effective protection against cyber-attacks as well as the best possible performance that safeguards flowing business procedures.
The GPO 110 is easy to configure and manage thanks to eGUI technology and optional endpoint protection in real time.
For more information contact Westcon Security Solutions – Electronic, +27 (0)11 233 3333, marketing@westcon.co.za, www.westcon.co.za