printer friendly version
Switch to Edge-corE
June 2014
IT infrastructure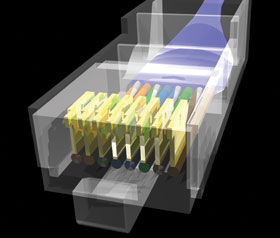 A switch is a switch is a switch, right? Think there is nothing new to learn about switches?
What is a Layer 2 switch? Switching on Layer 2 enables a switch to identify the mac address of any packet. When nodes are connected to a switch, a table is drawn up of mac addresses and the ports they are connected to. Using this table, packets are only sent to the port associated with the intended recipient.
What is a Layer 3 switch? Moving one step higher on the beloved OSI model, a Layer 3 switch can understand the IP address of a packet.
What is a managed switch? Depending on the switch you choose, your switch now either has the ability to understand mac addresses or IP addresses, what can I do with this information? A managed switch will allow you to make decisions based on either a mac address (Layer 2) or an IP address (Layer 3). You can now separate networks (VLANs and subnets), prioritise traffic, monitor devices using the SNMP protocol and aggregate ports to increase throughput. The critical difference between Layer 2 and Layer 3 switches are that Layer 2 switches can create VLANs (virtual local area network) or subnets, but cannot enable communication between them. A Layer 3 switch can create VLANs and subnets and enable communication between them.
Network designers employ subnets and VLANs as a way to partition networks into logical or physical segments for greater ease of administration. When these are properly implemented, both the performance and security of networks can be improved.
What is a VLAN? Managed switches allow you to allocate specific ports to selected virtual networks, essentially creating two separate networks on the same switch.
Fully managed switches
The Edge-corE 4210 and 4110 series provides 24 and 48 port switches with 4x SFP slots for Gigabit Fibre or Ethernet uplinks. Perfect for fibre to Ethernet breakout solutions when carrying out IP video and Voice-over-IP installations that also require quality of service and intuitive management features.
The Edge-corE ECS4510 series is a compact but high-performance Gigabit Ethernet Layer 2+ switch featuring 24 or 48 gigabit ports, 2 10G SFP+ ports, and one 10G dual port expansion slot. This switch is ideal for high-performance server aggregations, such as enterprise data centres, where it can connect high-end network-attached files servers over fibre ports. It can also be deployed as a backbone upgrade, or to provide Gigabit to power users. This switch is a cost-effective solution that brings continuous availability, enhanced security and advanced Quality of Service (QoS) to any network, while maintaining simplicity of management.
Layer 3 switches offering stacking ability, optional 10G SFP+ (10 km) or 10G XFP (80 km). The Edge-corE ECS4610 series includes two stackable Gigabit Ethernet routing switches with a choice of 24 or 48 Gigabit ports, four combination Gigabit Ethernet SFP slots, two optional 10 Gigabit Ethernet slots for SFP+ (10 km) or XFP (80 km), and two stacking ports on the rear panel. The ECS4610 Series is ideal for service provider aggregation, enterprise wiring closets, data centre aggregation, and network core deployment. It provides high performance, resilient stacking, wire-speed L2 switching and L3 routing, comprehensive QoS, and advanced security to deliver the scalability and resiliency to increase your company's productivity while reducing operation costs.
For more information contact Miro distribution, 086 123 MIRO (6476), sales@miro.co.za
Credit(s)
Further reading:
Putting secondary storage to work
September 2019 , IT infrastructure, Security Services & Risk Management
By 2022, more than 80% of enterprise data will be stored in scale-out storage systems in enterprise and cloud data centres, up from 40% in 2018.
Read more...
---
Ensuring a seamless ultra-wideband ecosystem
September 2019 , Editor's Choice, IT infrastructure
FiRa consortium ensures an interoperable ultra-wideband technology ecosystem across chipset, device and service infrastructure through standards and certifications.
Read more...
---
LanDynamix helps secure Michael Mount campus
September 2019 , IT infrastructure, Products
LanDynamix has implemented Fortigate, Fortinet's firewall appliance, at Michael Mount Waldorf School in Bryanston, Johannesburg.
Read more...
---
Network insight benefits business
September 2019, Duxbury Networking , IT infrastructure, Products
The Insight app provides ease of access to your network from any location, and simplified device discovery and setup, warnings, notifications, and status checks.
Read more...
---
Highly adaptable wireless mesh network solution
September 2019, Duxbury Networking , Products, IT infrastructure, Residential Estate (Industry)
Rajant's Living Network infrastructure evolves and adapts to your growing and changing connectivity requirements.
Read more...
---
Modular fibre-optic patch panel
September 2019, Jasco Trading t/a Webb Industries , Products, IT infrastructure
Telegärtner's Fibre Termination Box facilitates customised cabling in locations where large numbers of apartments or buildings have fibre-optic outlets installed.
Read more...
---
Wi-Fi access points for SMMEs and startups
September 2019, Duxbury Networking , Products, IT infrastructure
Aruba Networks? latest offering, Instant On, delivers reliable, easy-to-manage network technology for small businesses.
Read more...
---
Network switch for solar applications
September 2019, Duxbury Networking , Products, IT infrastructure
Duxbury Networking has released the latest addition to the Duxbury network switch range, a solar switch ideal for remote locations.
Read more...
---
Argentine Railway chooses Radwin's wireless broadband solution
September 2019, RADWIN , IT infrastructure
Radwin's FiberinMotion will enable mission-critical applications onboard passenger trains, including CCTV, VoIP and future Wi-Fi connectivity.
Read more...
---
SD-WAN: how and why
August 2019 , IT infrastructure
Software-defined networking in a wide-area network (SD-WAN) is emerging as a mainstream technology and is seeing increasing global adoption.
Read more...
---