printer friendly version
PoPI-compliant visitor management system
June 2014
Access Control & Identity Management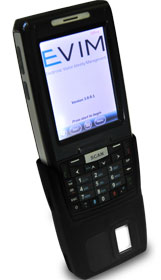 Ideco Biometrics has launched its Electronic Visitor Identity Management (EVIM) solution based on a mobile data terminal with an integrated fingerprint scanner. It is the only offering of its kind that is fully compliant with the country's newly promulgated Protection of Personal Information (PoPI) Act. Businesses that have been forced to stop the use of non-compliant, outdated visitor management and access control systems can now invest in a viable and credible solution.
EVIM is designed to automate visitor registration and reinforce accuracy across all ID-based transactions to help combat escalating incidents of identity theft emanating from exposed visitor information in the traditional logbook.
The offering marries the advantages of a digital visitor register system with security in the cloud and integrated fingerprint biometrics, reflecting a strong move in the industry towards the convergence of mobile applications and cloud services, with advanced visitor management systems.
Marius Coetzee, managing director at Ideco, explains that there are several issues with traditional visitor books or registers that render these systems non-compliant with PoPI – or unable to provide full protection of personal information stored in physical documents.
"PoPI has been signed into law to enforce the right to privacy of personal information of South Africans and ensure that the country is aligned to global data protection laws. Issues such as illegible information and inaccurate records impact on the successful application of traditional systems in line with the objectives outlined by PoPI," says Coetzee.
He refers to the preamble of the PoPI legislation and emphasises the excerpt which states that "the right to privacy includes a right to the protection against the unlawful collection, retention, dissemination and use of personal information. This relates very much to the processing of personal information. PoPI seeks to ensure that only information that is needed for a specific purpose is collected, that reasonable steps are taken to secure this information, that it is relevant and accurate, and only retain as much as is required and only for as long as it is required. If we review access control systems and the collection and storage of personal information, then we begin to see why certain systems work and others do not," Coetzee adds.
Why EVIM works
EVIM is based on biometric visitor management technology which provides accurate record keeping in line with legislation, including PoPI and the OHS Act. The latter makes it law to accurately record visitor details.
The EVIM solution captures names and surnames, as well as vehicle registration details accurately, every entry and exit is date and time stamped, guards or other visitors do not have visibility of the data, all visitor data is securely stored for future reference and it complies with all regulatory and privacy requirements.
"We continue to stress that unlike the old visitor book, an EVM report has valid visitor information," Coetzee continues.
The system facilitates barcode scanning for accurate data input of driver details, laptop serial numbers or delivery notes and can perform online ID checks in under 12 seconds. It is also configurable to capture multiple data fields and records all transactions on secure cloud servers.
Only authorised users can access EVIM's online visitors logs and all data can be sorted, filtered or grouped. In addition to the automated daily visitor reports, the export function provides a CSV file to import data to any other business system.
John Lewis, security manager at Willows Estate, said, "The EVIM system is reliable. It verifies data in real time and provides a great barrier to unwanted visitors. Ideco's EVIM met all our requirements and enabled us to fully comply with all regulations."
For more information contact Ideco Biometric Security Solutions, 086 104 3326, contact@ideco.co.za, www.ideco.co.za
Credit(s)
Further reading:
Managing staff effectively
September 2019, dormakaba South Africa, iPulse Systems , Integrated Solutions, Access Control & Identity Management
Workforce management solutions allow organisations to track the relationship between productivity and the cost of employment, incorporating issues such as health and safety, T&A, rostering and more.
Read more...
---
Hennie Lategan joins Centurion as head of exports
September 2019, Centurion Systems , News, Access Control & Identity Management
Centurion Systems has announced the appointment of Hennie Lategan as the head of the company's exports department.
Read more...
---
New AlproMAX7 secures maximum rating
September 2019 , Access Control & Identity Management, Products
Alpro has launched a new range of ultra-secure mechanical mortice deadlocks, the AlproMAX7 which comply with BS EN 12209.
Read more...
---
ViRDI UBio Tab 5
September 2019 , Access Control & Identity Management, Products
ViRDI Distribution SA (ViRDI Africa) has announced the release of its long-awaited UBio Tablet to the South African market.
Read more...
---
Visitor access control at Ruimsig Country Club
September 2019, Elvey Security Technologies , Access Control & Identity Management, Products
Cost-effective access control solution that would control the ingress and egress of people, without hindering the traffic throughput of members.
Read more...
---
Estate-focused visitor management solution
September 2019, Vox Telecom , Access Control & Identity Management, Residential Estate (Industry)
Vox has expanded its cloud-based visitor management solution to cater specifically for the needs of small multi-dwelling unit estates and large residential estates.
Read more...
---
Biometrics control airport railroad
September 2019, Suprema , Access Control & Identity Management
63 km railroad to Incheon Airport is centrally controlled and secured by Suprema biometric hardware and software.
Read more...
---
Dual energy X-ray inspection system
September 2019, Regal Distributors SA , Products, Access Control & Identity Management
The ZKX6550 X-ray inspection system increases the operator's ability to identify potential threats; the device is designed to scan briefcases, carry-on baggage, small cargo parcels.
Read more...
---
ZKTeco parking barrier
September 2019, Regal Distributors SA , Products, Access Control & Identity Management
The PB3000 parking barrier is an ideal automatic car park barrier for parking lot and security control; it can easily integrate with revenue collection and access control systems.
Read more...
---
ZKTeco automatic bollard
September 2019, Regal Distributors SA , Products, Access Control & Identity Management
The high-quality automatic bollard is used to protect security areas from vehicle intrusion; in case of power failure, the bollard can be lowered manually.
Read more...
---