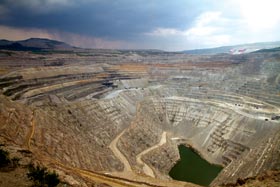 Using intelligent imaging systems for mine security and safety
June 2014, Mining (Industry)
Security systems are mostly designed to detect transgression of one or other kind and in most cases this involves perimeter or limited area detection. These solutions are not necessarily optimised for special applications such as active command and control during an incident and especially during an incident where large numbers of people are involved and scanning the terrain for individuals and vehicles that are in areas where they may be in danger.
Crowd control
When monitoring crowds, it is often very difficult to identify specific individuals that may be hiding in the masses. These individuals may be the ringleaders instigating violence. In most cases it is very difficult to identify them because of the poor resolution when using wide angles and generic surveillance cameras and zooming in mostly results in myopic vision – losing the real target while investigating a diversion or an incorrectly identified target and no recording is done of the whole scene.
A crowd control system should be designed primarily with this scenario in mind. It should use video systems in a very similar fashion to the performance of a human eye. By using an array of high-resolution wide angle cameras to offer wide area coverage, supported by high powered zoom cameras to investigate hot spots, it achieves the best of both worlds.
In this way, even if the wrong target is investigated, the overview system will still be keeping an eye on (and recording) the full crowd. But simply being able to observe is not enough. The conditions under which these events take place are far from ideal. From the control room, which may not even be in the danger zone, an operator should be able to view the whole area with reasonable detail, at least sufficient to identify points of concern. In addition, he should have the ability to control a spot camera to point to areas in a rapid way.
In such a system, this could be accomplished by simply clicking on any point of any of the wider area cameras and this will swing and zoom the spot camera onto the designated target. Here the operator is supported with image enhancement tools such as contrast enhancement, sharpening, and so on. In addition, this camera is supported with a spot illuminator (either white light or infrared light) to illuminate the area where he is focusing his attention. To assist with rapid decision-making the operator also has the ability to review any footage from any of the cameras. All cameras are high frame rate, megapixel cameras with high quality recording.
Wide area surveillance to ensure safety
The mining industry has been using surveillance for a long time, and for multiple purposes. Traditionally the surveillance techniques used for safety and security functioned by detecting people in restricted areas, or monitoring the movement of humans or vehicles in and around controlled areas. But is scanning the nearby surroundings sufficient?
Around the world there are still multiple incidents on an annual level where people are injured or even killed by accidents on the mines. In addition to this, a lot of damage is caused to equipment and the cost of repairs or replacement, but even more so the cost of the time lost, can significantly impact the production figures and consequently the revenue. A lot of research has been put into material movement and pit security, but what happens around the pit is often ignored. Wide area surveillance gives a broader picture of what is going one, and can be used for several purposes.
For many mines, safety takes the highest priority when decisions are made. Even though there are already extreme safety protocols already in place, safety breaches are still common and can impact not only the transgressing party, but also his co-workers and safety personnel. The first and most effective safety measure in place is prevention. Knowing what is going on not just in your nearby vicinity, but also in the wider area can greatly assist in avoiding accidents.
Traditional surveillance monitors small areas, but in order to practice effective prevention one needs as much time as possible to warn for possible dangers. A new wide area scanning system has been developed capable of monitoring large areas. It provides knowledge of activities without the need to add devices to people and vehicles and provides knowing where any personnel, vehicles, and earth moving equipment is especially in potentially dangerous areas.
Knowing the whereabouts of employees and equipment can help warn them when they are approaching unsafe or demarcated areas, it can warn of approaching heavy machinery, even when the threat is not even within sight yet. In addition, optical surveillance, specifically thermal surveillance has the benefit of not requiring GPS-trackers on all equipment, making it possible to follow support equipment, humans and animals on the property during the day, or at night. In essence, it can serve as a proximity detector that not only works for equipment that has anti-collision systems installed.
Dr Coetzer can be contacted at Protoclea Advanced Image Engineering, ( benniec@protoclea.com, www.protoclea.com).