printer friendly version
Wireless networking solutions from Motorola
1 June 2014 Infrastructure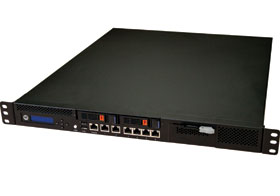 Westcon has announced three new wireless network management solutions from Motorola Solutions, namely the VX 9000, NX 7500 and the EX 3500.
Motorola is now offering new solutions for easy migration to the cloud, products that provide a centralised Access Point management model, as well as form part of a unified wireless infrastructure.
The first device, the VX 9000, is a virtual controller that combines the power of virtualisation with Motorola's WiNG Controller. The VX 9000 brings together the cost-effectiveness of virtualisation with the high-performance of the wireless services, endless scalability, deployment flexibility and centralised management of the entire wireless network creating a new level of simplicity and much needed hardware independence to the wireless LAN.
According to Westcon, this range is easy to deploy through public clouds or through the NOC and it can be installed on any existing hypervisor such as Citrix XEN, VMware ESXi or Microsoft Hyper V without the need of a new hardware. Also, customers can now run multiple instances of the VX 9000 on a single server, reducing costs and space and power requirements in the network operations centre.
The controller can support up to 25 000 access points, therefore there is no need for purchasing different controllers for different access point capacities. Customers can run VX 9000 on a commodity server as it has no unique hardware requirements.
Secondly, the NX 7500 is a multi-service platform that brings advanced WLAN performance and single point of control simplicity to the mid-size WLAN. Designed for mid-sized enterprises and campus environments, the NX 7500 offers comprehensive management of up to 2048 network elements through a single pane of glass.
Virtualised framework and an integrated 500 GB hard drive allow hosting, deployment, and management applications directly on the NX 7500, therefore eliminating the need to purchase and manage additional hardware. The controller can be used for centralising management functionality.
Lastly, the EX 3500 Series Ethernet switch addresses all of the access layer needs of a customer's branch and remote office deployments. Now, users can easily support their wired networking requirements, as well as monitor and manage their entire wired and wireless network with a single management window pane.
This solution also boasts the added advantages of centralised management through Motorola Solutions WiNG-based NX Integrated Services Platforms. Easy support for a wide variety of wired networking requirements also allows easy monitoring and management of all wired and wireless equipment with the simplicity of a single pane of glass, reducing management time and complexity.
For more information contact Westcon Security Solutions – Electronic, +27 (0)11 233 3333, marketing@westcon.co.za, www.westcon.co.za
Further reading:
Enhanced cellular connectivity is critical for farm safety
Infrastructure Agriculture (Industry)
In South Africa, the safety of our rural communities, particularly on farms, is a pressing concern. Nearly 32% of South Africa's 60 million people live in these areas, where security challenges are constantly in the spotlight.
Read more...
---
All aspects of data protection
Technews Publishing Editor's Choice Information Security Infrastructure AI & Data Analytics
SMART Security Solutions spoke to Kate Mollett, Senior Director, Commvault Africa, about the company and its evolution from a backup specialist to a full data protection specialist, as well as the latest announcements from the company.
Read more...
---
Revolutionising networking technology for the future
Infrastructure IoT & Automation
[Sponsored] In the fast-evolving landscape of networking technology, RUCKUS Networks stands out as a trailblazer, offering innovative solutions that redefine connectivity experiences across various industries.
Read more...
---
Edge could help transform South Africa's healthcare
Axis Communications SA Infrastructure
Edge computing has emerged as a game-changing technology for many industries, and the healthcare sector is no exception. In particular, South Africa's healthcare industry could significantly benefit from the potential of this technology.
Read more...
---
Cloud platform for cyber resilience in the hybrid enterprise
Infrastructure
The Commvault Cloud brings together data protection, security, intelligence, and recovery on one platform, offering AI capabilities to defeat cyber threats, and includes integration with Microsoft Azure OpenAI Service.
Read more...
---
Rapid rise in DNS attacks drives demand for new approach
Infrastructure Risk Management & Resilience
As ransomware grows more sophisticated and DNS attacks become more frequent, businesses are increasingly trying to protect themselves by adopting innovative approaches and technologies to bolster the integrity and security of their backup systems.
Read more...
---
Majority of South African companies concerned about cloud security
Information Security Infrastructure
Global and local businesses share a common concern when it comes to cloud security. 95% of global businesses and 89% of local businesses are concerned about the security of public clouds.
Read more...
---
Consolidated cybersecurity management
Technews Publishing Editor's Choice Information Security Infrastructure
SMART Security Solutions spoke to Gareth Redelinghuys, Country Managing Director, African Cluster at Trend Micro, to find out what makes Trend stand out from the crowd and also its latest market offerings.
Read more...
---
Access to data centre secured
Suprema Access Control & Identity Management Infrastructure
GBM required a modern access control system to increase the security of its facilities in a productive environment without affecting the operation of the offices and the data centre, which are carried out 24/7/365.
Read more...
---
Africa's growth lies on shoulders of renewable energy
News & Events Infrastructure
The Africa Tech Festival from 13 to 16 November in Cape Town will unpack the challenges and discuss the pivotal role of sustainability & renewable energy in advancing technological development in Africa.
Read more...
---