printer friendly version
Wireless networking solutions from Motorola
1 June 2014 IT infrastructure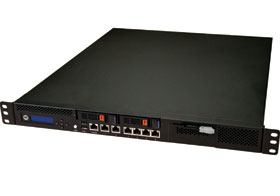 Westcon has announced three new wireless network management solutions from Motorola Solutions, namely the VX 9000, NX 7500 and the EX 3500.
Motorola is now offering new solutions for easy migration to the cloud, products that provide a centralised Access Point management model, as well as form part of a unified wireless infrastructure.
The first device, the VX 9000, is a virtual controller that combines the power of virtualisation with Motorola's WiNG Controller. The VX 9000 brings together the cost-effectiveness of virtualisation with the high-performance of the wireless services, endless scalability, deployment flexibility and centralised management of the entire wireless network creating a new level of simplicity and much needed hardware independence to the wireless LAN.
According to Westcon, this range is easy to deploy through public clouds or through the NOC and it can be installed on any existing hypervisor such as Citrix XEN, VMware ESXi or Microsoft Hyper V without the need of a new hardware. Also, customers can now run multiple instances of the VX 9000 on a single server, reducing costs and space and power requirements in the network operations centre.
The controller can support up to 25 000 access points, therefore there is no need for purchasing different controllers for different access point capacities. Customers can run VX 9000 on a commodity server as it has no unique hardware requirements.
Secondly, the NX 7500 is a multi-service platform that brings advanced WLAN performance and single point of control simplicity to the mid-size WLAN. Designed for mid-sized enterprises and campus environments, the NX 7500 offers comprehensive management of up to 2048 network elements through a single pane of glass.
Virtualised framework and an integrated 500 GB hard drive allow hosting, deployment, and management applications directly on the NX 7500, therefore eliminating the need to purchase and manage additional hardware. The controller can be used for centralising management functionality.
Lastly, the EX 3500 Series Ethernet switch addresses all of the access layer needs of a customer's branch and remote office deployments. Now, users can easily support their wired networking requirements, as well as monitor and manage their entire wired and wireless network with a single management window pane.
This solution also boasts the added advantages of centralised management through Motorola Solutions WiNG-based NX Integrated Services Platforms. Easy support for a wide variety of wired networking requirements also allows easy monitoring and management of all wired and wireless equipment with the simplicity of a single pane of glass, reducing management time and complexity.
For more information contact Westcon Security Solutions – Electronic, +27 (0)11 233 3333, marketing@westcon.co.za, www.westcon.co.za
Credit(s)
Further reading:
Open source software as a tool for growth
Issue 2 2020 , IT infrastructure
Open source technology forms a part of virtually all IT applications and devices on the planet, and even runs the internet.
Read more...
---
5G security is all-important for governments
Issue 2 2020 , IT infrastructure
The 5G revolution is about to flip us from a society that 'uses networks' to one that 'runs on networks'.
Read more...
---
Unlocking the potential of IoT
Issue 2 2020 , IT infrastructure
With the potential economic impact of IoT estimated to top $11 trillion annually by 2025, local companies must see IoT as a strategic priority.
Read more...
---
What about corporate data at home?
Issue 2 2020 , IT infrastructure
Companies that send employees home with proper safeguards face challenges, but those relying on uncontrolled employee-owned phones and computers to get work done 'are sitting ducks'.
Read more...
---
Small server solution for small, remote businesses
Issue 2 2020 , IT infrastructure
HPE powers small businesses and remote office locations with monthly subscription for secure, easy-to-use IT solutions.
Read more...
---
The risk of dark data
Issue 2 2020 , IT infrastructure
Cloud adoption rises as businesses aim to reduce data protection costs, but many miss this benefit as they use cloud as a dumping ground for 'dark' and redundant, obsolete and trivial (ROT) data.
Read more...
---
Video surveillance multicast networks made easy
Issue 1 2020, Duxbury Networking , IT infrastructure
Many businesses are struggling to realise the full potential of modern video surveillance technology due to limitations of the underlying network.
Read more...
---
Three data protection predictions for 2020
Issue 1 2020 , IT infrastructure
Byron Horn-Botha from Arcserve Southern Africa relates the company's top three data predictions to be on the alert for in 2020.
Read more...
---
An open foundation for 2020
Issue 1 2020 , IT infrastructure
The migration to open hybrid cloud technologies will be the way to go as we head into the new decade.
Read more...
---
Will 5G be the answer to all prayers?
Issue 1 2020 , IT infrastructure
There is a lot of understandable confusion about the role Wi-Fi will play once 5G arrives, and how they might work together.
Read more...
---