printer friendly version
Whitewash on the blacklist
1 June 2014 Security Services & Risk Management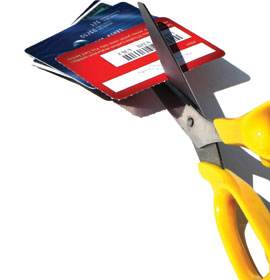 The new regulations to the National Credit Act will keep companies in the dark about certain information pertaining to employee applicants and potential vendors.
This is according to Jenny Reid, CEO of iFacts, a company that takes care of corporate security and seeks to remove people risk in business.
Background to the changes
In late February, Dr Rob Davies, Minister of Trade and Industry, gave notice of new regulations to the National Credit Act, 2005. The change came into effect 1 April 2014 and the Department of Trade and Industry (DTI) has given credit bureaux in South Africa approximately two months to remove adverse consumer credit information from, and information relating to paid-up judgements. In other words, 6.5 million status updates relating to 4.2 million credit profiles will soon be deleted.
Disappearing histories
This means that negative descriptions – such as slow payer, delinquent, default or non-contactable – will no longer be allowed. The bureau will also not be allowed to give out enforcement action indicators, such as legal action, written off, repossessed or overdue.
"As it allows for the once-off removal of negative credit information, plus the continuous removal of paid-up judgement, it means that there will be no track record of bad payment, no spoor to follow to identify a trend of reckless or unscrupulous credit behaviour," Reid says. "There will also be no notice of the action taken against these individuals. We'll be left in the dark as to histories, behaviour and trustworthiness of these individuals."
Furthermore, the collections information will be deleted and copies of previous enquiries will no longer be available online.
Increased risk for employers
"While this doesn't necessarily mean that the debt is written off, it does hide important information when investigating potential employees for clients," she explains. "In effect, it will increase security risks around new people coming into a company. This extends to vendors you might be about to use."
Reid believes the landscape will have to change from the way providers provide credit to consumers to the screening process companies will use in a security analysis.
"The truth is that employees with a poor credit history can pose a security threat," she says. "The information previously accessible would help put this history in context – there is a difference between a slow payer and a delinquent payer. It is important to know if the individual provided the correct information or deliberately misrepresented basic facts."
Reputational assessments
Without the credit information as a resource, Reid believes other investigative methods can be used. "The idea is to look harder at other information – such as criminal checks, education certificate verification and so forth in order to find out the reputation of the individual," she says. "If there are discrepancies here, it should raise a red flag. If someone can lie on a credit application, they will probably fabricate their CV, so make sure you check this closely too. Don't discount a social media investigation. The same process applies to contract or temporary employees."
Moreover, creating a profile of a typical unethical or high-risk individual is important before hiring a new member of staff. This upfront security analysis and screening process is more efficient than dealing with the costly and lengthy legal action involved with dismissing an employee after the fact.
In April, iFacts is launching a Consumer Credit Report, which has been prepared for the changes to the National Credit Act. It helps clients mitigate risks by applying new strategies and implementing different decision-making tools.
For more information contact iFacts, +27 (0)11 609 5124, sonya@ifacts.co.za, www.ifacts.co.za
Credit(s)
Further reading:
Meeting compliance obligations
Issue 7 2020 , Security Services & Risk Management
Helping businesses in SA understand and meet their compliance obligations to local regulations.
Read more...
---
Industrialisation or imperialism?
Issue 7 2020 , Security Services & Risk Management
4IR has to be a matter of national agenda; national economic and political sovereignty and national security - necessitating commensurate prioritisation.
Read more...
---
Password vulnerabilities in South Africa
Issue 7 2020, Kaspersky , Security Services & Risk Management
Research from Kaspersky has shown that people are putting their online safety at risk by making bad password decisions and simple password mistakes that may have far-reaching consequences.
Read more...
---
The greatest crime-fighting weapon is predictably
Issue 7 2020 , Security Services & Risk Management
Predictability fuelled by artificial intelligence (AI) and big data has the ability to reduce violent crimes by 25% by 2023 according to Aura.
Read more...
---
PCI DSS can be your PoPIA security blueprint
Issue 6 2020, Galix Group , Security Services & Risk Management
Some of the requirements of PCI DSS can also be used to comply with PoPIA, South Africa's data privacy law.
Read more...
---
Monopoly: AI edition
Issue 6 2020 , Security Services & Risk Management
Due to the inherent nature of artificial intelligence (AI), AI-powered industries naturally tend towards monopolisation.
Read more...
---
eVisa solutions for Botswana
Issue 6 2020 , Security Services & Risk Management
Travelers to Botswana will soon be able to complete visa applications online and ease their entry into the country.
Read more...
---
Three steps to kick-start POPIA compliance
Issue 6 2020 , Security Services & Risk Management
Complying with data privacy, security laws and regulations can be a daunting task for any organisation.
Read more...
---
Leaders in risk and security: As long as there are people, there will be risk
Issue 5 2020, iFacts, Technews Publishing , Editor's Choice
Jenny Reid is a self-made success, focusing on people, the risks they create and the potential they have.
Read more...
---
Mitigating the human risk
Issue 5 2020, Managed Integrity Evaluation, Technews Publishing, iFacts , CCTV, Surveillance & Remote Monitoring
Hi-Tech Security Solutions asked Jennifer Barkhuizen and Jenny Reid for some information around background screening and vetting of potential new hires.
Read more...
---