printer friendly version
Learning the business of business
February 2014
News
Hosea Malope, chief executive officer at Zonke Monitoring Systems, studied Information Technology (IT). "I come from an IT background and have worked as a systems operator, systems developer and IT manager before joining Zonke Monitoring Systems as the operations manager in 2001. I am a hard-working visionary who strives for growth and success at all times," says Malope.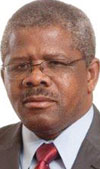 Hosea Malope, CEO at Zonke Monitoring Systems.
Malope's first job came in client support. "My career started in 1982 with a company called Computer Basics in Bez Valley. My role at the time of starting was client support."
Malope says he did not have his current position in mind when he started though. "My highest career aspiration at the time was to be an IT manager, which I reached in 1999 when I was appointed head of department, information technology at the CCMA."
During his career, Malope had to make big decisions that would later change the direction of his career in a positive way. These came as a result of certain events in his career path.
"There have been significant events during my career. In 1990 I was a programmer with Tiger Management Services (today called Tiger Brands) working in what was then referred to as Group Information Systems. The team was responsible for developing software for the entire Tiger Oats Group. We then had a change in IT management.
"The new manager dissolved Group IS and sent us to the subsidiaries. I ended up at Festive Farms in Olifantsfontein and immediately looked for another job, which I got. My then IT manager talked me into staying and matched the offer of the new company. I there and then changed my attitude and decided to rather focus on learning the business.
"In no time I was spending time in the factory, visiting farms and started to add value to the business. This was a great learning curve for me as I suddenly realised that being an IT guru with no business knowledge meant absolutely zero. That is what put me on the road to my current position."
As to his new position as CEO, he says, "I will focus less on operations and focus on growing and diversifying the business. There are a number of opportunities to the north of our borders that can be exploited."
When asked what advice he would have for up-and-coming security professionals on how to kick-start their careers, Malope advises: "The industry we are in is highly technical. So, any person with an IT or engineering qualification who is prepared to learn and understand the business, and of course, with the right attitude and determination will succeed.
"The problem with some young people today is that they get bored very quickly and do not put enough effort in their work. They need to focus and set themselves milestones. One should realise growth by continuously developing one's skills. Work smart and consistently, deliver on your tasks and projects. There is always someone in the company who will realise your potential and will definitely see to it that you are rewarded for your efforts."
Further reading:
TAPA: The role of an effective treasury function in business risk management
June 2019, Technews Publishing , News
Neil Le Roux, the Founder of Diligent Advisors will speak at the TAPA SA (Transported Asset Protection Association) annual conference on 26 July 2019.
Read more...
---
Platforms are us
September 2019, Technews Publishing , News
A conversation I had at the recent Residential Estate Security Conference Hi-Tech Security Solutions hosted in August (which will be reviewed in the October issue) got me to thinking about the security ...
Read more...
---
TAPA conference 2019 explores layered approach to security
September 2019, Technews Publishing, TAPA (Transported Asset Protection Association) , News, Transport (Industry)
The Transported Asset Protection Association (TAPA) held its annual South African conference at Emperors Palace in Johannesburg on 26 July 2019.
Read more...
---
Hennie Lategan joins Centurion as head of exports
September 2019, Centurion Systems , News, Access Control & Identity Management
Centurion Systems has announced the appointment of Hennie Lategan as the head of the company's exports department.
Read more...
---
New Africa sales manager for Axis Communications
September 2019, Axis Communications SA , News, CCTV, Surveillance & Remote Monitoring
Axis Communications has appointed Brendon Hall, previously the founder and MD of Pentagon, as its new sales manager, Africa.
Read more...
---
Check Point appoints new regional director for Africa
September 2019 , News, Cyber Security
Check Point Software Technologies has appointed Pankaj Bhula as regional director for Africa.
Read more...
---
ISO standard for protecting personal data
September 2019 , News, Cyber Security
Tackling privacy information management head on: first ISO standard for protecting personal data has been published.
Read more...
---
Hikvision helps secure African Union Summit
September 2019, Hikvision South Africa , News, CCTV, Surveillance & Remote Monitoring
Hikvision established a complete intelligent video solution to ensure the security of the thirty-third African Union (AU) Summit held on 7 July in Niamey, the capital of Niger.
Read more...
---
The hunt for the Carbanak group
September 2019 , Editor's Choice, Cyber Security, News
Tomorrow Unlocked has released a free four-part documentary that tells the story of the notorious Carbanak APT group and its $1 billion bank heist.
Read more...
---
Rockwell Automation a founding member of ISA Global Cybersecurity Alliance
September 2019 , News, Industrial (Industry)
To better secure today's complex and often vulnerable production operations, the ISA Global Cybersecurity Alliance recently announced Rockwell Automation as a founding member.
Read more...
---