printer friendly version
Bombing highlights need for more rail security
February 2014
News
The recent train station bombing in Volgograd, Russia, has once again focused attention on the vulnerabilities of rail infrastructure. According to a recently published report by IHS, purchases of explosives, weapons, and contraband (EWC) detection equipment at rail stations worldwide is expected to increase by 3,3% in 2014, and 8,8% in 2015. A large amount of this growth is expected to come from Asia where rail expansion projects are ongoing. As these rail projects near completion IHS expects to see an increase in purchases of explosives detection equipment.
Rail travel varies greatly by city, country, and region giving way to varying degrees of security. Unlike air travel, where all passengers and baggage is scanned for EWC, rail travel is not conducive to the same type of security measures. First, many passengers use rail services as their primary mode of transportation and depend on the easy access and convenience that rail transportation offers. Second, many rail stations have higher passenger volumes than airports. For example, in 2013 Atlanta's Hartsfield Jackson International Airport had 71,1 million passengers, whereas Tokyo's Shinjuku Station had 1,26 billion passengers.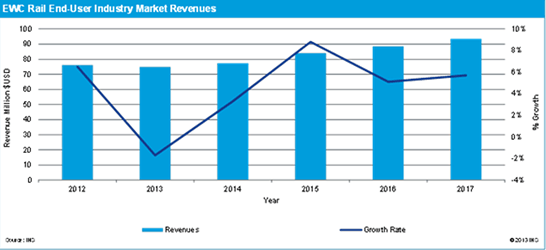 These factors have led to the development of new standoff detection technology to detect explosives in crowded areas. Ahead of the 2014 Winter Olympics, NATO and Russia started work on the Stand-Off Detection of Explosives (STANDEX) system. STANDEX was tested at several European rail stations and is expected to be deployed during the 2014 Winter Olympics. Worldwide rail stations continue to utilise a combination of trace, advanced imagery, explosives detection canines, and explosives trace portals to detect explosives.
Overall, the use of explosives detection equipment remains limited at rail stations; however, this is beginning to change as attacks on rail infrastructure continue. The developments of new technologies that meet the unique security needs of the rail industry are expected to drive future growth in the market.
For more information contact IHS, +44 1933 402255, niall.jenkins@ihs.com, www.ihs.com
Further reading:
SABRIC annual crime stats 2019
Issue 5 2020 , News
SABRIC, the South African Banking Risk Information Centre, has released its annual crime stats for 2019
Read more...
---
From the editor's desk: We're back!
Issue 5 2020, Technews Publishing , News
Welcome to the fifth issue of 2020. If years were people, 2020 would have been hung, drawn and quartered...
Read more...
---
XtraVision moves to new premises
Issue 5 2020, XtraVision , News
Hot on the heels of the company changing hands, XtraVision, a distributor of electronic security and fire solutions in Africa and South America, has relocated.
Read more...
---
20 years of innovation in security and biometrics
Issue 5 2020, Suprema , News
Founded in 2000, Suprema has built a sales network in over 140 countries and has over 1 billion users.
Read more...
---
Fidelity ADT and Vumacam join forces
Issue 5 2020, Fidelity ADT , News
Fidelity-ADT recently partnered with Vumacam to roll out a surveillance network of cameras across a number of southern suburbs in Johannesburg.
Read more...
---
Dahua launches ECO Partner Programme
Issue 5 2020, Dahua Technology South Africa , News
Dahua Technology has launched its new technology partner programme, the Dahua ECO Partner Programme.
Read more...
---
Suprema unveils Suprema G-SDK
Issue 5 2020, Suprema , News
Suprema's latest software development kit (SDK), Suprema G-SDK, allows Suprema devices to be seamlessly integrated with third-party software.
Read more...
---
New smart alarm solution with video verification
Issue 5 2020 , News
IDS has released the 806, a new 8-zone alarm solution based on 20 years of experience and over 1,5 million IDS805 installations.
Read more...
---
From the editor's desk: Sustaining security and sanity
Residential Estate Security Handbook 2020, Technews Publishing , News
Sustainability is a critical component of almost anything in these days of a tanking economy, boosted by COVID-19, which is given further emphasis by the economy being further hammered by the 'cure' for ...
Read more...
---
Gallagher launches Command Centre v8.30
Issue 5 2020 , News
Gallagher's v8.30 release improves operator efficiency with enhancements to Command Centre Mobile and integrated third-party systems, and further supports health and safety obligations.
Read more...
---