printer friendly version
Cape Town estate security breakfast
February 2014 News, Conferences & Events
Following the successful residential security event in Johannesburg, Hi-Tech Security Solutions will be hosting another invitation-only event in Cape Town, once again in co-operation with Dr Craig Donald and Rob Anderson. The invitation-only breakfast will be held on 18 March in Cape Town.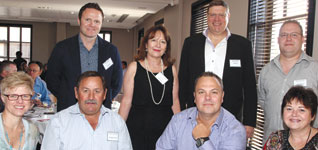 The event is aimed at people and companies actively involved in securing residential estates, from estate property developers, estate security managers, system integrators who design and install security for estates, consultants on estate security, residential estate ­association representatives and companies providing guarding and electronic security to estates.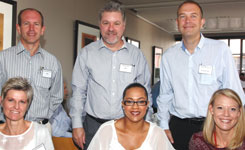 The breakfast and presentations will run from 7:30 am to 11:00 am and will consist of presentations by Rob Anderson and Dr Craig Donald, who have both done extensive work in estates around the country. This will be followed by a case study, delivered by the security manager of an estate, highlighting the problems and successes involved in securing a residential estate. Finally, a panel discussion dealing with pertinent issues and questions attendees raise related to estate security will close off the event.
Sponsors will be on hand before, during the break and after the event to discuss their technical solutions and experience in estate security. Attendees are welcome to stay and network over coffee after the event.
If you would like to attend, please contact Angie at angie@technews.co.za.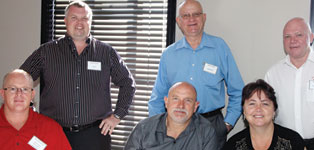 Comments from Johannesburg attendees
"Thanks for a well presented breakfast. Appreciate the limited time taken so that I could be back at the office by 11h00." – Gordon Crundwell.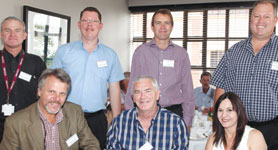 "I should say thank you for a very pleasant breakfast and the professional way you organised it. I really did enjoy it and the food was also good. It was a pity that, due to the lack of time, there was not more time available to chat with the other delegates. But overall it was a huge success . . ." – Danie Small.
"Thank you very much for facilitating the function. It was of great benefit and I thoroughly enjoyed participating at the event. Being a new entrant to the consultancy market, I am slowly finding a niche in the market for my systems and products and this was the perfect function to hear the latest information, thinking and ideas." – Michael Lever.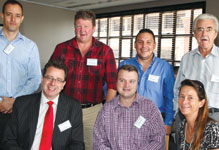 "I sincerely thank you for the invitation; the event was extremely interesting indeed. It was a pleasure to meet estate managers who face the same problems on a daily basis and I am sure that the ­networking will result in positive relationships." – Eddie Crous.
"Many thanks for the invitation to the breakfast. I really enjoyed the function. The speakers were very informative and approachable." – Victor Pereira.
"What an informative session! Please book me for 2014." – Tom Snyman.
Credit(s)
Further reading:
Leaders in risk and security: As long as there are people, there will be risk
Issue 5 2020, iFacts, Technews Publishing , Editor's Choice
Jenny Reid is a self-made success, focusing on people, the risks they create and the potential they have.
Read more...
---
Mitigating the human risk
Issue 5 2020, Managed Integrity Evaluation, Technews Publishing, iFacts , CCTV, Surveillance & Remote Monitoring
Hi-Tech Security Solutions asked Jennifer Barkhuizen and Jenny Reid for some information around background screening and vetting of potential new hires.
Read more...
---
SABRIC annual crime stats 2019
Issue 5 2020 , News
SABRIC, the South African Banking Risk Information Centre, has released its annual crime stats for 2019
Read more...
---
XProtect available on AWS
Issue 5 2020, Milestone Systems, Technews Publishing , Editor's Choice
Milestone recently announced the availability of XProtect on Amazon Web Services. Hi-Tech Security Solutions asked Keven Marier for more information.
Read more...
---
Adjusting to a new reality
Issue 5 2020, Technews Publishing , Integrated Solutions
COVID-19 to accelerate adoption of technology-enabled smart city resilience approaches: robotics, digital twins, and autonomous freight.
Read more...
---
From the editor's desk: We're back!
Issue 5 2020, Technews Publishing , News
Welcome to the fifth issue of 2020. If years were people, 2020 would have been hung, drawn and quartered...
Read more...
---
XtraVision moves to new premises
Issue 5 2020, XtraVision , News
Hot on the heels of the company changing hands, XtraVision, a distributor of electronic security and fire solutions in Africa and South America, has relocated.
Read more...
---
20 years of innovation in security and biometrics
Issue 5 2020, Suprema , News
Founded in 2000, Suprema has built a sales network in over 140 countries and has over 1 billion users.
Read more...
---
Fidelity ADT and Vumacam join forces
Issue 5 2020, Fidelity ADT , News
Fidelity-ADT recently partnered with Vumacam to roll out a surveillance network of cameras across a number of southern suburbs in Johannesburg.
Read more...
---
Dahua launches ECO Partner Programme
Issue 5 2020, Dahua Technology South Africa , News
Dahua Technology has launched its new technology partner programme, the Dahua ECO Partner Programme.
Read more...
---