printer friendly version
Cost per cybercrime victim up 50 per cent
February 2014
Cyber Security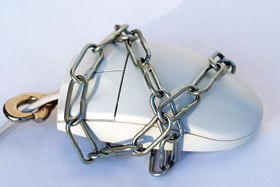 Symantec has released findings from the 2013 Norton Report, which shows that while the number of online adults who have experienced cybercrime has decreased, the average cost per victim has risen by 50%.
"Today's cybercriminals are using more sophisticated attacks, such as ransomware and spear-phishing, that yield them more money per attack than ever before," said David Ribiero, Norton consumer and small business manager for South Africa, Symantec. "With the findings from the Norton Report that 49% of consumers use their personal mobile device for both work and play, this creates entirely new security risks for enterprises as cybercriminals have the potential to access even more valuable information."
The report also found that despite the fact that nearly half of all smartphone users care enough about their devices to sleep with them, they are not protecting them. Forty-eight percent of smartphone and tablet users do not take even the basic precautions such as using passwords, having security software or backing up files from their mobile devices. This carelessness places them, and their digital identities, at risk.
"If this was a test, mobile consumers would be failing," said Marian Merritt, Internet safety advocate, Symantec. "While consumers are protecting their computers, there is a general lack of awareness to safeguard their smartphones and tablets. It's as if they have alarm systems for their homes, but they're leaving their cars unlocked with the windows wide open."
Notable findings for South Africa
* 70% of South Africans have been victim of cybercrime and risky behaviour compared to 50% globally.
* 47% of South Africans smartphone users have experienced mobile cybercrime in the past 12 months compared to 38% globally.
* Only 37% of South African smartphone users have basic free security software compared to 33% globally.
For more findings from the 2013 Norton Report globally and by country, please visit: http://www.symantec.com/about/news/resources/press_kits/detail.jsp?pkid=norton-report-2013
Further reading:
Work from home securely
Issue 5 2020 , Cyber Security
First Consulting provides enterprise-level IT security to working-from-home employees at more than 40 South African organisations.
Read more...
---
Agility, meticulous alignment and testing
Issue 5 2020 , Cyber Security
Data loss can put the nails in the coffin for unprepared businesses. Investing in cyber resilience is key to succeed in the age of digital transformation.
Read more...
---
Cybersecurity comment: Cyber threats remain relentless
Issue 5 2020, CA Southern Africa , Cyber Security
Over 80% of email-based threats in Q1 2020 leverage COVID-19 in some form to feign legitimacy to the end user.
Read more...
---
11 essential steps to reinforce cybersecurity
Issue 5 2020 , Cyber Security
Wayne Olsen has compiled a guideline to ensure that businesses and their employees are protected while working remotely.
Read more...
---
Cybersecurity comment: Securing the real endpoint
Issue 5 2020 , Cyber Security
The corporate perimeter is fast becoming irrelevant, as the so-called security boundary extends to wherever an Internet connection exists.
Read more...
---
Don't squeeze your cyber assets
Issue 5 2020 , Cyber Security
Inadequate investment in cybersecurity is directly related to the spate of cyberattacks we're seeing in South Africa now.
Read more...
---
Cybersecurity comment: Create layers of security
Issue 5 2020 , Cyber Security
Any organisation, whether large or small, public or private, should follow an established framework in order to protect itself against cyber threats.
Read more...
---
Next-generation security operations centre
Issue 4 2020, AVeS Cyber Security , Cyber Security
Pay-as-you-use cybersecurity from AveS allows all businesses access to world-class expertise.
Read more...
---
Strengthen your passwords for world password day
Issue 4 2020 , Cyber Security
May 7 is World Password Day and KnowBe4 is providing tip sheets, videos and tools to help people strengthen their passwords.
Read more...
---
Tips on secure remote working
Issue 3 2020 , IT infrastructure, Cyber Security
NordVPN advises how to stay secure while working from home during the coronavirus outbreak.
Read more...
---