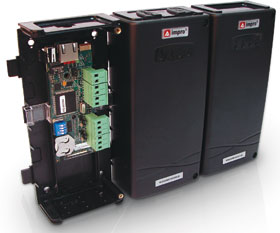 Impro's new access control system
February 2014, Access Control & Identity Management
At a time when consolidation is prevalent, Impro Technologies has launched its Access Portal, a web-based access control system. This new system is scalable and is able to grow and expand without the need to replace an entire system.
The Access Portal range is compiled of three tiers; Access Portal Lite, Access Portal Pro and Access Portal Enterprise. Each tier is designed to match certain needs and certain sized applications, from the smaller Access Portal Lite to the comprehensive Access Portal Enterprise.
The ingenuity of the system is two-fold. The hardware is an industry first, a true plug-in and play. The newly designed quick connectors allow hardware to simply clip into another for an instant connection. This intuitive design allows for the ultimate in-field configuration flexibility – eliminating the need for complex wiring, thus making installation quick and straightforward. The hardware carries more memory and processing power, which is superior to previous generation products.
The software has been created specifically with the user in mind and is translated into a practical, useable system which is easier to browse and manage. The development of a single software platform opens up a gateway to unlimited features. The innovative software applications have been created to improve the users' experience, making it easier to manage employee access, with the ability to monitor a single or multiple sites without being limited to a stationary PC. Access Portal allows for remote managing and real-time alerts to a mobile device or tablet, allowing management and access while travelling or on the way to a site.
Access Portal is available from Impro distributors: Access & Beyond, Elvey Security Technologies and Powell Tronics.
For more information contact Darren Lategan, Impro Technologies, +27 (0)31 717 0700, darrenl@impro.net