printer friendly version
Ongoing surveillance expansion
February 2014
CCTV, Surveillance & Remote Monitoring
Many people know that England has the most intensive CCTV system in the world. It is estimated that there is one camera for every 32 people in the UK.
What is not commonly known is that the London Borough of Hammersmith and Fulham in West London has the largest town-centre CCTV scheme in the country. The Hammersmith Town Hall project represents a blending of public and commercial CCTV systems that ultimately compose a very large and thorough CCTV system, one that covers public space areas and public space partners to represent the entire civic community.
"Public space partners can be defined as private companies that have a vested interest in the wellbeing of the community and the CCTV system that protects it," explained John Baldwin, MD at Chroma Vision, the system integrator of this project. "For example, the Chelsea Football Club is part of this CCTV solution, so public administrators are able to view Chelsea F.C.'s cameras."
This overall solution has been a steady work in progress. Yet, when it came time to choose a DVR and platform software manufacturer, Chroma Vision presented Hikvision and the CCTV administrators were impressed.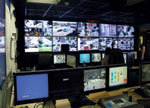 Gradual improvement
About 10 years ago, Hammersmith and Fulham began switching out existing VCR units to new DVR models. However, the council's first attempt did not go as smoothly as it would have liked. Two years after the initial DVR units were installed, a change was in order.
"Initially, the council in charge of this transition chose a different manufacturer which proved to be the incorrect choice. Hikvision was then chosen because it offers a robust DVR manufacturer that supplies a networked DVR solution capable of recording all of the council's existing CCTV cameras as well as providing 100% expansion capacity. The recorders had to record high quality 4CIF images at a minimum of 12fps and allow the client to install their own hard drives and be licence free at the point of review," related Baldwin.
Specifically, Hikvision's DS-9116HFI-ST standalone DVR was chosen for this job. For this specific solution, aforementioned features such as 4CIF resolution real-time recording and excellent HD storage capacity were integral towards the overall success of this project; but interestingly, it was not only physical requirements such as these that sold Hammersmith and Fulham – it was also Hikvision's product support. This support brought confidence, and it enabled both Hammersmith and Fulham officials to build a growing, and mutually beneficial, relationship with Chroma Vision.
And from this growing relationship, Hikvision's iVMS-4200 Video Management Software was also introduced.
This software acts as the backbone of this overall solution. iVMS-4200 VMS works as a common platform for the DVRs and other hardware (such as cameras) that connect the police department, managers and other administrators to the overall network. This software allows all of these individuals – set in various locations throughout West London – to use PCs to access the system.
Importantly, any image deemed of interest can immediately be sent to special monitors in the central control room. These Monitor Walls allow officials in these control rooms to more easily, and efficiently, identify any potential threat and properly respond to it.
Features such as multi-level user management, configurable live-view screen and multiple-screen live view options, as well as allowing all Hikvision devices to be connectable provide the necessary flexibility and individuality that helps this particular solution to ultimately succeed.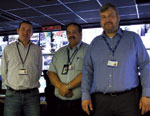 The next stage
Since installing Hikvision DVRs and video management software, West London review stations have been able to route 80% of all incidents immediately to the local police department. This, in turn, has allowed CCTV operators to continue to provide active monitoring of the cameras and increase overall efficiency. In fact, in one recent case, due to this video information sharing, police were able to apprehend a murder suspect only 30 minutes after the infraction. This represents a massive improvement. Before the installation of this CCTV system, it generally took anywhere from three to seven days to achieve the same result.
For more information contact Hikvision, +86 571 8700 6060, wulin@hikvision.com, www.hikvision.com
Credit(s)
Further reading:
Mitigating the human risk
Issue 5 2020, Managed Integrity Evaluation, Technews Publishing, iFacts , CCTV, Surveillance & Remote Monitoring
Hi-Tech Security Solutions asked Jennifer Barkhuizen and Jenny Reid for some information around background screening and vetting of potential new hires.
Read more...
---
Teaching old cameras new tricks
Residential Estate Security Handbook 2020, Deep Data , CCTV, Surveillance & Remote Monitoring
Dr Jasper Horrell and Mark Smuts from DeepAlert reveal how estates can upgrade their existing surveillance infrastructure to include the latest AI-enhanced analytics, without buying new hardware.
Read more...
---
Hikvision alarms improve protection
Residential Estate Security Handbook 2020, Hikvision South Africa , Perimeter Security, Alarms & Intruder Detection
Hikvision has created a broad portfolio of innovative alarm solutions that are sophisticated, automated, and always fit for purpose.
Read more...
---
Focus on touchless biometrics
Residential Estate Security Handbook 2020, Hikvision South Africa, Saflec, IDEMIA , Suprema, Technews Publishing , Access Control & Identity Management
The coronavirus has made touchless biometrics an important consideration for access control installations in estates and for industries globally.
Read more...
---
Broad range of estate solutions
Residential Estate Security Handbook 2020, Hikvision South Africa , Access Control & Identity Management
Hikvision offers residential estates a range of systems and solutions that deliver security, from the gate to the individual's own home.
Read more...
---
Thermal continues to evolve
Residential Estate Security Handbook 2020, Technews Publishing, Axis Communications SA, Bosch Building Technologies, Dahua Technology South Africa , CCTV, Surveillance & Remote Monitoring
Thermal cameras have made an enormous impact to perimeter security, with more to come as artificial intelligence enhances analytics.
Read more...
---
Automated estate protection
Residential Estate Security Handbook 2020, Axis Communications SA , CCTV, Surveillance & Remote Monitoring
Marlenique Estate makes use of an end-to-end Axis Communications solution, installed by Energize Technology Africa for automated security. Automated estate protection.
Read more...
---
Integrated security management system
Residential Estate Security Handbook 2020, Protoclea Advanced Image Engineering , Products, CCTV, Surveillance & Remote Monitoring, Integrated Solutions
Phorcas is a security information system developed by Protoclea designed to integrate multiple sub-systems into a powerful crime fighting solution.
Read more...
---
Serverless ANPR solution
Residential Estate Security Handbook 2020, XtraVision , CCTV, Surveillance & Remote Monitoring, Products
Serverless ANPR automatically controls the movement of up to 1000 listed cars through barriers and provides carpark management information.
Read more...
---
Bosch launches a fully open camera platform
Residential Estate Security Handbook 2020, Bosch Building Technologies , Products, CCTV, Surveillance & Remote Monitoring
Bosch has announced the launch of INTEOX, a new camera platform designed to modernise the security and safety industry.
Read more...
---