printer friendly version
World's safest extinguishing system
February 2014
Fire & Safety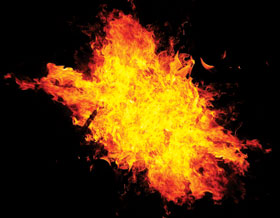 Inergen is the world's safest extinguishing system, causing no harm to human health. This has been proven in practice by more than 5 000 full-scale tests.
By avoiding the use of dangerous chemicals or water, Inergen offers the best:
* Protection of human life.
* Protection of buildings and materials.
* Protection of the environment.
Like sprinkler or halon systems, Inergen is activated by detectors. Once a fire is detected, Inergen is released. It essentially suffocates the fire in just 30-40 seconds. It works by displacing the oxygen that allows the fire to breathe and it does so without risk to humans.
Because Inergen snuffs out fires before they spread; there is no risk of damage to valuable inventory. There is no odour, no smoke, and no damaging chemicals. Chemical and water alternatives can quickly destroy expensive electronic equipment.
During the extinguishing process, Inergen systems reduce the air humidity, minimising the probability of spark-overs which could cause a further fire risk. Inergen is a composition of natural gases found in the atmosphere and thus there are no environmental issues relating to its potential discharge. The extinguishing principle behind fixed extinguishing systems with Inergen is oxygen replacement. This means that the oxygen content in the atmosphere which is about 20,9% is lowered to somewhere between 10-14%. At this oxygen level most common fires will die out.
Where other extinguishing agents just lower the oxygen level, Inergen distinguishes itself by maintaining an oxygen level which ensures that people can remain in the room.
Inergen is ideal for every type of room where there are people as well as valuable items of property. It is a very dry gas mixture, so it has low conductivity. This aspect is especially important for applications in transformer and high-voltage rooms where non-insulated components are installed.
For more information contact Pinnacle Security Solutions, +27 (0)11 265 3335,  brigittab@pinnsec.co.za,  www.pinnsec.co.za
Further reading:
Choosing the right fire detection system
August 2019, FDIA (Fire Detection Installers Association) , Fire & Safety
Charles Thiong'o from the FDIA highlights important factors to consider when choosing a fire detection system.
Read more...
---
Local security technology manufacturer
August 2019, Technoswitch , Fire & Safety
Technoswitch, a South-African manufacturer, importer and distributor of fire detection and suppression equipment turned 45 this year.
Read more...
---
Fire detection and suppression for server cabinets
August 2019, Technoswitch , Fire & Safety
The TEC601, designed and manufactured by Technoswitch, is an all-in-one fire and extinguishing rack-mountable control system designed to protect electronic equipment in 19-inch server room cabinets.
Read more...
---
ORYX conventional fire panel range
August 2019, Technoswitch , Fire & Safety
The ORYX range of conventional panels from Technoswitch offers 2, 4 and 8 zone options, including weatherproof versions (with or without DIN rail) specifically suited to industrial applications.
Read more...
---
Next generation BlazeCut T-series
August 2019, Technoswitch , Fire & Safety
Designed to protect small enclosed spaces with greater risk of fire, the BlazeCut T-series system is easy to install.
Read more...
---
Emergency lighting and fire detection combination
August 2019 , Fire & Safety, Products
Hochiki Europe has launched FIREscape+, a system which combines emergency lighting, fire detection and wayfinding technology.
Read more...
---
Introducing Gulf Security Technology
August 2019, UTC Fire & Security SSA , Fire & Safety
Gulf Security Technology manufactures more than 16 million detectors and modules and more than 120 thousand control panels per year, making it one of the largest fire detection manufacturers in the world.
Read more...
---
Visual alarm devices enable effective, lifesaving evacuation
August 2019, Johnson Controls , Fire & Safety
Visual alarm devices are used to supplement audio alarms, providing an effective means of alerting and evacuating occupants when a fire emergency occurs.
Read more...
---
Condensed aerosol fire suppression
August 2019, Technoswitch , Fire & Safety
] The Stat-X condensed aerosol fire suppression product, distributed by Technoswitch, is one possible solution for fires in battery energy storage systems.
Read more...
---
Video-based fire and smoke detection
August 2019, Secutel Technologies , Fire & Safety
AxxonSoft has developed an early fire notification system based on intelligent video technology.
Read more...
---