printer friendly version
Guarding and risk management as a key aspect for effective security
February 2014
Security Services & Risk Management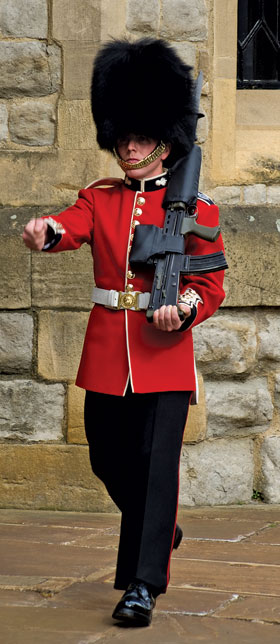 With the plethora of high-tech security solutions available on the market, is there an issue with integration of technology and guarding solutions? Is there, in fact, still a place for security guards? Hi-Tech Security Solutions discussed this with three industry representatives.
Leo Nardi, technical/contracts manager for Justicia Investigations, believes that the technology and guarding solutions complement each other. "The technology element of an installation augments the human element and gives accountability for additional peace of mind. It is unlikely that we will completely replace humans with technology any time soon."
Tyco Integrated Fire & Security's sales manager, Cedric Greeves, is in full agreement and added that the integration of the two elements is improving over time. "Technology not only has a role to play in providing surveillance and access control, but it is also used to safeguard the security guards on patrol and at the same time ensure that they carry out their tasks. The technology can also be used to ensure compliance from a health and safety standpoint. For example, the technology will allow control room personnel to determine in advance what the risk factors are in an event and they can then relay this information on to the security guard who will be adequately prepared to accommodate the risk."
Jenny Reid, director at iFacts and past president of SASA, said that the degree of integration of technology and guarding depends on the end solution required. "It is critical to have the right person in place and this can be determined through adequate screening such as criminal record checks, integrity profiles, skills assessments and the physical attention to detail. In all instances, these abilities and characteristics need to be complemented by suitable training."
Reduce but not replace
"Technology continues to play an increasing role in reducing the number of guards required, but it will probably never completely replace the function of the physical security guard. Technology is actually an extension of the human form, for example, CCTV extends the role of the human eye. Therefore the human element will continue to factor into the equation," said Nardi.
"Good technology gives savvy customers the opportunity to maximise their guarding function by mobilising the right type of guard to the correct location at exactly the right time. What one could possibly achieve with more adequate technology is fewer guards, who are of a higher grade, to adequately address the site-specific risks," said Greeves.
"With labour issues negatively affecting all industries, technology could become more predominant and we might see a reduction in staff complement," added Reid.
"Companies use technology to complement guarding. Since a guard cannot be in more than one place simultaneously and he generally cannot record everything he sees, a CCTV system will provide important data on other areas. Footage can be used for both reporting and forensic purposes to provide evidence for prosecution. Guards can be integrated into CCTV, fire, building management and access control systems to provide a holistic solution," said Nardi.
"Tyco has implemented remote monitoring as a service. This allows us to remotely monitor an area using software that uses mapping technology and can transmit snapshots or live video of incidents provided as they unroll. Service levels have grown exponentially and we have been able to integrate with other security systems, fire and building management systems," said Greeves.
"There needs to be more proactivity in terms of viewing incidents using CCTV. By using footage not only to record events, but by reviewing data to determine health and safety infringements or to identify other trends such as productivity problems, one could gain a better return on investment," Reid pointed out.
"Not only is the integration of guarding and technology important in the business sector, but there is a growing acceptance in the consumer market. By utilising technology in homes, there has been a significant reduction in the number of false alarms being reported. This is achieved by verifying the authenticity of the alarms with CCTV surveillance. This ultimately allows armed reaction companies to more effectively deploy their officers where they are needed. Remote dial-in is also becoming an attractive feature and allows homeowners to take an active role in their own security using a smart mobile device," said Nardi.
"There has been a lot of criticism around the increasing focus on technology but this is the way security is going. We need to embrace it and utilise it as a complementary tool," said Reid.
Nardi agreed, highlighting the fact that technology provides both improved service delivery levels and a higher the degree of accountability.
Contacts
iFacts: +27 (0)11 609 5124, www.ifacts.co.za
Justicia Investigations: +27 (0)86 000 5111, www.justicia.co.za
Tyco Integrated Fire & Security:
+27 (0)86 1212 910, www.tycosecurity.co.za
Credit(s)
Further reading:
Putting secondary storage to work
September 2019 , IT infrastructure, Security Services & Risk Management
By 2022, more than 80% of enterprise data will be stored in scale-out storage systems in enterprise and cloud data centres, up from 40% in 2018.
Read more...
---
ContinuitySA offers Complete Continuity Practitioner in October
September 2019, ContinuitySA , Training & Education, Security Services & Risk Management
ContinuitySA is offering its popular five-day Complete Continuity Practitioner Programme on 21-25 October 2019 at its offices in Midrand.
Read more...
---
Security workforce compliance tool
September 2019 , Security Services & Risk Management
To maintain service excellence across a security workforce is impossible without the help of information systems and technology.
Read more...
---
Call back the past
September 2019, SCAN RF Projects , Security Services & Risk Management
Two-way radios are still very relevant in the security world and have gone through significant advances over the past few years to enable them to keep up with the expectations of people in today?s connected world.
Read more...
---
Proficient operational security management
September 2019 , Security Services & Risk Management
The quest to establish an organised and integrated security operations programme based on a Plan-Do-Check-Act (PDCA) cycle for continuous improvement is paramount for a successful security operation.
Read more...
---
Increase security efficiency, decrease costs
September 2019 , Security Services & Risk Management, Integrated Solutions
Trackforce offers customisable mobile and web applications to increase security operational efficiency and lower costs.
Read more...
---
Accurate guard tracking and management
September 2019, Secutel Technologies , Security Services & Risk Management, Products
There are many challenges when it comes to effectively managing and tracking a guarding workforce in real time.
Read more...
---
X-rays in 3D
September 2019, XPro Security Solutions , Editor's Choice, Security Services & Risk Management
Hi-Tech Security Solutions asked Greg Dixon, director of XPro, for some insights into X-ray scanning and its pros and cons in today?s volatile world.
Read more...
---
Smart Inspection Unit developed by Roteck
September 2019 , Editor's Choice, Security Services & Risk Management
Roteck has announced a portable personnel and bag scanning unit that can easily be transported, set up and used in almost any location.
Read more...
---
Mobile guards on patrol
September 2019, Dahua Technology South Africa , CCTV, Surveillance & Remote Monitoring, Security Services & Risk Management
Dahua Technology developed mobile ?Video Guards? along with a complete solution for a security service company in Germany.
Read more...
---