printer friendly version
Cloud-based wireless alarms
January 2014 Perimeter Security, Alarms & Intruder Detection, Residential Estate (Industry)
The alarm industry in South Africa has been booming for many years due to the need for reliable alarm systems in both the commercial and residential markets. The first alarms were wired systems that required customers to install wiring to link up their various detection systems to an alarm panel, which could be linked to a control room via radio.
These vanilla alarms were soon followed by wireless systems, which are becoming popular today, along with more sophisticated products that incorporated a camera into a passive to provide a snapshot of the disturbance when raising the alarm. The latest trend is to provide access and management of alarm systems to users via the Internet or smartphones.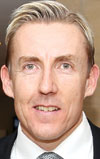 Howard Hughes Frank, MICROmega Security Solutions director.
MICROmega Security Solutions is the latest company to provide wireless alarms in sub-Saharan Africa. The company distributes the iConnect range from EL3000, a Risco company. Howard Hughes Frank, MICROmega Security Solutions director, says the difference is that the wireless 2-way iConnect products offer a fully Integratable 2-way alarming and automation solution – entirely based in the cloud.
Being wireless, the system is easy to set up, creating a security network connected to the tamperproof control panel with multiple zones – the number depending on the configuration. The system offers all the expected features to safeguard doors, windows, rooms and so forth, as well as panic buttons, fire and gas alarms as well as water leak and vibration detectors, all via the same system.
Customers can also install PET friendly PIR's with a built-in camera, which will make visual verification of any alarm event automatic. In addition, the iConnect panels' built-in 2Way Microphone and Speaker system provide automated audio functionality, enabling end-users to both listen and speak to the home or business, to verify the safety of the family or to ward off intruders if necessary.
The control panel supports GSM, ADSL and also has traditional radio communications, ensuring your alarm can send a message in almost any circumstances. The system also supports dual SIM cards, meaning users have the ability to link up to the cloud via two networks – in case the one goes down. Additionally, should the DSL link go down, the system will both alert the CMS and fail over to GPRS – automatically.
Frank adds that the system uses the 868 MHz band, making it less likely that the signal can be jammed. It also includes anti-RF-jamming software however, which will instinctively raise an alert if it becomes aware that signals are not being delivered. The system peripherals, being battery operated, have a 2-3-year battery life to ensure Eskom interruptions don't disable your alarm.
Management in the cloud
The power of this system, however, is in its cloud management capabilities. To manage or to configure an alarm, the user or the guarding company simply opens the EL Application Server (ELAS) and logs in with a username, password and PIN. Different people can be granted access to different areas of ELAS depending on their authorisation. Every login is logged to provide a full audit trail of who did what when.
Once an end-user receives an alert, an alarm with associated images will be PUSHED to the end user or CMS, viewed… and appropriate action taken. The administrator can set how many images are sent to the server for each alarm, 1-10. Because the alarms are verified visually, false alarms are no longer a concern and armed response (as well as SAPS) personnel can attend to the event knowing what they are up against. The user/operator can then also set or reset the alarm from the website, as well as open the front gate to allow them access simply by touching a button on their smartphone or PC.
Mobile apps available provide the user with the same functionality from their Android or Apple smartphones. SMS alerts are also available and users can also deactivate or reset and arm by sending an SMS with their PIN code.
The cloud-based management offers more than alarm management, however. Users can log in and set their alarm, operate home appliances such as TVs, lights or simply open doors or gates remotely once they integrated them to the control panel. They can even keep an eye on their homes to make sure, for example, that the kids are home after school. It can also be used for time and attendance logging as everyone entering a premises can be given their own PIN which allows them to be logged entering or leaving with associated watermarked snapshots. This T&A log can then be exported from the PVT cloud account into XCEL, categorised and used to pay wages.
Frank adds that users can also connect traditional IP cameras to the control panel allowing them full high-resolution outdoor zoneable video surveillance. MICROmega Security Solutions hosts the ELAS server locally with full two-site redundancy to ensure that the management console is always available via ADSL or cellular connectivity.
And while customers can login and manage their own alarm system via the Internet, the ELAS system is customisable to show the branding of the security company that provides the service. This means that customers logging in will see their security company's branding on the site and will have access to their home system.
For more information contact MICROmega Security Solutions, +27 (0)11 218 8000, howard.frank@micromega.co.za, www.micromegasec.co.za
Further reading:
Video and audio convergence
Issue 1 2020, Hikvision South Africa , Perimeter Security, Alarms & Intruder Detection
Hikvision has introduced its video and audio convergence solution to the market, featuring an innovative real-time intrusion deterrent feature.
Read more...
---
Securing perimeters of secure locations
November 2019, Axis Communications SA, Modular Communications, Hikvision South Africa, Nemtek Electric Fencing Products, Technews Publishing, Stafix , Government and Parastatal (Industry), Perimeter Security, Alarms & Intruder Detection, Integrated Solutions
Hi-Tech Security Solutions asked a number of companies offering perimeter security solutions for their insights into protecting the boundaries of national key points.
Read more...
---
Utility outages: Are you looking at the big picture?
October 2019 , Perimeter Security, Alarms & Intruder Detection
We have to start thinking about, and laying plans for, the real possibility that the whole grid is somehow compromised.
Read more...
---
Residential Estate Security Conference 2019
October 2019, Technews Publishing , Editor's Choice, Residential Estate (Industry), Conferences & Events
Hi-Tech Security Solutions hosted the Residential Estate Security Conference in August, focusing on the people, technology and processes involved in an effective security solution for estates.
Read more...
---
Perimeter protection in Ghana
October 2019, AcoustAlert , Mining (Industry), Perimeter Security, Alarms & Intruder Detection
A gold mine in Ghana has erected a dual fence with AcoustAlert PIDS fence detection on both inner and outer fence lines.
Read more...
---
Frictionless access with a wave
October 2019, IDEMIA , Access Control & Identity Management, Residential Estate (Industry)
IDEMIA was the Platinum Sponsor for the Residential Estate Security Conference 2019 and set up its MorphoWave Compact frictionless fingerprint biometric scanner at the entrance to the conference.
Read more...
---
Streamlined access and reporting
October 2019, Comb Communications , Access Control & Identity Management, Residential Estate (Industry)
The main focus of the Comb stand was its practical demonstration of the MK II Lite intercom system with third-party integrated products.
Read more...
---
A committed service provider
October 2019, Elf Rentals - Electronic Security Solutions , Perimeter Security, Alarms & Intruder Detection, Residential Estate (Industry)
The theme Elf promoted through its sponsorship was that it offers clients its own financial commitment and willingness to accept the risk of equipment failure.
Read more...
---
Thermal cameras with artificial intelligence
October 2019, Dahua Technology South Africa , Perimeter Security, Alarms & Intruder Detection, CCTV, Surveillance & Remote Monitoring, Residential Estate (Industry)
Dahua Technology showcased solutions that are important to residential estates, namely perimeter protection.
Read more...
---
Customised and integrated solutions
October 2019, Suprema , Access Control & Identity Management, Residential Estate (Industry)
iVisit offers both high-end and low-end residential complexes a cost-effective visitor management solution that is fully integrated into Suprema's offerings.
Read more...
---