printer friendly version
Keeping tabs on trucks
November 2013 Asset Management, EAS, RFID, Transport (Industry)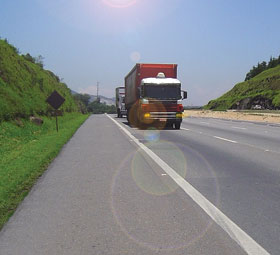 There have been a number of positive changes in how trucks, trailers, their cargo and drivers are monitored. This has been made possible to a large degree through the advancement in the available technology.
Typically two types of RFID technology solutions have been used for tracking cargo and fleet vehicles: active and passive tags. Each solution has its disadvantages and advantages.
Traditionally, passive RF solutions were difficult to deploy since they were not powered. They were also fraught with problems in terms of misreads and inaccuracy in reading. The upside was the cost effectiveness of the solution.
Active RFID technology was very expensive to deploy and issues with battery life reduced its efficacy. In addition, because the tags were large and very visible they could be easily removed from cargo by criminals. Improved read range, which allowed for more widespread deployment, was the main advantage of this technology.
A number of the larger manufacturers have invested a great deal of time and money in addressing these issues and the resultant technology is a great improvement on previous versions. With regard to passive RFID, researchers looked at the problems arising from close proximity of the readers to metal, the orientation of the tag and its proximity/orientation to the reader.
In active RFID there has been a major reduction in the size of the tags, which makes it easier to conceal tags. Most active tags now have an improved lifespan of more than three years. Additionally, the battery life has been enhanced to ensure uninterrupted service. Another improvement is apparent in the ability to transmit data close to metal sources and early warning alerts that advise if batteries are at the end of their life.
Active RFID tags are ideal for use in a large number of applications and allow vehicles and cargo to be easily located. This technology lends itself to service operations in a trucking environment whereby fleet operators can readily monitor the current status and location of vehicles and their crew.
GSM-based solutions, which are relative newcomers to the market, allow seamless reporting on the move. Instead of operating on a local area network, these systems leverage the GSM network for wider deployment of tags. The downside to these systems however is the cost in operating on the network and the actual availability of the network, since not all areas have network stability.
There are a number of ways in which RFID tags can be utilised. These include on windscreens, on number plates, and personal tags linked to vehicles.
We have recently seen a trend towards linking vehicles to a specific driver. In light of the increasing number of truck accidents, this could play a large role in screening drivers to ensure they are adequately qualified to operate a particular vehicle.
By combining biometrics, companies can ensure that the correctly coded driver is operating a specific class of truck. Additionally, breathalysers that are connected to biometrics to ensure that the driver is not intoxicated, will increase the levels of safety in trucking operations.
We have also seen an increase in the number of enquiries for RFID solutions that require in-depth integration to weighbridge systems, including linking the RFID technology to approved LPR (licence plate recognition) CCTV systems, ensuring that clients have all their bases covered with regard to the numerous operational risks and challenges that they encounter on a daily basis.
Whatever RFID technology logistics companies or fleet managers decide to use, it is advisable to contract the services of a reputable RFID specialist service provider who can provide best practice advice for each specific application.
For more information contact Powell Tronics, +27 (0)11 234 6990, sales@powelltronics.co.za, www.p-tron.com
Credit(s)
Further reading:
Reducing identity fraud with a selfie
Access & Identity Management Handbook 2020, Technews Publishing , Asset Management, EAS, RFID
Authenticating your identity remotely via an app has become a reality with a new solution from South African company iiDENTIFii.
Read more...
---
Visitor management for estates
Access & Identity Management Handbook 2020, Powell Tronics , Residential Estate (Industry), Access Control & Identity Management
Residential estates and business parks around South Africa have installed access control systems that aim to streamline access for both pedestrians and vehicular traffic.
Read more...
---
IDEMIA and Powell Tronics on the road
November 2019, Powell Tronics , News
In the first week of September, Powell Tronics and IDEMIA hosted two breakfast roadshow events in Cape Town and Port Elizabeth respectively.
Read more...
---
Closing the security loop for educational institutions
November 2019, Powell Tronics , News
The Campus Protection Society of Southern Africa hosted its annual conference in Port Elizabeth at the Radisson Blu Hotel and Conference Centre between the 15th and 18th September 2019.
Read more...
---
Security enhancements at Sharm El-Sheikh
November 2019 , Asset Management, EAS, RFID
ADANI Systems supplied the X-ray screening equipment, including combined high-energy and low-energy systems, for Sharm El-Sheikh.
Read more...
---
Beating traffic jams with intelligent video technology
CCTV Handbook 2019, Hikvision South Africa , CCTV, Surveillance & Remote Monitoring, Transport (Industry)
As more city authorities begin to see the value of latest- generation video solutions for traffic management, adoption is accelerating.
Read more...
---
More secured and efficient transportation
October 2019, Dahua Technology South Africa , CCTV, Surveillance & Remote Monitoring, IT infrastructure, Transport (Industry)
Implementing comprehensive smart transportation solutions will guarantee transportation hubs more security, more efficiency and more profit.
Read more...
---
ContinuitySA offers ISO 22301 Lead Implementer course
October 2019, ContinuitySA , Training & Education, Security Services & Risk Management, Transport (Industry)
ContinuitySA is once again offer its five-day Certified ISO 22301 Lead Implementer course on 18-22 November 2019 at the company's Midrand facility.
Read more...
---
Learn from their mistakes
October 2019 , Logistics (Industry), Asset Management, EAS, RFID
One of the cardinal rules of business is to learn from the mistakes you make during your journey, but sometimes another company's error can be just as instructive.
Read more...
---
TAPA conference 2019 explores layered approach to security
September 2019, Technews Publishing, TAPA (Transported Asset Protection Association) , News, Transport (Industry)
The Transported Asset Protection Association (TAPA) held its annual South African conference at Emperors Palace in Johannesburg on 26 July 2019.
Read more...
---