Four truths I have learned about business
November 2013, News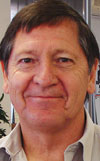 Errol East, MD of Impro Technologies
Errol East, MD of Impro Technologies, shares what he has learnt in his career since co-founding the business over 27 years ago. "The nature of the industry is unpredictable and ever evolving. I subscribe to these four truths," he says.
"A fool thinks you can continue to do the same thing, the same way, yet expect a different outcome." Einstein.
Business and technology are in a constant state of flux. We need to move and change rapidly to address the latest threat and opportunity. Do not shy away from constant improvement and constant change; it is the nature of the industry.
"In the end, all business operations can be reduced to three words: people, product and profits. Unless you've got a good team, you can't do much with the other two." Lee Iacocca.
Everything revolves around people. Make every effort to surround yourself with those who have a sterling, positive and determined attitude. A passionate disposition, with deep capacity and clear thinking ability.
"In all the various disciplines, there is no elevator to success. It's via the stairs. The champions reside on the top floor."
This quotation for me is all about hard work. Success doesn't just happen; it's the consistent application of implementing your goals, meticulous planning and putting them into action.
"In all ventures, aim directly at a win-win for all. Without it, success will be short-lived."
Succinct, self-explanatory and imperative.
For more information contact Impro Technologies, +27 (0)31 700 1087, www.impro.net