printer friendly version
Guard management via cellphone
November 2013
Access Control & Identity Management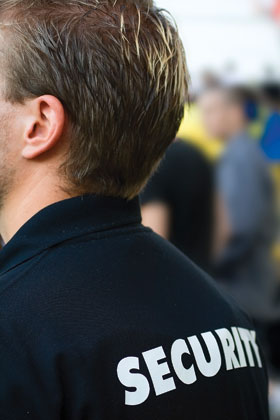 Domain Junction has developed a new programme to assist companies deploying multiple guards and managing them more efficiently with nothing more than a smartphone. Locally developed, the cloud-based application allows guards to report on duty using a GPS signal. The company says it's a cheaper alternative compared to biometrics.
At the launch of the product, Domain Junction said the system is easy to use and set up, and is fully integrateable with EasyRoster and any other programs, such as VIP, Pastel ACCPAC etc.
In its example, Domain Junction demonstrated that the system works by creating a guard roster for each site. When the guards arrive on site, they log into the app (via a mobile Web browser) using a username and password, and clicking the check-in button. The phone will send a signal to the application confirming that the guard is on duty. If the guard is more than 30 metres away from the site the system will automatically reject the check-in and send an SMS to the guard.
The company concerned can set parameters around the start and end time of each shift, with event alerts should expected activities not occur. For example, if the shift ends at 18h00 and the guard hasn't checked out by 19h00, the system will send an alarm to the controller instructing him to follow up. If the guard checks out when he is already more than 30 metres away from the site, it will also reject the check out and it will need to be done manually by the controller, with a comment.
If a guard reports for duty but is not rostered for that shift, the controller can either accept the shift, reject or snooze until he is ready to deal with the exception, but he can't snooze for longer than one hour. The interface is designed in such a way that once the site is covered it is greyed out and sites that are not covered are moved to the top of the list, so that controllers are left dealing only with exception sites.
Alarms can be set for different priorities, according to each business' needs. The actual attendance can either be exported directly to a payroll system or companies can update their existing time and attendance software with the integration module – which allows you to push and pull information between different products. This module is designed to create an affordable solution for contracting companies in place of biometrics. In high-risk areas, voice recognition can also be added at an addition cost.
The product is costed per module in the form of a once-off cost with a monthly licence fee grouped in packages of five users. A guard clocking in is deemed an 'anonymous' user and does not require a licence fee. Licences are for people who will physically work on the system and make changes. The licence is structured in such a way that if you have a five-user package and you have 10 people who will use the system – eg, different shifts of controllers – only five people will be able to log in at a time on each shift.
The entire application consists of 10 modules, which included, Armed Response, CIT, Operations (visits, surveys, assessments, minute meetings), a Control Room Module (electronic OB) and HR module or Disciplinary Action, Pay Queries, etc, among others. Currently only the time and attendance and the integration modules have been released.
For more information contact Domain Junction, +27 (0)87 751 2285, mmuller@domainjunction.co.za, www.domainjunction.co.za
Further reading:
Facial access control for ministry
Issue 1 2020, ZKTeco , Access Control & Identity Management
The Ministry of Culture in Saudi Arabia has adopted ZKTeco's facial recognition technology and fingerprint biometrics to manage access control into its building.
Read more...
---
New Door Pilot app from dormakaba
Issue 1 2020, dormakaba South Africa , Access Control & Identity Management
With new dormakaba Door Pilot, automated doors can also now be operated on the basis of remote control technologies. The system, comprising the Door Pilot app for smartphones and a Wi-Fi interface for ...
Read more...
---
Identity lifestyle
Issue 1 2020, Suprema , Access Control & Identity Management
Once the technology of the future, biometrics has quietly snuck into our daily lives through smartphones and access controls into our places of work.
Read more...
---
Securing BP's new head office
Issue 1 2020, ISF SFP , Access Control & Identity Management
ISF SFP was awarded the contract to secure the first development phase for Oxford Parks, the new head office for BP South Africa.
Read more...
---
Combining aesthetics and access control
Issue 1 2020, Turnstar Systems , Access Control & Identity Management
Prestigious law firm Bowman Gilfillan recently upgraded its physical security with the addition of four Turnstar Speedgate Express access control lanes.
Read more...
---
Video doorbells from Ring
Issue 1 2020 , Access Control & Identity Management
Ring has a number of video doorbells available in South Africa that run off batteries or power and enable users to answer their doors from anywhere.
Read more...
---
Centurion to unveil new product
Issue 1 2020, Centurion Systems , Access Control & Identity Management
Centurion Systems will be hosting its third Access Automation Expo this year, with dates confirmed for Durban, Johannesburg and Cape Town.
Read more...
---
Looking ahead with mobile access technologies
Access & Identity Management Handbook 2020, Technews Publishing, HID Global, dormakaba South Africa, Salto Systems Africa, Suprema, Gallagher , Access Control & Identity Management, Integrated Solutions
Given the broad use of smartphones around the world and the numerous technologies packed into these devices, it was only a matter of time before the access control industry developed technology that would ...
Read more...
---
Mobile access is more secure than card systems
Access & Identity Management Handbook 2020 , Access Control & Identity Management
The ability to use mobile phones as access credentials is one of the biggest trends in a market that historically has been slow in adopting new technology.
Read more...
---
This is the future. This is what we do.
Access & Identity Management Handbook 2020, ZKTeco , Access Control & Identity Management
ZKTeco has created a unique range of visible light facial recognition products combined with a flexible Android platform.
Read more...
---