printer friendly version
Is surveillance the key to safer roads?
November 2013 CCTV, Surveillance & Remote Monitoring, Transport (Industry)
In the aftermath of yet another horrific road accident, words such as 'negligence', 'accountability' and 'prevention' are foremost in the minds of many South Africans. The tragedy that claimed the lives of 22 people when an articulated truck careened into four minibus taxis and a car in Pinetown, KwaZulu-Natal, has sparked outrage and forced authorities to once again face some uncomfortable questions regarding road safety.
Despite the implementation of various measures and the establishment of the Road Traffic Management Corporation in 2005, attempts to curb road deaths in South Africa have proved wholly ineffectual to date. In a global status report on road safety published by the World Health Organization (WHO) in 2009, South Africa ranked third from last in road deaths proportional to the country's population.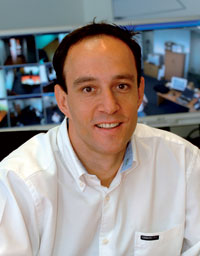 Roy Alves, regional business development manager of Axis Communications.
The devastating emotional and psychological effect of road fatalities on survivors, witnesses and those linked to the victims is just the start of the calamity. The financial implications are dire to both individuals and to the general economy. The International Transport Forum, an intergovernmental organisation consisting of 54 members, estimates in its latest annual report that South African road accidents cost approximately R307-billion annually. To an emerging market this is a massive spend. So large in fact, that it overshoots the education budget by R74-billion and the 2012/2013 healthcare budget by R186-billion.
The Transport Ministry speak of 'collective responsibility' but no one seems quite sure of what this entails. The time to scramble for explanations and then offer heartfelt condolences has come and gone. Global tried and tested solutions that put a stop to the senseless loss of life amongst road users and pedestrians warrant further investigation.
One such solution involves the visual monitoring of traffic with real-time video. Whether technology is deployed to avoid congestion, improve security, notify of unusual events or obtain data regarding traffic flow, it is becoming increasingly popular on highway systems, main commuter routes, at intersections, in tunnels and on bridges throughout the world.
There are numerous examples of surveillance systems as the hero of the hour in traffic incidents on every continent. Intelligent video surveillance has built video analytics into network cameras resulting in a versatile and pro-active solution that drastically reduces staff workload and offers early warnings about situations and potential risk scenarios.
By configuring intelligent video systems to specific parameters, it is possible to get instant alerts when pre-set parameters have been breached, thus delivering automatic incident detection without relying on human intervention. The application opportunities for this type of innovation on South African roads are extensive.
Traffic can be redirected to minimise congestion, first responders and emergency personnel can immediately establish the best route and what to expect on arrival, vehicles contravening road laws may be recorded and prosecuted, potential hazards such as disabled vehicles may be identified and removed timeously, commuters may access live feeds to enable better travelling decisions and news stations may provide detailed traffic information to viewers and listeners. 
The advantages of real-time traffic and infrastructure information without reliance on the physical presence of security or traffic officers are significant.
Quick detection allows for rapid response and this may be crucial when it comes to stemming the steady flow of blood that spills on to our roads on a daily basis. Surveillance systems have the ability to support and empower the 17 000 traffic officers who have been deployed on our national highways. It remains to be seen if technology is capable of accomplishing what policy and punitive actions have so far failed dismally at.
For more information contact Axis Communications, +27 (0)11 548 6780, roy.alves@axis.com, www.axis.com
Credit(s)
Further reading:
Reinventing network camera security
Issue 1 2020, Axis Communications SA , CCTV, Surveillance & Remote Monitoring
Now in its seventh generation and celebrating its 20th anniversary, the Axis ARTPEC chip was launched in 1999 designed to optimise network video.
Read more...
---
Cloud-based fleet and driver management
Issue 1 2020, Graphic Image Technologies , CCTV, Surveillance & Remote Monitoring
Graphic Image Technologies (GIT) has announced the availability of a cloud-based dashcam designed to improve on-the-road behaviour and assist in improving fleet management.
Read more...
---
Axis gives a brighter future for children
Issue 1 2020, Axis Communications SA , Editor's Choice
Fully networked camera solution provides visibility and accountability, letting orphanage focus on what's important – its children.
Read more...
---
Cathexis specialises in integration
Issue 1 2020, Cathexis Technologies , CCTV, Surveillance & Remote Monitoring
The integration of multiple systems is intrinsic and essential to the goal of creating an effective and efficient operational environment.
Read more...
---
Do wireless networks meet modern surveillance demands?
Issue 1 2020, Duxbury Networking, RADWIN , CCTV, Surveillance & Remote Monitoring
It is predicted that video will account for 15,1 zettabytes (1 zettabyte = 1 trillion gigabytes) of data annually, which is more than any other IoT application.
Read more...
---
Traffic doesn't have to be this way
Issue 1 2020, Dahua Technology South Africa, Axis Communications SA , CCTV, Surveillance & Remote Monitoring
More effective traffic management is something that would save us all a lot of frustration and wasted time, and it's one of the areas where AI and big data can have a significant impact.
Read more...
---
Dahua launches Hunter Series
Issue 1 2020, Dahua Technology South Africa , CCTV, Surveillance & Remote Monitoring
Dahua launches a new dual-PTZ camera that enables flexible and multi-scene panoramic monitoring.
Read more...
---
8 MP fisheye camera
Issue 1 2020, Dallmeier Electronic Southern Africa , CCTV, Surveillance & Remote Monitoring
Dallmeier's new 8 MP fisheye camera combines AI-supported object classification and H.265 in a compact design.
Read more...
---
Using ANPR to enhance security
Issue 1 2020, Duxbury Networking , CCTV, Surveillance & Remote Monitoring
Deep learning and AI-based algorithms enable ANPR cameras and their associated software to detect and recognise number plates with an extremely high level of accuracy.
Read more...
---
AI supercharges surveillance
Issue 1 2020 , CCTV, Surveillance & Remote Monitoring
The ability to analyse live video through AI techniques means that untapped footage from existing, passive cameras can be used to identify patterns, trends and anomalies.
Read more...
---