printer friendly version
Tanker hijacking syndicate busted
November 2013 Security Services & Risk Management, Transport (Industry)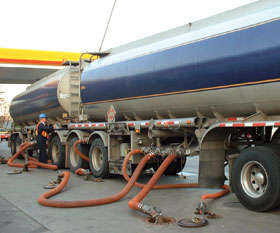 Trucking companies have lost up to R350 million in stolen fuel to a blue light syndicate operating between Durban and Gauteng, Conrad van der Merwe, regional director Gauteng of Justicia Investigations, has revealed.
"As fuel becomes increasingly expensive, the many petrol tankers that are plying the route between Durban and Johannesburg will become increasingly attractive targets. Already, between January and July this year, our investigators came to know of at least 35 different incidents. However, there have probably been more given that between 40 and 50 fuel tankers are on the highway on any single day," he says.
At present, Gauteng consumes 65 percent of the fuel in the country. The bulk of this is either imported or refined by Engen or Sapref, two of the country's largest oil refineries. Most is transported by road. Unfortunately, the multi-billion rand New Multi Product Pipeline, which is still under construction by Transnet and would be the safest means of transporting petrol and diesel is not yet fully operational.
Although Justicia investigates a wide variety of different crimes and has come across tankers stolen in Durban, emptied and abandoned. He says that the blue light syndicate that investigators exposed operating along the N3 in August was one of the more sophisticated. Most of these tanker hijackings took place within 150 kilometres of Johannesburg. Vehicles were carrying petrol, diesel and paraffin.
According to van der Merwe, the syndicate used white unmarked vehicles with blue lights. After a truck was pulled over and a suspect wearing an SAPS uniform overpowered or took the driver hostage, accomplices wearing plain clothes appeared. They used cable ties to tie up the driver. He was placed in the boot of their vehicle.
In other cases, drivers of fuel tankers were hijacked after they went to the toilet or shops at some of the Ultra Cities close to Johannesburg. "As the driver climbed into his truck, he would feel a gun in his back and would be forced to climb into the cab and lie on the sleep bunk. He was then tied up and robbed of his cell phone and wallet," said van der Merwe.
The tracker signal of the truck was blocked using an advanced jamming device and the truck was then driven to the off load point which, in this case, was on a farm in the Springs area. Here, the diesel or petrol was pumped into large 30 000 litre containers.
The truck and trailer was then driven back to Johannesburg and dumped while the driver was dropped off in a rural area in the Leandra/Delmas area where he would be left to struggle for an hour or two before making his way to the nearest police station to report the incident.
He added that horses and empty trailers were eventually discovered a few days after an incident at different locations in Johannesburg. He said that owners of the ensembles, of which the horse alone was worth around R1,5 million, were fortunate to recover their vehicles.
"In all cases, the drivers were robbed of their cell phones and wallets. Polygraph tests performed during this thorough investigation confirmed that they were not involved in the planning or execution of these hijacks in any way," continues van der Merwe.
Justicia, assisted by the tracking company responsible for five trucks owned by a small trucking company, was able to locate the farm that was used to store the stolen petrol and diesel. Seals found on the premises indicated that numerous loads of stolen petrol and diesel were off loaded on this farm. The tenant, who was responsible for on selling the stolen fuel to a wholesaler, was arrested.
Further investigations led to the arrest of the leader of the hijacking team. It was found that that he was out on bail on numerous charges of hijacking and even murder. He was positively identified by drivers during identification parades and has been charged with numerous fuel truck hijacks in Gauteng.
In addition, Justicia was able to identify the fuel wholesaler who purchased most of the stolen fuel from the suspect on the farm and then sold this stolen fuel to apparently unsuspecting service stations. Van der Merwe said that the fuel was sold by the farm operator to the wholesaler at a 50 percent discount. The wholesaler is believed to have added a substantial mark up before disposing of the fuel to a number of petrol garages at a 20 to 25 percent discount.
He said that, as yet, it was not clear how many filling stations were involved. However, investigations are ongoing and he expects further arrests.
"Since these arrests have been made, fuel truck hijackings on the N3 have come to a complete standstill. Justicia and its investigators will do their best to ensure that the suspects are found guilty and receive lengthy sentences," he concluded.
For more information on Justicia Investigations please go to www.justicia.co.za or contact admin@justicia.co.za
Credit(s)
Further reading:
Is security prepared to combat Coronavirus
Issue 1 2020 , Security Services & Risk Management
No-one knows if the Coronavirus could turn into a pandemic, but at this moment in time, this must seriously be considered.
Read more...
---
Integrated, intelligence-driven
Issue 2 2020, Bidvest Protea Coin , Security Services & Risk Management
Serving the market with integrated, intelligence-driven security solutions.
Read more...
---
ATM security solution
Issue 2 2020, Secutel Technologies , Security Services & Risk Management
Secutel Technologies has developed a range of integrated security solutions designed to boost ATM security.
Read more...
---
Ransomware predictions
Issue 1 2020 , Security Services & Risk Management
As we enter a new decade, Simon Jelley, VP of product management at Veritas, explores how ransomware is likely to continue evolving in the year ahead.
Read more...
---
The HR environment in 2020
Issue 1 2020, iFacts , Security Services & Risk Management
As 2020 grabs hold of every one of us with great intent, we need to know what to be aware of when employing people or appointing vendors for our business.
Read more...
---
The instruments for investigation
Issue 1 2020, Technews Publishing , Security Services & Risk Management
Regardless of the reason for investigation, the investigation is only as good as the investigators.
Read more...
---
Nothing holds Eudricht back
Issue 1 2020, Sensor Security Systems , Security Services & Risk Management
In this personality profile, Eudricht Kotze talks of his journey overcoming adversity in the security industry.
Read more...
---
Leaders in risk and security: You have to know it to manage it
Issue 1 2020, Technews Publishing , Security Services & Risk Management
Hi-Tech Security Solutions profiles Nash Lutchman, Senior Vice President and Head of Protection Services at Sibanye-Stillwater.
Read more...
---
Drilling deeper into essential building management systems
Issue 1 2020 , Security Services & Risk Management
As the demand for the automation of security and other systems in buildings and large construction sites around the world grows, we are seeing an increase in the demand for building management systems.
Read more...
---
From physical security to cybersecurity
Access & Identity Management Handbook 2020, Genetec , Cyber Security, Security Services & Risk Management
Genetec discusses the security-of-security concept as a means to protect cameras, door controllers and other physical security devices and systems against cybercriminal activity.
Read more...
---