printer friendly version
Integrating fire
October 2013
Fire & Safety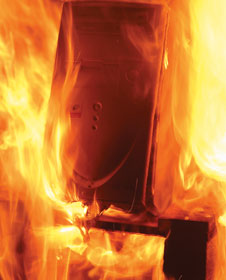 Fire detection, suppression and prevention solutions are often a grudge purchase, much like insurance, and many organisations do not see the value in their investment. However, the reality is that fire detection and prevention solutions are a requirement for every organisation's emergency preparedness and response in order to safeguard people's lives and the company's assets. It is also necessary in order for insurance companies to provide cover.
The value of fire solutions is only evident when a fire breaks out, and by then, if the fire detection and suppression equipment is not in place or not functioning, it is more than often too late. When it comes to ensuring the highest levels of safety for people and the highest levels of protection for equipment, integrating fire solutions into other management solutions guarantees the greatest efficiency, giving people more time to evacuate and minimising damage to buildings and expensive equipment.
Fire detection solutions are designed, as the name suggests, to detect the presence of fire in a building. They will then sound an alarm to alert people of the fire, enabling them to evacuate. Fire suppression, usually using inert gas, is typically placed in server rooms or areas where high value IT equipment is kept. These systems, on detection of fire, will sound an alert to alert people in the room to leave, and will then release gas to extinguish the fire. These systems are preferable to water-based fire suppression, as water will damage the equipment in the process of extinguishing the fire, whereas the gas will not.
Fire response tools are typically fire-fighting equipment, including hoses, sprinkler systems and different types of fire extinguishers. Although health and safety rules and regulations only requires fire detection and fire prevention to be in place, in today's organisations where IT equipment is critical, fire suppression is a valuable solution that could save companies a lot of money if a fire should occur. Aside from this, insurance companies will generally offer lower premiums to organisations with all three solutions, as risk is decreased as a result.
Many advances to fire solutions technology have been made over the years, making systems more sensitive, allowing for earlier fire detection and enabling faster, more effective fire suppression and extinguishing capabilities. However, if these technologies all work in isolation from each other, their effectiveness is limited. To ensure the highest levels of efficiency and safety, fire solutions should integrate, not only with each other, but also with other building management tools and systems.
One example of integration is for fire detection solutions work in tandem with public address and evacuation systems. This will ensure that when a fire occurs, the alert is sent to the fire panel, which will then interface with the public address system to send out an automated warning, telling people to evacuate, as well as information as to the location of the fire. If fire detection is then also integrated into access control solutions, doors can be opened automatically to ensure ease of exiting the building. Access control systems can also provide a full list of the current occupants of the building and their location, so if people are trapped in the building, it can be easily discovered. If the lifts are linked to access control they can also be automatically disabled, and fire doors can open. Integrating into building management solutions also enables fans and air conditioners to be automatically switched off to starve the fire of additional sources of oxygen.
Extending this integration to CCTV solutions can assist with investigative purposes to pinpoint the point of origin of the fire and the events that led up to it. Fire solutions can even be integrated with local fire departments to ensure swift response, as well as security companies. Integration enables solutions to function more effectively and delivers more functionality, assisting to save many lives in the event of an incident.
However, while integration improves efficiency, it makes maintenance more important than ever. Many organisations do not maintain their fire response equipment according to the recommended schedule, and do not replace equipment such as extinguishers and suppression devices when they reach the end of their recommended lifespan. The challenge that this raises is that when the problem is discovered, it is too late. In an integrated environment this can have a knock on effect to the effectiveness of other areas, compromising the safety of people and equipment including buildings. Fire solutions should be properly maintained and as a best practice, be tested at least once a month to ensure that they are in working order and can do what they are designed to do – detect and suppress fire.
Ensuring functional, effective fire systems should be high on any organisation's agenda. Not only are these solutions necessary for Safety Health Environmental Quality (SHEQ) compliance, they are also critical in protecting people, equipment and even business continuity. Safeguarding the well-being of people should be the highest priority, as it is impossible to put a value on human life. Furthermore, without people, business continuity is adversely affected, and if servers and data warehouses are damaged, vital data may be lost that could negatively impact the business. While fire solutions do not offer any intrinsic value or assist in the profitability of business, they are a vital and necessary part of any organisation and can prevent a disaster that could result in the closure of a business.
For more information contact Jasco Security Solutions, +27 (0)11 894 7127, kleroux@multivid.co.za, www.jasco.co.za
Credit(s)
Further reading:
Fire Beam Xtra covers up to 160 metres
October 2019, Technoswitch , Products, Fire & Safety
The Fire Beam overcomes traditional beam detection challenges where building movement and accessibility made beam detection unreliable and laborious to commission and maintain.
Read more...
---
Emergency voice communication system
October 2019, Technoswitch , Products, Fire & Safety
The Technoswitch Emergency Voice Communication Systems concept offers fire telephone and disabled refuge systems, as well as integrating emergency assist alarm systems in a single solution.
Read more...
---
Fast detection of smoke and flames
October 2019, Bosch Building Technologies , Editor's Choice, CCTV, Surveillance & Remote Monitoring, Fire & Safety
Video-based fire detection AVIOTEC from Bosch has been optimised for tunnels to provide early and reliable detection of smoke and flames in these dark environments.
Read more...
---
Choosing the right fire detection system
August 2019, FDIA (Fire Detection Installers Association) , Fire & Safety
Charles Thiong'o from the FDIA highlights important factors to consider when choosing a fire detection system.
Read more...
---
Local security technology manufacturer
August 2019, Technoswitch , Fire & Safety
Technoswitch, a South-African manufacturer, importer and distributor of fire detection and suppression equipment turned 45 this year.
Read more...
---
Fire detection and suppression for server cabinets
August 2019, Technoswitch , Fire & Safety
The TEC601, designed and manufactured by Technoswitch, is an all-in-one fire and extinguishing rack-mountable control system designed to protect electronic equipment in 19-inch server room cabinets.
Read more...
---
ORYX conventional fire panel range
August 2019, Technoswitch , Fire & Safety
The ORYX range of conventional panels from Technoswitch offers 2, 4 and 8 zone options, including weatherproof versions (with or without DIN rail) specifically suited to industrial applications.
Read more...
---
Next generation BlazeCut T-series
August 2019, Technoswitch , Fire & Safety
Designed to protect small enclosed spaces with greater risk of fire, the BlazeCut T-series system is easy to install.
Read more...
---
Emergency lighting and fire detection combination
August 2019 , Fire & Safety, Products
Hochiki Europe has launched FIREscape+, a system which combines emergency lighting, fire detection and wayfinding technology.
Read more...
---
Introducing Gulf Security Technology
August 2019, UTC Fire & Security SSA , Fire & Safety
Gulf Security Technology manufactures more than 16 million detectors and modules and more than 120 thousand control panels per year, making it one of the largest fire detection manufacturers in the world.
Read more...
---