printer friendly version
Simplified control centre interfaces
October 2013
CCTV, Surveillance & Remote Monitoring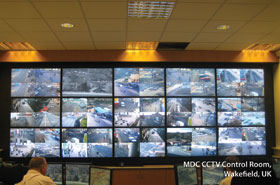 One of the UK's latest camera control centres, the Wakefield City Metropolitan District Council's CCTV control room in Pontefract, has used Eyevis a-v and security technology to simplify the operational interfaces and speed up incident response times.
The system now allows operators to see 160 camera feeds, out of a possible 176, at any one time on 5x3 array of 46 in high-definition LCD screens.
There is no need to switch and encode camera feeds because every one is live. Instead of having to redraw the whole screen area according to a series of rigid templates – the norm in such installations – the screen mapping is fluid and can be changed by the operators on the fly. This, for example, allows them to follow an incident by switching between camera views in real-time.
To speed up the process even further, the control for the cameras and screen displays has been integrated with other communications. The high level of system integration has also speeded up incident response rates, made it possible to provide camera window feeds to police area control rooms and reduced the time it takes to produce CCTV evidence. Previously, it could take up to 30 minutes to trace a record of an incident and retrieve the appropriate videotape.
Now, electronic recording to the centre's 27 TB of storage means that a video report can be called up in 30 seconds and burned to a DVD.
In the new control room, up to seven operators manage cameras located across the area. Each operator station has a joystick device for camera control, a screen and a touch-screen system, so the operator can select the camera(s) being viewed by simply calling them up on a map. A video-wall in front of the room provides them – and the supervisor at the back of the room – with an overview of activity.
Touch-screen control systems allow operators to instantly assign any camera to a screen area and to dynamically change the display, without having to call up different templates and redraw the whole screen, losing camera views while the processors were coping. Eyevis also provided receiver units to link the control room with tracks of record and camera controllers installed in the Wakefield IT control room, which was 85 m from the main display area.
The 1366x768 resolution screens have a 1200:1 contrast ratio and a brightness of 700 cd/m, while the controller is configured to take in 176 direct CCTV inputs and output up to 160 real-time simultaneous displays. There are currently 17 display screens – 15 in the main wall, plus one in a separate review room and a spare – and control via Eyevis capture software, the control room LAN and an interface between the eyecon API and the Synectics Synergy control system. The camera feeds come in by a combination of BT fibre and Virgin Media/NTL broadband.
As a result of the new control system, Wakefield's population should feel more secure. Different forces will now be able to act together more effectively and traffic should flow more evenly.
For more information contact Cliff Nel, IAC, +27 (0)12 657 3600, cliff@iacontrol.co.za
Credit(s)
Further reading:
Drones and cybersecurity?
October 2019 , CCTV, Surveillance & Remote Monitoring
Hacker drones can eavesdrop electronically on conversations, can perform network attacks, or can create fake wireless access points.
Read more...
---
Body-worn cameras transforming security
October 2019 , CCTV, Surveillance & Remote Monitoring, Security Services & Risk Management
Police Service Northern Ireland now has over 7 000 officers using 2 500 cameras covering approximately 173 000 incidents each year.
Read more...
---
Camera Selection Guide 2019
CCTV Handbook 2019 , CCTV, Surveillance & Remote Monitoring
The Camera Selection Guide 2019 includes a range of IP, analogue, thermal and speciality cameras aimed at a broad range of surveillance functions.
Read more...
---
Intelligent analytics and the brains to match
September 2019, Bosch Building Technologies , CCTV, Surveillance & Remote Monitoring, Integrated Solutions
What if the brains behind our security cameras could be trained to improve their cognitive ability to pay attention, learn, and problem-solve according to specific rules and situations?
Read more...
---
AI-powered autonomous Drone-in-a-Box
September 2019 , CCTV, Surveillance & Remote Monitoring, Integrated Solutions
Organisations in the mining, energy and industrial, oil and gas, ports and terminals sectors can optimise security and business operations, whilst reducing risks and operational costs
Read more...
---
Cybersecurity for video surveillance systems
September 2019, Mobotix , Cyber Security, CCTV, Surveillance & Remote Monitoring
Video surveillance systems are increasingly accessible over any IP network, which has led to the rise of potential cyberattack.
Read more...
---
What are the cybersecurity issues in video surveillance?
November 2019, Axis Communications SA , Editor's Choice, CCTV, Surveillance & Remote Monitoring, Cyber Security
he importance of the data captured by surveillance cameras – and what can be done with it – has led to a new breed of cybercriminals, looking for insights to steal and sell.
Read more...
---
The safe city and its need for interoperability
November 2019 , Integrated Solutions, CCTV, Surveillance & Remote Monitoring
Interoperability continues to present one of the greatest challenges, particularly with video management systems, video recording devices and cameras.
Read more...
---
A platform approach to safer and smarter cities
November 2019, Milestone Systems , CCTV, Surveillance & Remote Monitoring
Selecting the right platform to manage the vast data collected from smart and safe cities is critical to the ultimate success of the project.
Read more...
---
Creating safe cities with smart technology
November 2019, Secutel Technologies , CCTV, Surveillance & Remote Monitoring
In a digital age, where resilience and responsiveness are paramount to fighting crime and creating a safer world, CCTV systems are becoming part of every city's infrastructure.
Read more...
---