printer friendly version
Simplified control centre interfaces
October 2013
CCTV, Surveillance & Remote Monitoring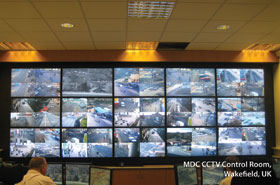 One of the UK's latest camera control centres, the Wakefield City Metropolitan District Council's CCTV control room in Pontefract, has used Eyevis a-v and security technology to simplify the operational interfaces and speed up incident response times.
The system now allows operators to see 160 camera feeds, out of a possible 176, at any one time on 5x3 array of 46 in high-definition LCD screens.
There is no need to switch and encode camera feeds because every one is live. Instead of having to redraw the whole screen area according to a series of rigid templates – the norm in such installations – the screen mapping is fluid and can be changed by the operators on the fly. This, for example, allows them to follow an incident by switching between camera views in real-time.
To speed up the process even further, the control for the cameras and screen displays has been integrated with other communications. The high level of system integration has also speeded up incident response rates, made it possible to provide camera window feeds to police area control rooms and reduced the time it takes to produce CCTV evidence. Previously, it could take up to 30 minutes to trace a record of an incident and retrieve the appropriate videotape.
Now, electronic recording to the centre's 27 TB of storage means that a video report can be called up in 30 seconds and burned to a DVD.
In the new control room, up to seven operators manage cameras located across the area. Each operator station has a joystick device for camera control, a screen and a touch-screen system, so the operator can select the camera(s) being viewed by simply calling them up on a map. A video-wall in front of the room provides them – and the supervisor at the back of the room – with an overview of activity.
Touch-screen control systems allow operators to instantly assign any camera to a screen area and to dynamically change the display, without having to call up different templates and redraw the whole screen, losing camera views while the processors were coping. Eyevis also provided receiver units to link the control room with tracks of record and camera controllers installed in the Wakefield IT control room, which was 85 m from the main display area.
The 1366x768 resolution screens have a 1200:1 contrast ratio and a brightness of 700 cd/m, while the controller is configured to take in 176 direct CCTV inputs and output up to 160 real-time simultaneous displays. There are currently 17 display screens – 15 in the main wall, plus one in a separate review room and a spare – and control via Eyevis capture software, the control room LAN and an interface between the eyecon API and the Synectics Synergy control system. The camera feeds come in by a combination of BT fibre and Virgin Media/NTL broadband.
As a result of the new control system, Wakefield's population should feel more secure. Different forces will now be able to act together more effectively and traffic should flow more evenly.
For more information contact Cliff Nel, IAC, +27 (0)12 657 3600, cliff@iacontrol.co.za
Credit(s)
Further reading:
AI technology to empower vertical markets
Dahua Technology South Africa Mining (Industry) CCTV, Surveillance & Remote Monitoring Products
Dahua WizMind is a full portfolio of solutions comprising project-oriented products that use deep learning algorithms to provide more business value to its global customers and deliver reliable and comprehensive AI solutions for vertical markets.
Read more...
---
Elvey partners with HALO
Elvey Security Technologies News CCTV, Surveillance & Remote Monitoring
Elvey Group has partnered with HALO Europe to provide Africa's first body-worn solution with zero upfront costs. This includes an IP68-certified body camera and a 4G-connected device.
Read more...
---
Regal announces new partnership
Regal Distributors SA CCTV, Surveillance & Remote Monitoring
Having a bird's eye view of your surveillance data, with the capability to drill down to the details obtained via connected security solutions, is a game changer for security operators, companies and even officers on the ground.
Read more...
---
Invisible connection and tangible protection via cloud
Dahua Technology South Africa Perimeter Security, Alarms & Intruder Detection CCTV, Surveillance & Remote Monitoring Products
Dahua Technology has launched its AirShield security solution that uses advanced, stable and reliable RF communication technology and cloud services, integrating alarm hubs, various detectors and accessories, with several software apps.
Read more...
---
Hikvision expands solar-powered solutions
CCTV, Surveillance & Remote Monitoring Products
Hikvision is offering a portfolio of solar solutions, the 4G solar-powered camera kit, a wireless bridge, and mobile solar security tower solutions to assist in keeping remote and isolated areas safe in a simple, practical, and cost-effective way.
Read more...
---
Affordable entry-level cameras from Dallmeier
Dallmeier Electronic Southern Africa CCTV, Surveillance & Remote Monitoring Products
Dallmeier has introduced the 'E' version of the DOMERA camera family, offering high image quality with 2 MP and 5 MP resolution, and providing detailed images even in low light conditions.
Read more...
---
The importance of the operator's frame of reference
Leaderware Editor's Choice CCTV, Surveillance & Remote Monitoring Security Services & Risk Management Mining (Industry)
The better the operator's frame of reference and situational awareness, and the more informed they are in dealing with CCTV surveillance in the mining industry, the more successful they are likely to be in surveillance.
Read more...
---
Enhancing surveillance on mines
Avigilon Technews Publishing Axis Communications SA Forbatt SA Hikvision South Africa Bosch Building Technologies Editor's Choice CCTV, Surveillance & Remote Monitoring Integrated Solutions Mining (Industry)
Smart Security approached a number of surveillance vendors to find out what the latest in surveillance technology is that can make a difference to security operations in mines, as well as general operations.
Read more...
---
Surveillance to improve worker safety
Axis Communications SA Mining (Industry) CCTV, Surveillance & Remote Monitoring Integrated Solutions
With substantial deposits of mineral resources, mining is critical for South Africa's economic growth and prosperity; however, mining can be dangerous, especially for the people working on the ground and in the shafts.
Read more...
---
Radar-video fusion camera
Axis Communications SA CCTV, Surveillance & Remote Monitoring Mining (Industry) Products
The AXIS Q1656-DLE Radar-Video Fusion Camera device brings video and radar analytics together in AXIS Object Analytics to deliver detection and visualisation.
Read more...
---