printer friendly version
Dead is too late
October 2013
Security Services & Risk Management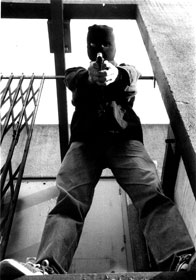 "If you have killed one person already, what difference does another twenty make?"
These are the words of a hardened criminal when asked during an interview why people are killed by offenders at the crime scene. Scary, shocking, but even more so when considering that this was his second reply when asked to elaborate on the question. His first answer was simply: "Because we can."
A shocking statistic is that 30% of criminals have already committed murder and will do this again, as can be seen from the opening quote.
It is important to bear in mind that often these individuals are not thinking logically. They could be mentally imbalanced or unstable, or be fuelled solely by anger and hatred. Sometimes the misuse of drugs or alcohol affects their judgment which will make them less hesitant and braver when they commit these crimes. There have even been instances when the criminal is under the influence of witchdoctor's medicines, which might lead him to believe in his delusion that he is, for example, invincible or invisible.
All of the reasons listed above will ultimately affect their thought processes or behaviour. Furthermore this makes these individuals highly unpredictable and therefore extremely dangerous.
Regular security methods will not deter these types of lawbreakers. It has occurred in a certain case where the criminal saw the CCTV camera and waved before attacking and killing his victim, while all the time this was being recorded.
As normal citizens when regarding ourselves we will not even entertain the idea that we will be capable of committing such a heinous crime against another. But unfortunately, we are not all cut from the same mould and desperation or delusion can cause people to act in extreme ways.
The only way to be in state to prevent these types of crimes from happening is to have the necessary knowledge and control of your security. If you are alerted to an intruder when they even just attempt to cross your perimeter, you will have more time to stop them. It's too late if they are inside already.
An independent security risk assessment can provide you with the power and the means needed to prevent something like this from occurring and from you, your loved ones or your employees becoming another statistic.
The main goal of an assessment is actually to prevent the crime in the first place and to aid security awareness so that it can be discussed and that some sort of plan or reaction can be formulated in the worst case scenario should you find yourself in this type of position.
Prevention is better than cure, and if you're dead … it's definitely too late.
For more information contact Alwinco, +27 (0)71 319 4735, dianne@alwinco.co.za, www.alwinco.co.za
Further reading:
Putting secondary storage to work
September 2019 , IT infrastructure, Security Services & Risk Management
By 2022, more than 80% of enterprise data will be stored in scale-out storage systems in enterprise and cloud data centres, up from 40% in 2018.
Read more...
---
ContinuitySA offers Complete Continuity Practitioner in October
September 2019, ContinuitySA , Training & Education, Security Services & Risk Management
ContinuitySA is offering its popular five-day Complete Continuity Practitioner Programme on 21-25 October 2019 at its offices in Midrand.
Read more...
---
Security workforce compliance tool
September 2019 , Security Services & Risk Management
To maintain service excellence across a security workforce is impossible without the help of information systems and technology.
Read more...
---
Call back the past
September 2019, SCAN RF Projects , Security Services & Risk Management
Two-way radios are still very relevant in the security world and have gone through significant advances over the past few years to enable them to keep up with the expectations of people in today?s connected world.
Read more...
---
Proficient operational security management
September 2019 , Security Services & Risk Management
The quest to establish an organised and integrated security operations programme based on a Plan-Do-Check-Act (PDCA) cycle for continuous improvement is paramount for a successful security operation.
Read more...
---
Increase security efficiency, decrease costs
September 2019 , Security Services & Risk Management, Integrated Solutions
Trackforce offers customisable mobile and web applications to increase security operational efficiency and lower costs.
Read more...
---
Accurate guard tracking and management
September 2019, Secutel Technologies , Security Services & Risk Management, Products
There are many challenges when it comes to effectively managing and tracking a guarding workforce in real time.
Read more...
---
X-rays in 3D
September 2019, XPro Security Solutions , Editor's Choice, Security Services & Risk Management
Hi-Tech Security Solutions asked Greg Dixon, director of XPro, for some insights into X-ray scanning and its pros and cons in today?s volatile world.
Read more...
---
Smart Inspection Unit developed by Roteck
September 2019 , Editor's Choice, Security Services & Risk Management
Roteck has announced a portable personnel and bag scanning unit that can easily be transported, set up and used in almost any location.
Read more...
---
Mobile guards on patrol
September 2019, Dahua Technology South Africa , CCTV, Surveillance & Remote Monitoring, Security Services & Risk Management
Dahua Technology developed mobile ?Video Guards? along with a complete solution for a security service company in Germany.
Read more...
---