printer friendly version
Dead is too late
October 2013
Security Services & Risk Management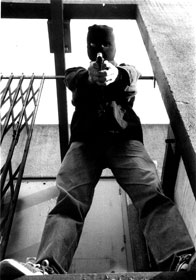 "If you have killed one person already, what difference does another twenty make?"
These are the words of a hardened criminal when asked during an interview why people are killed by offenders at the crime scene. Scary, shocking, but even more so when considering that this was his second reply when asked to elaborate on the question. His first answer was simply: "Because we can."
A shocking statistic is that 30% of criminals have already committed murder and will do this again, as can be seen from the opening quote.
It is important to bear in mind that often these individuals are not thinking logically. They could be mentally imbalanced or unstable, or be fuelled solely by anger and hatred. Sometimes the misuse of drugs or alcohol affects their judgment which will make them less hesitant and braver when they commit these crimes. There have even been instances when the criminal is under the influence of witchdoctor's medicines, which might lead him to believe in his delusion that he is, for example, invincible or invisible.
All of the reasons listed above will ultimately affect their thought processes or behaviour. Furthermore this makes these individuals highly unpredictable and therefore extremely dangerous.
Regular security methods will not deter these types of lawbreakers. It has occurred in a certain case where the criminal saw the CCTV camera and waved before attacking and killing his victim, while all the time this was being recorded.
As normal citizens when regarding ourselves we will not even entertain the idea that we will be capable of committing such a heinous crime against another. But unfortunately, we are not all cut from the same mould and desperation or delusion can cause people to act in extreme ways.
The only way to be in state to prevent these types of crimes from happening is to have the necessary knowledge and control of your security. If you are alerted to an intruder when they even just attempt to cross your perimeter, you will have more time to stop them. It's too late if they are inside already.
An independent security risk assessment can provide you with the power and the means needed to prevent something like this from occurring and from you, your loved ones or your employees becoming another statistic.
The main goal of an assessment is actually to prevent the crime in the first place and to aid security awareness so that it can be discussed and that some sort of plan or reaction can be formulated in the worst case scenario should you find yourself in this type of position.
Prevention is better than cure, and if you're dead … it's definitely too late.
For more information contact Alwinco, +27 (0)71 319 4735, dianne@alwinco.co.za, www.alwinco.co.za
Further reading:
30 years of business continuity
May 2019, ContinuitySA, Technews Publishing , Editor's Choice, Security Services & Risk Management
ContinuitySA is celebrating its 30th anniversary this year and Hi-Tech Security Solutions spoke to CEO Michael Davies about the changes he has seen in the business continuity and disaster recovery markets.
Read more...
---
The benefits of background screening
May 2019, iFacts, Managed Integrity Evaluation , Editor's Choice, Security Services & Risk Management
Companies need to be more vigilant about the people they employ by making sure comprehensive background screening checks are conducted.
Read more...
---
Simplifying fire detection system installations
May 2019, Elvey Security Technologies , Editor's Choice, Fire & Safety, Security Services & Risk Management
A fire detection system needs to be selected with extreme care, as is selecting an installer that not only understands the various technologies employed in fire detection, but that also has the necessary accreditations and certifications.
Read more...
---
Security workforce management platform
May 2019, Secutel Technologies , CCTV, Surveillance & Remote Monitoring, Integrated Solutions, Security Services & Risk Management
Secutel Technologies says the South African market is excited about body-cam technology and clearly sees the potential benefits.
Read more...
---
Solar energy storage systems
May 2019, Specialised Battery Systems , Products, Security Services & Risk Management
Specialised Battery Systems has a range of Energy Storage Systems (ESS) available, both standard and custom designed to suit customer requirements.
Read more...
---
Lightning protection insurance for thatched roofs
May 2019, DEHN Africa , Security Services & Risk Management
DEHNinsure offers surge and lightning protection insurance for thatched roofed buildings using its high-voltage-resistant insulated (HVI) technology.
Read more...
---
MIE background screening findings
May 2019, Managed Integrity Evaluation , Security Services & Risk Management
Candidate and supplier screening prioritised amidst murky market risks in MIE Background Screening Index Report for 2018.
Read more...
---
Control room software selection
May 2019, Intelligent Monitoring , CCTV, Surveillance & Remote Monitoring, Security Services & Risk Management
Wolfgang Kirsch discusses what customers should look for when selecting a control room management platform.
Read more...
---
Insiders: who are they?
May 2019 , Security Services & Risk Management, Cyber Security
The 2018 Insider Threat Report by Cybersecurity Insiders reports that more than 51% of companies are concerned about unintentional insider attacks.
Read more...
---
Are background checks worth the cost?
May 2019, LexisNexis , Security Services & Risk Management
Often, the added cost and effort serve as an understandable deterrent to business owners who should consider skipping the background check process altogether.
Read more...
---