printer friendly version
Facing employee debt
October 2013
Security Services & Risk Management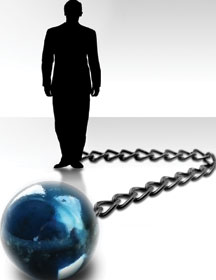 While many organisations or employers might believe that their employee's debts certainly shouldn't be their problem, they would be right, but according to Jenny Reid, CEO of iFacts, it is important to help employees manage their personal debt – to stop otherwise honest individuals turning to unethical behaviour.
"Financial education within the workplace is becoming a trend both in South Africa and elsewhere," she says. "While companies upskill their staff in technology and other soft skills, many don't promote financial literacy and accountability."
Work performance
From a business point of view, it makes sense to help employees manage their debt. "Debt can be enormously stressful," Reid says. "This stress can affect work performance, but it can also cloud judgement. In a worst case scenario, it could lead to stealing, selling corporate information or other security breaches."
Most people don't leave their monetary woes at home. The truth is that many employees report that they worry about not having enough money at the end of the month to cover personal expenses, a lack of savings or crippling credit card debt.
Giving guidance
Recent UK research has shown a link between debt and productivity in the workplace. "It is obvious that many employees may need financial guidance at some point," she says. "To maintain a robust operational environmental, employers need to offer a helping hand before it escalates out of control and has repercussions for the employee and the company."
According to Reid, the recommendations for credit amnesty that were recently approved by Cabinet are likely to put even further pressure on already indebted consumers. Debt counsellors have said that the cost of credit will be increased to deal with the increased risk and that it will be much harder for consumers to challenge credit providers on the basis of reckless lending.
In its background documentation, the Department of Trade and Industry (DTI) referred to three proposals, which it termed least risk, medium risk and high risk. But experts say that even the least risk proposal is cause for considerable concern.
At its essence these recommendations will ultimately result in the removal of adverse information listings and judgements for individuals with a poor credit history.
Industry experts say that the new recommendations for credit amnesty will enable debt stressed and over-indebted workers to dig an even deeper financial hole for themselves as they rush out to take more loans once their credit records are cleared. Furthermore, organisations will no longer be able to check out the credit history of potential employees. If these recommendations are passed, the only means of verifying a person's authenticity would be through pre-employment screening and integrity testing.
Over and above this, Reid believes that a confidential debt counselling service in-house could help employees. "An ethical company will speak openly about the challenges facing every single one of us living in a tough economic climate," she says. "We need to encourage employees to talk about debt. At the same time, managers should be aware of emotional, physical and performance changes in an employee because it could be related to finances."
Check first
While it is important to show support to employees, a company can show foresight when it comes to new recruits. "Background checks can give a clearer profile of a candidate," Reid says. "A credit check will give an idea of how the future employee manages debt. Devolving from this, an integrity test will reveal more of their psychology."
Debt can happen to anyone and it is not a crime. It can be destabilising and can impact negatively on overall employee productivity. "Most employers want happy, honest and productive people in their workplace," Reid concluded. "By tackling the problem in a proactive way, managers may help employees focus on work and bolster performance."
Credit(s)
Further reading:
Communication in any situation
Issue 8 2020, Elvey Security Technologies , Global Communications , Security Services & Risk Management
Global Communications offers an industry-first with five-year warranty on select Kenwood two-way radios.
Read more...
---
The year resilience paid off
Issue 8 2020 , Editor's Choice, Security Services & Risk Management
Hi-Tech Security Solutions spoke to Michael Davies about business continuity and resilience in a year when everything was put to the test.
Read more...
---
Integration is key for smart city security
Issue 9 2020, Technews Publishing , Security Services & Risk Management
While smart cities are about enhancing the lives of people through smart technology, security is an essential aspect of success.
Read more...
---
Three mistakes when dealing with remote employees
Issue 9 2020 , Security Services & Risk Management
Sergey Ozhegov, CEO of SearchInform, says that employees are not the only weak points in the work-from-home chain.
Read more...
---
Looking back with a new perspective on the future
Issue 9 2020, Axis Communications SA , Editor's Choice, Security Services & Risk Management
Peter Lindström reflects on predictions he made about the macro trends affecting the sector in 2020 in the light of the pandemic.
Read more...
---
I want to be a Chief Risk Officer (said no one…. ever)
Issue 9 2020, Rectron , Security Services & Risk Management
With universal online access, a focus on going 'paperless' and the rise of the hybrid workforce due to COVID-19, the chief risk officer is more important than ever.
Read more...
---
Free-flow smart weapons detection system
Issue 8 2020, XPro Security Solutions , News, Security Services & Risk Management, Products
Detecting people carrying weapons and preventing them from entering your venue is now possible, without sacrificing the visitor experience.
Read more...
---
Meeting compliance obligations
Issue 7 2020 , Security Services & Risk Management
Helping businesses in SA understand and meet their compliance obligations to local regulations.
Read more...
---
Business continuity through a COVID-19 lens
Issue 8 2020 , Security Services & Risk Management
COVID-19 has brought business continuity under scrutiny, with the opportunity to enhance resilience into the future.
Read more...
---
7 Arrows becomes a part of Fidelity ADT
Issue 8 2020, Fidelity ADT , News, Security Services & Risk Management
Fidelity ADT and 7 Arrows have concluded an acquisition agreement effective 1 October 2020. 7 Arrows will now form a part of Fidelity ADT.
Read more...
---