printer friendly version
Watching the outdoors
October 2013 Perimeter Security, Alarms & Intruder Detection, Products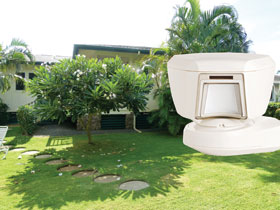 Six out of 10 South African households fear robbery and burglary more than any other crime, which is understandable given that 99% of these perpetrators are armed.
That's according to Ingo Mutinelli, sales director of Elvey Security Technologies, who says these findings, contained in the 2012 Victims of Crime Survey (VOCS) by Statistics SA, are supported by growing demand from the public for multi-layer security systems.
"We've seen substantial growth in demand for external detection devices in the last few years," he says. "People want to stop criminals before they get into their homes, hence their gravitation towards early detection devices, which will warn them in advance of an intrusion and give them enough time to call for help or barricade themselves into a safe room until the police or armed response action unit arrives."
Of the many outdoor detection products currently on the market today, he mentions the Visonic Tower-20, an external detector with a coverage pattern of 90 degrees and a range of 12 metres. "External detectors need higher levels of reliability and stability than internal detectors. To achieve this, Visonic has embraced something called Octa-Quad technology, which can distinguish between moving people, swaying trees and bushes and small animals (up to 18 kg in mass), thereby minimising false alarms while simultaneously ensuring the effective detection of real threats."
Octa-Quad technology makes use of eight independent passive infrared (PIR) quad detection elements, each of which boasts Visonic's patented TMR (true motion recognition) algorithm as well as a central processing engine. This level of processing allows for an extremely high degree of accuracy in terms of separating genuine human motion from innocuous movement.
The central motion processor analyses the motion signals identified in each of the individual detectors, taking into account the time, amplitude, background temperature, speed of motion, size of target and direction of motion. It then compares the signals with those of adjacent detectors in order to ascertain the alarm's validity.
Another feature of the Tower-20 is its black mirrored surface. "The Obsidian Black Mirror is a unique, nickel-based obsidian-like reflective surface which acts as a selective optical filter for infrared energy while virtually eliminating white light interference. It's this technology that ensures the detector's performance is not affected by climatic or environmental conditions.
The Tower-20 also offers anti-masking protection as a result of its dome-shaped IR perimeter shield, which allows for detection from all angles and includes a creep zone.
For more information contact Elvey Security Technologies, +27 (0)11 401 6700, priyesh.jagjivan@elvey.co.za, www.elvey.co.za
Credit(s)
Further reading:
Utility outages: Are you looking at the big picture?
October 2019 , Perimeter Security, Alarms & Intruder Detection
We have to start thinking about, and laying plans for, the real possibility that the whole grid is somehow compromised.
Read more...
---
The importance of XDR for cyber protection
October 2019 , Cyber Security, Products
35% of South African organisations are expecting an imminent cyberattack and a further 31% are bracing for it to happen within a year, according to local research conducted by Trend Micro.
Read more...
---
Arteco launches new management platform
CCTV Handbook 2019, Arteco Global, Technews Publishing , CCTV, Surveillance & Remote Monitoring, Products
Arteco has released its latest management platform, Omnia, designed to be faster and more responsive to operators? needs.
Read more...
---
Security system for high-end hotel
CCTV Handbook 2019, Elvey Security Technologies , CCTV, Surveillance & Remote Monitoring, Integrated Solutions, Entertainment and Hospitality (Industry)
An international hotel group has made a substantial investment in upmarket hotels within a prestigious Northern Suburbs mixed-use precinct.
Read more...
---
Edwards Public Address & Voice Alarm System
October 2019 , Security Services & Risk Management, Products
Carrier has added the Public Address & Voice Alarm (PAVA) range to its fire product offerings.
Read more...
---
Your business needs synchronised security
September 2019 , Cyber Security, Products
This complete security portfolio from Sophos offers endpoint, servers, firewall, Wi-Fi, mobile, email and encryption that is fully scalable to grow as your business does.
Read more...
---
Sarix Professional Series 3 IP cameras
September 2019, Pelco by Schneider Electric , CCTV, Surveillance & Remote Monitoring, Products
Offered in mini-dome, bullet, box, and wedge configurations, the Sarix Professional (Pro) Series 3 Fixed IP cameras deliver a set of features and performance at affordable price points.
Read more...
---
The future of connectivity in South Africa
September 2019 , IT infrastructure, Products
Next-generation technologies will drive real transformation in companies. Organisations across all industries must prepare to enter the next phase of the digital future, says Matthew Hall, product director at Rectron.
Read more...
---
Improving access in mines
October 2019, Astra Fasteners , Mining (Industry), Access Control & Identity Management, Products
The VP1 controller provides full access control and remote monitoring of intelligent locks without having to wire into a network or install, manage and maintain software.
Read more...
---
Perimeter protection in Ghana
October 2019, AcoustAlert , Mining (Industry), Perimeter Security, Alarms & Intruder Detection
A gold mine in Ghana has erected a dual fence with AcoustAlert PIDS fence detection on both inner and outer fence lines.
Read more...
---