printer friendly version
Long-range thermal cameras
October 2013 CCTV, Surveillance & Remote Monitoring, Financial (Industry)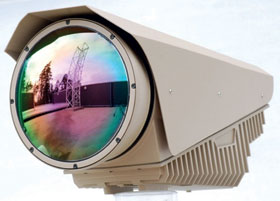 Thermal imaging cameras are widely used for Homeland Security. Thanks to their ability to detect human-sized targets several kilometres away, they are well suited for border surveillance and protection. The FLIR HDC thermal imaging camera is the latest addition to the border security and coastal surveillance product line, providing more detail at a long range with its High Definition 1280 x 720 detector.
The FLIR HDC allows users to see more details at longer ranges without losing situational awareness – with twice the area coverage at any distance compared to 640x480 systems, the FLIR HDC provides a 16:9 wide video screen to show more of the scene at a glance.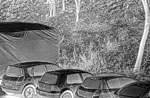 Using a cooled detector, the FLIR HDC provides exceptional long-range performance with detection of man-sized targets beyond 18 km and vehicles beyond 22 km. The system also supports continuous zoom to maintain situational awareness with target focus in both a wide field of view and during zoom for effective target assessment. This capability ensures users always have an optimised field of view for targets at any range.
The system also features the new FLIR Image Processing Engine with advanced algorithms developed to generate a perfect picture with minimal adjustment and includes features such as DDE (Digital Detail Enhancement) and CRISP (Clear Regional Image Sharpness). Where DDE is designed for creating a perfect image in high contrast scenes, CRISP does the same in low contrast scenes. Auto perfect mode creates a clear image in all circumstances.
Developed under the unique FLIR CDMQ process (Commercially Developed, Military Qualified), the FLIR HDC delivers a military quality system, designed to work 24/7 with unmatched reliability.
Cooled detector
The HDC is equipped with a mid-wave, cooled detector. A thermal imaging camera with a cooled detector has the advantage that the user can see and detect potential threats much further away than with an uncooled detector. But there is more; objects which are at a close distance can be seen with much more detail. The FLIR HDC is equipped with a cooled Indium Antimonide (InSb) detector.
Continuous optical zoom on the thermal image
The FLIR HDC contains an exclusive auto focus feature which delivers crisp, clear images at the press of a button. Focus is kept while zooming in or out. The system allows the user to experience better situational awareness in the wide field of view, while maintaining detailed recognition capabilities in the narrow field of view.
The HDC thermal imaging camera is equipped with powerful continuous optical zoom capability on the thermal image. It offers excellent situational awareness but also the possibility to zoom-in, and see more detail, once a target has been detected. This way operators can see further, recognise more detail and react more quickly to security threats. The advantage of continuously zooming compared to other systems that use a rotating lens system is that there is no switch or swapping between the different images. You can gradually zoom in while keeping your focus all the time. All systems are also equipped with a 16x continuous digital zoom.
Easy and fast to install
The HDC can be easily incorporated into the common power and video interfaces found in existing and new security systems. It can be easily integrated into any existing infrastructure providing early detection and visibility 24/7 all year round. The images from the 1280 x 720 pixels detector can be displayed as MPEG4-format or high end HD SDI format.
All systems are configured to be either fixed mounted or field transportable for fast deployment. They can be mounted on a standard tripod. A single operator can set up the system in minutes, making it ideal for mobile operations and quick deployments. The systems are extremely rugged, their vital core is well protected against humidity and water and operate between -32°C to +55°C.
The FLIR HDC comes with a TCP/IP interface that supports Nexus and multiple common standard protocols to provide video over IP. The IRIG B synchronisation enables integration into demanding applications where accurate time stamping video is required. The video can be synchronised with external sources.
The HDC can be easily upgraded with new software features and developments in the future. This can be completed from the control room, without the need to open up the camera. This makes the HDC a state-of-the-art system for many years to come.
For more information www.flir.com
Further reading:
Drones and cybersecurity?
October 2019 , CCTV, Surveillance & Remote Monitoring
Hacker drones can eavesdrop electronically on conversations, can perform network attacks, or can create fake wireless access points.
Read more...
---
Body-worn cameras transforming security
October 2019 , CCTV, Surveillance & Remote Monitoring, Security Services & Risk Management
Police Service Northern Ireland now has over 7 000 officers using 2 500 cameras covering approximately 173 000 incidents each year.
Read more...
---
Camera Selection Guide 2019
CCTV Handbook 2019 , CCTV, Surveillance & Remote Monitoring
The Camera Selection Guide 2019 includes a range of IP, analogue, thermal and speciality cameras aimed at a broad range of surveillance functions.
Read more...
---
Intelligent analytics and the brains to match
September 2019, Bosch Building Technologies , CCTV, Surveillance & Remote Monitoring, Integrated Solutions
What if the brains behind our security cameras could be trained to improve their cognitive ability to pay attention, learn, and problem-solve according to specific rules and situations?
Read more...
---
AI-powered autonomous Drone-in-a-Box
September 2019 , CCTV, Surveillance & Remote Monitoring, Integrated Solutions
Organisations in the mining, energy and industrial, oil and gas, ports and terminals sectors can optimise security and business operations, whilst reducing risks and operational costs
Read more...
---
Cybersecurity for video surveillance systems
September 2019 , Cyber Security, CCTV, Surveillance & Remote Monitoring
Video surveillance systems are increasingly accessible over any IP network, which has led to the rise of potential cyberattack.
Read more...
---
A platform approach to innovation and value
CCTV Handbook 2019, Technews Publishing , Editor's Choice, CCTV, Surveillance & Remote Monitoring, Integrated Solutions, IT infrastructure
Moving to the platform model of doing business holds tremendous advantages for end users and smaller developers, but also for the whole technology supply chain.
Read more...
---
Back to manufacturer uniformity?
CCTV Handbook 2019, Dallmeier Electronic Southern Africa , CCTV, Surveillance & Remote Monitoring
Decision makers often have to choose between an all-inclusive, complete solution from one manufacturer and the products and services of several different providers.
Read more...
---
Open does not always mean easy integration
CCTV Handbook 2019, VERACITECH, Technews Publishing , Editor's Choice, CCTV, Surveillance & Remote Monitoring, Integrated Solutions
Customers who opt for best-of-breed solutions will have to rely on their integrators to develop customised integrated solutions for them.
Read more...
---
The impact of AI on the surveillance industry
CCTV Handbook 2019, G4S South Africa, Hikvision South Africa, Myertal Tactical Security, Technews Publishing , Editor's Choice, CCTV, Surveillance & Remote Monitoring
What the impact of AI will be on companies, the services and solutions they supply, as well as on the jobs people do.
Read more...
---