printer friendly version
Incorporating security into design
October 2013 Integrated Solutions, Financial (Industry)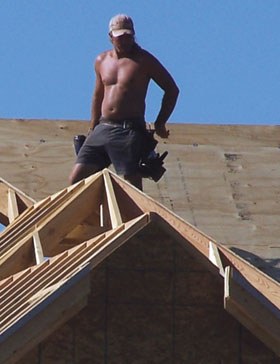 Security within facilities – CCTV, access control, alarms, fire detection and suppression, etc – is today increasingly integrated and digital, yet it is often an afterthought when a new building is designed. The result is usually less than optimal, with repercussions in terms of the effectiveness and functionality of the final security solution, as well as high long-term maintenance costs. With two large client security retrofit projects underway and one new build, Jasco Security Solutions has a first-hand perspective of the challenges.
Ideally, the design of the security system in a purpose-built facility will be done together with the owner or prospective occupants, a building consultant who co-ordinates design and construction, and an electrical engineer. The security systems required and the desired functionality needs to be defined, and regulatory issues, such as placement of fire alarms and sensors, need to be taken into consideration. Once routing is decided, the infrastructure needs to be installed, preferably by cabling and security system experts.
As most security systems are now IP-based, the facility owner needs to decide whether the security system will become part of the converged data, video and voice network, or if it will run on a separate network. When security shares the working data or video network, priority conflicts can occur. In addition, as access to this network is greater, security systems are made vulnerable to human error and mischief. The other great challenge, as some Jasco clients have discovered is that when security runs on mission critical networks, those networks can be compromised when security solutions need to be maintained, upgraded or refitted.
Interconnected mess
For a Jasco client in the healthcare sector with a five-building campus in Johannesburg, a complete overhaul of an existing access control and CCTV network became necessary. Using disparate contractors over a number of years to upgrade and expand its CCTV and access control systems, and with no set standards or integrated security strategy to guide implementations, the company ended up with an incomprehensible scramble of network connections.
A large part of the challenge was that new head-end equipment was added to the network without regard for capacity. There was also no documentation of the work done. With a CCTV system that only worked at 50 percent capacity and a need to extend its access control solution, the organisation decided to implement a new all-IP access control solution. It asked Jasco to assist.
Once the Jasco team had done the diagnostics and reconfigured the network, it rolled out a fibre network for the organisation, and placed the CCTV solution on a separate network. For the access control solution, Jasco had to make use of and extend the existing installation. In many instances new conduit had to be placed inside or along walls, an expensive and inconvenient workaround.
For another client in the retail sector, Jasco took on two very different projects. On a new build for a company, an architect rather than a consultant took up the main role and Jasco provided specifications and advice on security technology requirements. The customer also brought in specialist cabling contactors. In particular, there are a number of regulations around fire alarms – their positioning and how they are provisioned.
The benefits of getting it right for this customer are significant. Because it is a bespoke building, security solutions – CCTV cameras, access control, etc. – can be fitted to suit the function and layout of each department. This can be quite important. If, for example, cash will be handled in an area, the camera setup will be very different than the setup for a stock room or reception area.
The process essentials
To sum up, there are a few key practicalities to bear in mind to ensure successful incorporation of security into a building at design phase.
First, understand basic and then specific needs of the facility and the tenants. Ensure the tender proposals incorporate a step-by-step method statement and project plan. Gain input from a consultant and the relevant specialists. Ensure regulations are complied with in terms of fire and other equipment placement and related specifications.
When it comes to implementing the solutions, employing a project manager who is aware of the priority assigned to security, and ensuring weekly status meetings are held between all stakeholders will help keep the project on track. If different subcontractors are used, good communication and collaboration between the teams are essential.
And, in selecting a solution provider, look for an organisation with a good track record, one that has the experience you need, has a good understanding of the capabilities of the latest technology along with a holistic view of how the needs and requirements of your organisation will be met and, possibly most importantly, is conversant with best practices in delivery of the solution.
For more information contact Jasco Security Solutions, +27 (0)11 894 7127, kleroux@multivid.co.za, www.jasco.co.za
Credit(s)
Further reading:
Vox expands managed services with Mimecast
October 2019, Vox Telecom , Integrated Solutions
Vox has added Managed Mimecast to its suite of managed service offerings to provide customers with a more effective way of safeguarding their emails against spam and malicious attacks.
Read more...
---
Digitising Maslow's Hierarchy of Needs
October 2019 , Integrated Solutions, IT infrastructure
Mobile technology has the potential to change how Africa approaches patient and healthcare, says Phathizwe Malinga, managing director, SqwidNet.
Read more...
---
Intelligent analytics and the brains to match
September 2019, Bosch Building Technologies , CCTV, Surveillance & Remote Monitoring, Integrated Solutions
What if the brains behind our security cameras could be trained to improve their cognitive ability to pay attention, learn, and problem-solve according to specific rules and situations?
Read more...
---
AI-powered autonomous Drone-in-a-Box
September 2019 , CCTV, Surveillance & Remote Monitoring, Integrated Solutions
Organisations in the mining, energy and industrial, oil and gas, ports and terminals sectors can optimise security and business operations, whilst reducing risks and operational costs
Read more...
---
A platform approach to innovation and value
CCTV Handbook 2019, Technews Publishing , Editor's Choice, CCTV, Surveillance & Remote Monitoring, Integrated Solutions, IT infrastructure
Moving to the platform model of doing business holds tremendous advantages for end users and smaller developers, but also for the whole technology supply chain.
Read more...
---
Open does not always mean easy integration
CCTV Handbook 2019, VERACITECH, Technews Publishing , Editor's Choice, CCTV, Surveillance & Remote Monitoring, Integrated Solutions
Customers who opt for best-of-breed solutions will have to rely on their integrators to develop customised integrated solutions for them.
Read more...
---
Video analytics and AI
CCTV Handbook 2019, Axis Communications SA, Dallmeier Electronic Southern Africa , Hikvision South Africa, Technews Publishing, Dahua Technology South Africa , Editor's Choice, CCTV, Surveillance & Remote Monitoring, Integrated Solutions
Artificial intelligence has the potential to deliver real benefits in the world of video analytics and many companies are already delivering customer benefits.
Read more...
---
Cloudy with a chance of AI
CCTV Handbook 2019 , Editor's Choice, CCTV, Surveillance & Remote Monitoring, Integrated Solutions
One local company has developed an AI solution that can be added to existing surveillance installations, offering 24-hour intelligence.
Read more...
---
Integration insights
CCTV Handbook 2019, Gijima Electronic and Security Systems (GESS), Technews Publishing, neaMetrics , Integrated Solutions
The security industry would be a vastly different place if installers and integrators were not able to make a range of different products work together.
Read more...
---
Video and audio analytics
CCTV Handbook 2019, Wisenet CCTV - Hanwha Techwin , CCTV, Surveillance & Remote Monitoring, Integrated Solutions
Viewing many monitors and cameras simultaneously can lead to an increased probability of missing critical situations due to viewing fatigue. Analytics has the answer.
Read more...
---