printer friendly version
Biometrics helps stop healthcare fraud
October 2013
News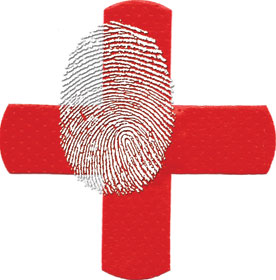 Technology, developed by two South African companies, is changing the face of medical schemes in Namibia.
In a move to strengthen administrative flexibility and security, the leading medical schemes in Namibia, namely Namibia Health Plan (NHP), Nammed and Renaissance Health, engaged LifePoint and Muvoni Biometric & Smartcard Solutions (MBSS) for a way forward. A fully integrated approach was developed, including three key pillars, namely:
* Point-of-care and point-of-sale devices, fitted with biometric fingerprint capability;
* A cloud-based platform for member enrolment and identity verification; and
* One system that integrates the medical schemes' administrative systems, payment systems and clinical practice management systems across healthcare provider points around Namibia.
Although in the early stages of full implementation, the results have the potential to be impressive. Since members are correctly identified and benefits are verified prior to consultation, the risk of bad debts is mitigated. At the same time, the medical scheme is more competitively placed. Access to secure, up-to-date data gives the edge in being able to review the outcome of processes and reduce errors.
Despite considerable experience in designing complex, integrated biometric systems, MBSS MD, Stan Khan, says that developing a centralised database is always challenging. "In this case, members' fingerprints were linked to existing membership cards. Further growth will be managed in the normal course of on-boarding a member."
In partnership with Fides Cloud Services and LifePoint, MBSS provided all the hardware and software, as well as the cloud-based platform for member enrolment and identity verification.
"Given the soaring costs of healthcare fraud, integrated biometric systems are the way-to-go in the future. They're becoming increasingly popular among medical schemes locally and globally. They can easily be applied to banks and in­surance companies, which are also battling the consequences of fraud," adds Khan.
MBSS is a member of the Muvoni Technology Group, the identity verification authority. Other Group companies are Afiswitch for criminal record checks and Managed Integrity Evaluation (MIE) for background screening.
For more information contact MBSS, +27 (0)12 679 2900, stan@muvoni.com, www.mbss.co.za
Credit(s)
Further reading:
Quantum secret sharing
Issue 6 2020 , News
Wits researchers have demonstrated a new quantum approach for sharing a secret amongst many parties, setting a new record for the highest dimensions and parties to date.
Read more...
---
Three cash-in-transit heists in half an hour
Issue 6 2020, Fidelity Security Group , News
Over the past six weeks the cash-in-transit industry has experienced a spike in the number of heists across the country.
Read more...
---
Programme to assist smaller MSSPs
Issue 6 2020 , News
Networks Unlimited launches new MSSP partnership with SentinelOne to make endpoint defence more accessible.
Read more...
---
Fake uniforms and using falsely branded security vehicle
Issue 6 2020 , News
On Monday 10 August, six to ten armed suspects driving what appeared to be a branded Fidelity ADT vehicle and wearing security uniforms entered a business park.
Read more...
---
From the editor's desk: Covid consolidation
Issue 6 2020, Technews Publishing , News
The global security industry has seen quite a few high-profile mergers and acquisitions over the past year or two, with an even greater number of smaller companies that don't get the headlines also merging, ...
Read more...
---
ONVIF adopts open source development
Issue 6 2020 , News
ONVIF announced it is open sourcing its network interface specifications for physical security technology.
Read more...
---
Hored networking solutions now in South Africa
Issue 6 2020, LD Africa , News
LD Africa is the sole South African distributor for Hored smart networks and smart transmission solutions.
Read more...
---
Suprema wins SIA award
Issue 6 2020, Suprema , News
Suprema Airfob Patch wins Judges' Choice Award from SIA New Product Showcase.
Read more...
---
Digitisation during COVID-19
Issue 6 2020, PSIRA (Private Security Ind. Regulatory Authority) , News
The COVID-19 pandemic has forever changed how business is conducted globally and PSIRA adapted to serve its community.
Read more...
---
Datacentrix boosts security portfolio
Issue 6 2020 , News
Datacentrix has joined the Tenable Assure Partner Programme, strengthening its security portfolio with cyber exposure solutions from Tenable.
Read more...
---