printer friendly version
Out with fibre, in with wireless
September 2013
Surveillance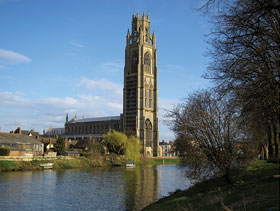 OCS has been selected by Lincolnshire Council to supply, install, commission and deploy the communication infrastructure in a major fibre-to-wireless switch-out and IP camera upgrade in the area of Boston.
In its tender, the council challenged the industry to come up with a solution capable of meeting a broad set of requirements that would effectively reduce its overall OPEX costs over the lifetime of the contract. Through its 'invest to save' policy, where the council acquires central government funding, Boston had to remove the associated costs of a traditional analogue CCTV system and reduce expensive fibre leasing costs. The brief from the council was precise and exacting and Boston's confidence in the ability of both partnership companies to deliver a workable solution secured the contract.
In this period of austerity, many local authorities have been exploring ways to reduce costs while maintaining high levels of services. None more so than Lincolnshire Council, which has managed to secure funding to upgrade its CCTV surveillance system. Rather than procuring the services of a security consultant, the council favoured working directly with OCS, which in turn used the services of wireless CCTV specialists, Wavesight, to manage the physical surveys, network design/layout schematics and overall commissioning of the system.
Requirement
During the tender process, it was clear that the council wanted an IP solution that was robust, scalable and future-proof – and one that would meet and exceed its capacity demands for many years to come. A 50% reduction in OPEX costs, primarily maintenance and transmission, was also required over the lifetime of the 4-year contract. OCS challenged Wavesight to design a wireless communications infrastructure to migrate Boston council's CCTV services from fibre to wireless. In addition to this, out-of-date hardware, including ageing CRT monitors in the control room and a legacy of analogue cameras, needed to be replaced in order to achieve these levels of cost-saving.
Wavesight, in conjunction with OCS Security Services, recommended the overall solution, which is due to be installed in three phases and will be achieved using the following:
* 103 licence-exempt Wavesight wireless radios (WaveSPRINT (87), WaveMAX-N (6), WaveSPRINT- TURBO MP (6), WaveSPRINT TURBO (4) and WaveFLOW (6)).
* 61 new Panasonic IP cameras.
* A series of Panasonic NVRs.
* An application connecting three main buildings in the town – Pilgrim Hospital, Assembly Rooms (nightclub) and the Town Hall.
At the core of the infrastructure are three town-centre buildings (Pilgrim Hospital, Assembly Rooms and the Town Hall), connected in a ring using WaveMAX-N wireless IP transceivers. WaveMAX-N links are ideal for the backhaul transport of high-resolution real-time video and are particularly suitable for use with high-resolution megapixel cameras. The CCTV cameras will be connected to all three buildings locally and each building is connected using two WaveMAX-N links providing a fully redundant wireless system. This type of design eliminates network downtime caused by a single point of failure and will ensure that sites will remain available even if service is interrupted to one network. The council required this network redundancy for enhanced reliability.
A further two colleges, an industrial estate lying on the outskirts of the town and the Fenside housing estate will all be covered. All images at the edge will be transmitted wirelessly to the core network and then backhauled to the control room situated in the Town Hall where they will be monitored and recorded. This use of technologies effectively provides the equivalent of a leased fibre service, while also lowering operating costs and ensuring connectivity to the control room in the centre of the town.
The eventual benefits of the new CCTV network will mean that the council becomes the sole owner of a dedicated, highly secure, private WLAN infrastructure, capable of growing with the demands of the end-client, and with minimal additional investment. The flexibility offered by wireless technology means that further plans and connections (such as remote car parks and other temporary camera deployments) can be realised in a much shorter timeframe than with fixed cables laid in the ground. The typical time required to plan a deployment can be as short as one day, while deploying a CCTV network can take as little as a few hours.
Commenting on the project, Steve Clift, public sector sales manager security services at OCS, said: "For us, the decision to involve Wavesight in this project was an easy one as they've successfully implemented many town centre surveillance projects for local authorities across the country. Not to mention the reliability of their products, which in our experience as the integrator, are one of the best ruggedised IP links on the market with the lowest failure rates. What's also interesting about this new partnership, particularly on this project, is the council challenged the traditional way of working. Normally, a consultant would be employed by the council to facilitate the project, but OCS took on this role with assistance from Wavesight as they specialise in wireless CCTV networks. The council recognised this highly effective combination and duly awarded us the contract."
Further reading:
Safer roads to a sustainable future
Dahua Technology South Africa Surveillance
With the ever-increasing number of vehicles on the road, it is imperative to constantly improve the quality of transportation monitoring and traffic management in urban and rural areas.
Read more...
---
From damage management to false alarm prevention
Dallmeier Electronic Southern Africa Transport (Industry) Surveillance Logistics (Industry)
Video surveillance is undergoing an exciting evolution; today's IP-based solutions can be fully integrated into digital systems. With the increasing integration of artificial intelligence (AI); logistics, in particular, can make processes more transparent and exploit previously untapped potential.
Read more...
---
Marshall Security partners with Blacklight to introduce Reconeyez to KZN
News & Events Surveillance Power Management
Marshal Security has joined forces with Blacklight Group to launch Reconeyez, a cutting-edge battery-powered surveillance platform with mesh network capability, in the KwaZulu-Natal market.
Read more...
---
Professional mobile video management in your pocket
Dallmeier Electronic Southern Africa Surveillance
With the SeMSy Mobile Client for its Domera and Panomera cameras, Dallmeier is now launching a solution that combines the functional and security requirements of professional organisations with the user-friendliness and simplicity of consumer apps.
Read more...
---
Leveraging AI to boost security in SA
AI & Data Analytics Surveillance
By shifting data analysis and processing to the edge of a company's network, decision-makers can ensure their remote offices can access real-time computing across multiple locations, supporting informed business decisions.
Read more...
---
Safeguard surveillance devices from cyberattacks
Axis Communications SA Surveillance Information Security
Cybersecurity concerns extend through the organisation and out among its stakeholders and supply chains. It also covers video surveillance, which is critical to any organisation's physical security and asset protection strategy.
Read more...
---
Ring announces second generation indoor camera
Smart Home Automation Surveillance Residential Estate (Industry)
Introducing a removable manual privacy cover, Ring's latest indoor camera provides customers with increased privacy, control and peace of mind when it comes to home security.
Read more...
---
Body-worn evidence
Technews Publishing Forbatt SA Betatrac Telematic Solutions Secutel Technologies Surveillance Residential Estate (Industry) Products & Solutions
Body-worn cameras are no longer just a good idea or a luxury item; in fact, they are gaining popularity and finding use in various situations, one of these being in residential estates.
Read more...
---
Stop cheating with gaming analytics
Dallmeier Electronic Southern Africa Surveillance Entertainment and Hospitality (Industry)
The CAT gaming analysis solution from Dallmeier offers a range of analysis options with which casino operators can increase the 'game pace', combat fraud and gain valuable insights into the gaming action through real time data collection.
Read more...
---
Integrated, intelligent, informed and improved living
Guardian Eye Surveillance
Guardian Eye's range of solutions allow for monitoring and safeguarding your home through discreet, easy-to-maintain devices and solutions, watching your premises and alerting you in the event of unwanted happenings.
Read more...
---