printer friendly version
Fire safety requires preparation
September 2013
Fire & Safety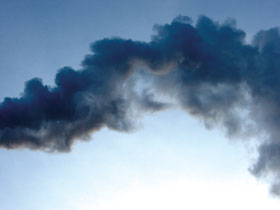 There's more to devising a fire safety plan for your business than meets the eye. An evacuation plan springs to mind, but have you given any thought to the ultimate in an early warning system – a smoke alarm? asks leading fire and security organisation, Chubb Fire and Security South Africa.
Smoke alarms are designed to warn employees, visitors and occupants of a building in the event of a fire, as well as to minimise false alarms. If the fire alarm sounds, follow these steps and become thoroughly familiar with them. It is imperative all your employees and visitors know what to do, prior to a smoke alarm warning.
* Alert everyone in the building.
* Leave the building immediately. Every second counts, don't waste time picking up valuables.
* Don't open any inside door without first feeling its surface. If it's hot, or if you see smoke seeping through cracks, don't open that door. Instead, use an alternate exit. If the inside of the door is cool, place your shoulder against it, open it slightly and be ready to slam it shut if heat and smoke rush in.
* If the air is smoky, stay close to the floor. Stay calm and breathe shallowly through a cloth – a wet one if possible.
* Once outside, go to your selected meeting place and make sure everyone is there.
* Call the fire department from the nearest office block – via their reception security.
* Don't return to your office until the fire officials say that it is all right to do so.
Consider positioning smoke alarms in the following areas:
* Every room of the building.
* Every level of the building if you have a multiple level office.
* All stairwells – these act like chimneys for smoke and heat.
* Every area/room where electrical appliances are operated (e.g. portable heaters, humidifiers or air conditioners).
* In the basement or garage.
Smoke, heat and combustion products rise to the ceiling and spread horizontally. Mounting the smoke alarm on the ceiling in the centre of the room places it closest to all points in the room. When mounting an alarm on the ceiling, locate it at a minimum of 10 cm from the side wall. When mounting the alarm on the wall, use an inside wall with the top edge of the alarm at a minimum of 10 cm and a maximum of 30,5 cm below the ceiling.
Additionally, smoke alarms should not be installed within 1 m of the door to the office, kitchen, forced air supply ducts used for heating or cooling, ceiling or ventilating fans, or other high air flow areas.
To avoid the unnecessary dispatch of the fire officials, note that the following areas could generate false alarms:
* Dusty, very humid – moisture or steam can cause false alarms, as well as insect-infested areas.
* Kitchens – normal cooking may cause false alarms. If a kitchen alarm is desired, it should have an alarm silence feature or be a photoelectric type.
* Near fluorescent lights. Electronic 'noise' may cause false alarms.
The following good safety habits are always useful for any business to follow:
* Install and maintain a fire extinguisher on every level of the building, in the kitchen, basement and garage. Each staff member should know how to use a fire extinguisher prior to an emergency.
* Have a staff meeting and discuss your escape plan, showing everyone what to do in case of fire.
* Determine a place outside your office where you all can meet if a fire occurs.
* Familiarise everyone with the sound of the smoke alarm and train them to leave the building when they hear it.
* Practice a fire drill at least every six months, including fire drills at night. Practice allows all occupants to test your plan before an emergency.
For more information contact Chubb Security South Africa, +27 (0)31 362 3500, www.chubb.co.za
Further reading:
Different types of fires
Fire & Safety
Fire is a powerful force of nature; according to SafeQuip, a distributor of fire-related equipment; understanding the different types of fires and how to combat them is essential for safety and protection.
Read more...
---
SafeQuip introduces lithium fire extinguishers
Fire & Safety Products & Solutions
With the use of Lithium batteries increasing in many types of portable devices and battery storage solutions, SafeQuip, in partnership with AVD Lithex, is introducing a fire extinguisher aimed at suppressing and extinguishing, and also preventing re-ignition of lithium fires.
Read more...
---
Modern warehouses come with added fire risk
Fire & Safety Transport (Industry)
Along with increased investments in modern warehousing in Africa, there is also a need to focus on protecting warehouses from crime, however, fire can arguably be a greater danger to business continuity.
Read more...
---
How to prevent solar inverter short-circuits and fires
Fire & Safety
With many South Africans installing inverters as part of solar power systems to mitigate the impact of load shedding in homes and at businesses, users need to be aware of the potential fire risks.
Read more...
---
Fidelity SecureFire steps into critical fire response space
News & Events Fire & Safety
With the majority of fire stations around the country being crippled by a lack of resources to offer effective responses, Fidelity Fire Solutions has launched its own 'first responder' model, Fidelity SecureFire.
Read more...
---
Long-distance connectivity with Simplex ES Net Life Safety
Johnson Controls Global Products Fire & Safety Products & Solutions
ES Net Network Bridge allows fire alarm system data to be transmitted across distant buildings via a customer's existing network infrastructure, improving system-wide monitoring and control in facilities and campuses where life safety networks are often widely dispersed.
Read more...
---
Elvey Group and Technoswitch part ways
Elvey Security Technologies Fire & Safety News & Events
The Elvey Group (a division of the Hudaco Group of Companies) is relinquishing its distributorship of the Technoswitch brand, following Hudaco's acquisition of Brigit Fire.
Read more...
---
From one month to 10 minutes
Dahua Technology South Africa Fire & Safety
Dahua has integrated technology with the inspection mode of the photovoltaic power station in order to create a robust system that can monitor the fire situation in the power plant and its surrounding areas 24/7.
Read more...
---
Protecting poultry processing plant
Technoswitch Fire Detection & Suppression Fire & Safety
Grain Field Chickens, based in Reitz in the Orange Free State Province, features all the typical fire detection challenges one would expect to encounter in a food processing facility.
Read more...
---
Fire prevention for energy systems
Technoswitch Fire Detection & Suppression Fire & Safety
With the significant push towards renewable energy, such as wind and solar, the demand for battery energy storage systems has grown exponentially, as has the need for fire safety solutions for these environments.
Read more...
---