printer friendly version
Choose the right hard drive
September 2013 IT infrastructure, Products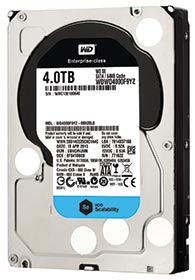 Hard drives are a critical component of any modern business. Since the vast majority of information is now stored digitally, from customer records to surveillance feeds, financial information to company intellectual property, having the right hard drive to store your data is vital for the smooth and profitable operations of any organisation. However, given the sheer volume of different hard drive products out there, choosing the right one for the right job can be a daunting task.
This guide highlights five of WD's internal hard drives in its components division for businesses and professionals, giving you an overview of the key features and functionality they provide, as well as the different scenarios and environments they have been designed to function optimally within.
WD Red
The WD Red drives have been designed specifically for Network Attached Storage (NAS) systems with one to five bays. They have been compatibility tested in demanding 24x7 environments and are suited to the needs of a small or home office NAS. In addition, these hard drives feature exclusive NASware technology for integration, data protection and optimal performance necessary in a NAS or RAID environment.
Red drives are also highly energy efficient, with reduced power consumption and lower operating temperatures. 3D Active Balance Plus offers enhanced dual-plane balance control to minimise vibration and noise. These features result in a more reliable and more affordable solution for always-on NAS environments. WD Red hard drives feature a three-year limited warranty and free access to a dedicated 24 hour international support line.
WD Black
WD Black drives offer more speed, more power and more performance. This makes them ideal for high-performance applications such as photo and video editing, gaming and power PCs.
Performance enhancing features deliver the speed needed for demanding applications, a dual processor delivers twice the processing power, a dynamic cache improves performance in real-time, and a mechanical architecture with enhanced reliability features helps to protect the drive and the data stored on it.
NoTouch Ramp Load technology means that the recording head never touches the disk media, resulting in significantly less wear to the recording head and better drive protection in transit. The drives have also been tested for compatibility on multiple platforms and systems, and feature a five-year limited warranty.
WD AV-GP
WD AV-GP drives deliver a 24x7 quiet operation, low temperatures, high reliability and optimised streaming with capacities of up to 3TB. These drives have been designed to operate in intense, always on audio-video (AV) applications and are ideal for use in digital video recorders (DVRs), personal video recorders (PVRs), set top boxes and video surveillance recording.
These drives are highly energy efficient (the GP stands for Green Power), cool and quiet, and offer greater reliability as a result. IntelliSeek calculates optimal seek speeds to lower power consumption, noise and vibration, while IntelliPark automatically unloads the heads during idle time, reducing aerodynamic drag and lowering power consumption. Pre-emptive Wear Levelling (PWR) reduces uneven wear on the drive surface to extend the life of the drive, and SilkStream technology is optimised for smooth, continuous digital video playback of up to 12 simultaneous HD streams.
AV-GP drives have been tested for compatibility in a broad range of AV products, and offer reliability with one million hours mean time between failure (MTBF) and a three-year limited warranty.
WD Re
WD Re drives are the industry's highest capacity nearline drive, offering up to 4TB. They deliver best-in-class performance, low power consumption, enterprise-ready storage with high capacity, high performance and 24x7 reliability. These drives are ideal for demanding high-performance computing and business-critical environments.
The Re drives are packed with WD's best technology: dual processors, RAFF, dual actuator, StableTrac, a multi-axis shock sensor, RAID-specific TLER, burn-in testing, dynamic fly height and NoTouch ramp load. These drives have been field-tested to a 1,2 million hour MTBF, delivering high performance and reliability, with a five-year limited warranty.
WD Se
WD Se drives offer cost-effective, reliable data centre capacity hard drives, ideal for scale-out architectures. They deliver a combination of performance, reliability and workload capability, with the hardiness of true enterprise-class design. These drives are best suited to bulk cloud storage, replicated environments, content delivery networks, large-scale NAS environments, backup and archiving.
The features in the Se range have been designed to optimise the drives for data centre environments. RAID-specific time-limited error recovery (TLER) prevents drive fallout caused by the extended hard drive error recovery process common on most desktop drives, while StableTrac technology secures the motor shaft at both ends to reduce system-induced vibration and stabilise the platters for accurate tracking.
A multi-axis shock sensor automatically detects the most subtle of shock events and compensates to protect the data, and enhanced Rotary Acceleration Feed Forward (RAFF) monitors the drive and corrects vibration in real-time for significant performance enhancements. Dual processors, dynamic fly-height technology and dual actuator technology all act to further improve performance, and each drive is subjected to extended burn-in testing to ensure reliable operation. The Se drives feature a five-year limited warranty.
For more information contact Western Digital, +27 (0)83 277 7634, kalvin.subbadu@wdc.com, www.wd.com
Further reading:
Video surveillance multicast networks made easy
Issue 1 2020, Duxbury Networking , IT infrastructure
Many businesses are struggling to realise the full potential of modern video surveillance technology due to limitations of the underlying network.
Read more...
---
Three data protection predictions for 2020
Issue 1 2020 , IT infrastructure
Byron Horn-Botha from Arcserve Southern Africa relates the company's top three data predictions to be on the alert for in 2020.
Read more...
---
An open foundation for 2020
Issue 1 2020 , IT infrastructure
The migration to open hybrid cloud technologies will be the way to go as we head into the new decade.
Read more...
---
Will 5G be the answer to all prayers?
Issue 1 2020 , IT infrastructure
There is a lot of understandable confusion about the role Wi-Fi will play once 5G arrives, and how they might work together.
Read more...
---
So what is 5G?
Issue 1 2020 , IT infrastructure
With all the noise about 5G, Hi-Tech Security Solutions asked Deon Geyser, head of the Southern Africa sub region at Nokia for some insights.
Read more...
---
Duxbury Networking launches Solar Switch
November 2019 , IT infrastructure, Products
Duxbury Networking has launched its Solar Switch with tailored capabilities for applications in less-accessible areas where electricity is not available or not reliable.
Read more...
---
8-port PoE managed switch
November 2019, Regal Distributors SA , IT infrastructure
The NW101-7 is an 8-port PoE managed gigabit network switch capable of supporting 4K high-definition video transmission.
Read more...
---
4-ports industrial PoE managed switch
November 2019, Regal Distributors SA , IT infrastructure
The NW100-3 is a 4-port industrial full gigabit PoE wall-mount gigabit managed network switch with 1 x 60 W and 3 x 30 W PoE ports capable of supporting 4K high-definition video transmission.
Read more...
---
Mobile shredding plant simplifies secure data destruction
November 2019 , IT infrastructure
Companies no longer need to take unnecessary risks when disposing of their IT assets, they can now destroy digital data before it leaves their premises.
Read more...
---
Lightest notebook with 10th-gen processors
November 2019 , IT infrastructure
Dynabook Europe has announced the Portégé X30L-G, the lightest 13,3-inch business laptop with Intel 10th generation processors.
Read more...
---