printer friendly version
Retail risk through POS systems
September 2013 Cyber Security, Retail (Industry)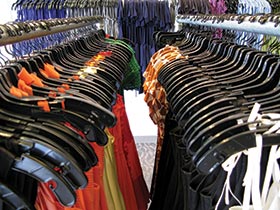 McAfee has released 'Retail Reputations: A Risky Business', a report on the growing risks the industry is facing with both legacy and newer point-of-sale systems (POS). The report discusses how the retailing industry's reliance on third parties for service and support is creating security vulnerability and privacy issues. Today's advanced security threats mean that a retailer needs to be more than just PCI DSS compliant in order to protect customer information beyond credit cardholder data.
"The industry is very fragmented with a large base of smaller merchants using secondary market or used point-of-sale systems," said Kim Singletary, director of retail solutions marketing at McAfee. "Merchants who do not have a broader security and privacy focus are leaving themselves vulnerable to susceptible systems and processes. If security, compliance and privacy adherence were more transparent to consumers, then retailers could look at these things as business differentiators rather than obligations."
System integrators in the retail industry are being asked to be certified by the PCI Council as a key component to the technology and service supply chain to resolve the inconsistent attention to security and vulnerable configuration issues that could lead to security compromise. Retailers need to be concerned with how they evolve customer engagement and ensure their security strategy and plans address the growing threat landscape. Securing POS systems from basic system functions to newer applications that use customer information is essential to protecting the retailer's brand and reputation.
The McAfee report reveals that POS systems are updated too infrequently, creating vast windows of opportunities for criminals to find and exploit vulnerabilities. Once a new vulnerability is located, businesses using the same types of systems can be easily identified and targeted for attack. The vulnerabilities with POS systems that are not regularly updated increase the likelihood that consumers' cardholder and personal data is at risk.
"Retailers have worked hard not to store cardholder data, however, they still maintain a great deal of specific proprietary customer data on their networks that are a potential treasure trove for criminals and identity thieves," said Greg Buzek, founder and president of IHL Consulting Group. "When a security breach occurs, retailers are at risk of losing their customers' trust and business."
The report calls attention to the need for retailers to invest in protecting consumers' information. McAfee recommends retailers implement higher levels of security to defend against advanced security threats such as:
* Application whitelisting,
* Point-of-sale integrity control, and
* Hardware-enhanced security.
The report also recommends retailers use orchestrated security management solutions for POS systems to reduce the burden of distributed system security monitoring and policy management.
For more information contact McAfee, +27 (0)11 707 5500, craig_hockley@mcafee.com, www.mcafee.com
Further reading:
Cyber futures in 2020
Issue 1 2020 , Cyber Security
MJ Strydom, managing director of cybersecurity specialist company, DRS, discusses what can be expected in 2020.
Read more...
---
Seven security trends for 2020
Issue 1 2020 , Cyber Security
What challenges await the security professional in 2020? Lukas van der Merwe looks at the trends for the year ahead.
Read more...
---
Security is not a single product solution
Issue 1 2020 , Cyber Security
Adopting a phased approach to security allows companies to develop a layered security posture to help control costs as well as the complexity.
Read more...
---
From physical security to cybersecurity
Access & Identity Management Handbook 2020, Genetec , Cyber Security, Security Services & Risk Management
Genetec discusses the security-of-security concept as a means to protect cameras, door controllers and other physical security devices and systems against cybercriminal activity.
Read more...
---
Minding the gaps to protect industrial PLCs from cyber threats
November 2019, AVeS Cyber Security , Cyber Security
PLCs, designed to control machinery and specific processes, were never built with cybersecurity threats in mind and protecting PLCs against these threats requires healthy isolation from the Internet.
Read more...
---
African trust centre launches cyber division
November 2019 , Cyber Security
Advancing cybersecurity to more stringent heights, LAWtrust has launched a new division focusing on cybersecurity services to complement its identity, encryption and digital signature offerings.
Read more...
---
What are the cybersecurity issues in video surveillance?
November 2019, Axis Communications SA , Editor's Choice, CCTV, Surveillance & Remote Monitoring, Cyber Security
he importance of the data captured by surveillance cameras – and what can be done with it – has led to a new breed of cybercriminals, looking for insights to steal and sell.
Read more...
---
Protecting the outer perimeter with cloud services
November 2019 , Cyber Security
Business leaders now have a choice whether they want to continue using their trusted firewall or move to a next-generation firewall delivered by appliances or as cloud services.
Read more...
---
Information security outsourcing service
November 2019, Condyn , Cyber Security
SearchInform launches information security outsourcing service for companies that face the problem of corporate fraud and data leakage.
Read more...
---
Ten compliance trends in financial institutions
November 2019 , Security Services & Risk Management, Retail (Industry)
Regulatory reporting has grown in profile over the last number of years, with more budget and more employees dedicated to compliance activities than ever before.
Read more...
---