printer friendly version
Retail risk through POS systems
September 2013 Cyber Security, Retail (Industry)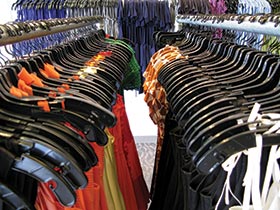 McAfee has released 'Retail Reputations: A Risky Business', a report on the growing risks the industry is facing with both legacy and newer point-of-sale systems (POS). The report discusses how the retailing industry's reliance on third parties for service and support is creating security vulnerability and privacy issues. Today's advanced security threats mean that a retailer needs to be more than just PCI DSS compliant in order to protect customer information beyond credit cardholder data.
"The industry is very fragmented with a large base of smaller merchants using secondary market or used point-of-sale systems," said Kim Singletary, director of retail solutions marketing at McAfee. "Merchants who do not have a broader security and privacy focus are leaving themselves vulnerable to susceptible systems and processes. If security, compliance and privacy adherence were more transparent to consumers, then retailers could look at these things as business differentiators rather than obligations."
System integrators in the retail industry are being asked to be certified by the PCI Council as a key component to the technology and service supply chain to resolve the inconsistent attention to security and vulnerable configuration issues that could lead to security compromise. Retailers need to be concerned with how they evolve customer engagement and ensure their security strategy and plans address the growing threat landscape. Securing POS systems from basic system functions to newer applications that use customer information is essential to protecting the retailer's brand and reputation.
The McAfee report reveals that POS systems are updated too infrequently, creating vast windows of opportunities for criminals to find and exploit vulnerabilities. Once a new vulnerability is located, businesses using the same types of systems can be easily identified and targeted for attack. The vulnerabilities with POS systems that are not regularly updated increase the likelihood that consumers' cardholder and personal data is at risk.
"Retailers have worked hard not to store cardholder data, however, they still maintain a great deal of specific proprietary customer data on their networks that are a potential treasure trove for criminals and identity thieves," said Greg Buzek, founder and president of IHL Consulting Group. "When a security breach occurs, retailers are at risk of losing their customers' trust and business."
The report calls attention to the need for retailers to invest in protecting consumers' information. McAfee recommends retailers implement higher levels of security to defend against advanced security threats such as:
* Application whitelisting,
* Point-of-sale integrity control, and
* Hardware-enhanced security.
The report also recommends retailers use orchestrated security management solutions for POS systems to reduce the burden of distributed system security monitoring and policy management.
For more information contact McAfee, +27 (0)11 707 5500, craig_hockley@mcafee.com, www.mcafee.com
Further reading:
Is your business a cyber target?
Issue 2 2020 , Cyber Security
MJ Strydom, MD of cybersecurity specialist DRS reveals why every business is a breach target in 2020.
Read more...
---
Passwordless authentication
Issue 2 2020 , Cyber Security
Thales's support for Fast IDentity Online (FIDO) 2.0 provides passwordless access to Microsoft Azure Active Directory-connected apps and other services.
Read more...
---
Sophos expands MSP programme
Issue 2 2020 , Cyber Security
Sophos MSP Connect Programme premiers new security offerings and PSA/RMM integrations amidst increasing partner demand.
Read more...
---
Educating employees about mobile cyber threats
Issue 2 2020 , Cyber Security
While nearly 9 in 10 companies allow employees to access critical business apps using their personal devices, Android-based malware now represents 14% of all cyber threats.
Read more...
---
Africa, you've been phished
Issue 2 2020 , Cyber Security
The 2019 KnowBe4 African Report across South Africa, Kenya, Nigeria, Ghana, Egypt, Morocco, Mauritius and Botswana has found that Africa is not prepared for cyber risks.
Read more...
---
Suprema BioMini Slim 3
Issue 2 2020, Suprema , Cyber Security
Replace passwords by integrating fingerprint biometrics into your solution with BioMini Slim 3 and its easy-to-use SDK.
Read more...
---
Understanding evolving cybersecurity needs
Issue 2 2020, Vox Telecom , Cyber Security
In the digitally-connected world with numerous data entry points into the organisation, cybersecurity requires a multi-layered approach.
Read more...
---
Coronavirus-themed security attacks on the increase
Issue 2 2020 , Cyber Security
Cybercriminals aren't guided by the same moral compass as the rest of humanity. In fact, they are using the current COVID-19 pandemic to try and break through defences.
Read more...
---
Tips on secure remote working
Issue 2 2020 , Cyber Security
NordVPN advises how to stay secure while working from home during the coronavirus outbreak.
Read more...
---
What will happen to digital privacy in the upcoming decade?
Issue 2 2020, Kaspersky , Cyber Security
Your data is now everywhere. Your phone. Your smartwatches. Your smart home. And if something goes just a little bit wrong – it will disappear in just one click.
Read more...
---