printer friendly version
Don't underestimate malware
September 2013
Information Security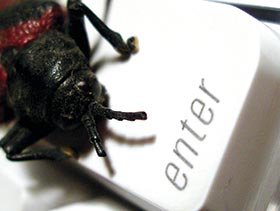 Most companies greatly underestimate the number of new ­malicious programmes appearing daily, and only 6% recognise the true scale of the threat, according to the 2013 Global Corporate IT Security Risks survey conducted by analytical authority B2B International and Kaspersky Lab. According to Kaspersky Lab, nearly 200 000 new malware samples appear around the world each day. Asked to estimate this figure, 90% of global participants in the survey named a lower figure; 4% guessed too high and only 6% gave an accurate estimate.
The highest levels of malware awareness were found among respondents in the Middle East, where 24% of companies gave accurate estimates. At 4%, the lowest levels of malware literacy were found in Russia. In South Africa, the survey indicated that 28% of respondents estimated that 100 – 1000 new malware samples appear every day – which is well below the actual amount, while 7% named a figure close to reality.
Remarkably, the results of this same survey revealed that an average 66% of companies had experienced at least one attack involving malware in the previous 12 months. Sixty-four percent of respondents in South Africa highlighted that they had experienced the external security threats of viruses, worms, spyware and other malicious programmes over the last 12 months. The companies most frequently targeted in those attacks were located in South America (72%), Russia (71%), North America (70%), Asia-Pacific (68%) and Western Europe (63%) – in other words, the regions demonstrating relatively low levels of education about the number of new malicious programmes emerging daily.
Says Riaan Badenhorst, head of operations for sub-Saharan Africa at Kaspersky Lab, "While a company's ability to accurately assess daily malware volumes is not necessarily an indicator of preparedness to counter cyber-attacks, it's reasonable to suggest that better informed organisations are more capable of assessing risk and making the most suitable choices when it comes to protecting IT infrastructure."
Implementing a product such as Kaspersky Endpoint Security for Business can be effective as the product includes targeted, developed features that work not only to protect a company's IT infrastructure, but to manage it as well.
For more information go to www.kaspersky.co.za
Further reading:
Time is of the essence
Information Security
Ransomware attacks are becoming increasingly common. Yet, many individuals and organisations still lack a clear understanding of how these attacks occur and what can be done to secure their data.
Read more...
---
All aspects of data protection
Technews Publishing Editor's Choice Information Security Infrastructure AI & Data Analytics
SMART Security Solutions spoke to Kate Mollett, Senior Director, Commvault Africa, about the company and its evolution from a backup specialist to a full data protection specialist, as well as the latest announcements from the company.
Read more...
---
The song remains the same
Sophos Information Security
Sophos report found that telemetry logs were missing in nearly 42% of the attack cases studied. In 82% of these cases, cybercriminals disabled or wiped out the telemetry to hide their tracks.
Read more...
---
How hackers exploit our vulnerabilities
Information Security Risk Management & Resilience
Distractions, multi-tasking, and emotional responses increase individuals' vulnerability to social engineering, manipulation, and various forms of digital attacks; 74% of all data breaches included a human element.
Read more...
---
Projections for 2024's Advanced Threats Landscape
News & Events Information Security
Kaspersky Global Research and Analysis Team (GReAT) experts offer insights and projections for 2024 in the Kaspersky Security Bulletin, with a focus on the evolution of Advanced Persistent Threats (APT).
Read more...
---
Veeam and Sophos in strategic partnership
Information Security
Veeam and Sophos unite with a strategic partnership to advance the security of business-critical backups with managed detection and response for cyber resiliency, and to quickly recover impacted data by exchanging critical information.
Read more...
---
Unmasking insider risks
Information Security
In today's business landscape, insider risks can manifest in various forms, including data theft, fraud, sabotage, insider trading, espionage, whistleblowing, negligence, truck hijacking, goods robbery from warehouses, and more.
Read more...
---
When technology is not enough
Information Security
[Sponsored] Garith Peck, Executive Head of Department for Security at Vodacom Business, writes about the importance of creating a cybersecurity strategy in a world where threats never sleep.
Read more...
---
Identity verification and management trends
Technews Publishing Information Security
Insights into what we can expect from identity fraudsters and the industry next year, ranging from criminal exploitation of AI and digital IDs to multi-layer fraud protection and the need for more control over personal information sharing.
Read more...
---
From vulnerabilities to vigilance
Information Security
It is an unfortunate reality that generative artificial intelligence (GAI) has been embraced by cybercrime organisations, resulting in drastic changes in attack methods, strategies, and technologies, says Stephen Osler from Nclose.
Read more...
---