printer friendly version
New audio and video intercom line from BPT
September 2013 Perimeter Security, Alarms & Intruder Detection, Products & Solutions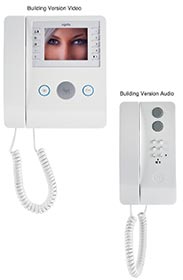 BPT has announced a new line of intercom handsets and monitors called AGATA. AGATA is going to replace the well-known Lynea line from September 2013.
AGATA is the final project in the renewal of BPT's audio and video receivers after Perla and Opale. BPT's R&D team had the objective to cover all users' needs with the minimum number of accessories and maintain the new family feeling of the products. The objective has been achieved with handsets and monitors for two technologies: the System 200, a traditional wiring solution, and the X1 and XiP, the 2 wire technology with IP capabilities.
All AGATA receivers are wall mounted and all share the ease of use, functionality and clean-cut design in white colour. Handsets and monitors are available in two versions: Basic and Building. The first provides basic features, whereas the second includes all the advanced features to work in multi-apartment and multi-building solutions. The monitors have a 3.5-inch colour LCD display.
The various versions include all the modern features and interesting intercommunication capabilities. For example with the audio receiver Building version it is possible to have up to 10 units intercommunicating.
AGATA can also use XiP technology which allows the users to have a XiP Mobile application installed on their smartphones (iPhone, iPad and Android smartphones and tablets). The new KIT APP with AGATA monitor is aimed at managing video intercom functions direct from mobile devices. It is possible to use up to three mobile devices KITT APP.
Credit(s)
Further reading:
Different fences for different farmers
Gallagher Perimeter Security, Alarms & Intruder Detection Agriculture (Industry)
Far beyond the simple delineation of boundaries, fencing serves as a dynamic solution to address various needs, from ensuring the security of farms and protecting livestock to defining property lines and enhancing aesthetic appeal.
Read more...
---
Effective access control
Flow Systems Access Control & Identity Management Products & Solutions
Flow Systems has introduced its new Extra Heavy Duty Industrial Rising Vehicle Barrier, which provides a high level of protection. It is a traditional-looking control barrier with the benefits of high-level physical protection.
Read more...
---
Protect remote sites with volumetric thermal detectors
OPTEX Perimeter Security, Alarms & Intruder Detection
Remote sites have always been more vulnerable to opportunistic intrusion, but over the last two years in particular, sites such as solar farms or industrial parks have become more common targets for criminals.
Read more...
---
Stafix focuses on local manufacturing
Perimeter Security, Alarms & Intruder Detection
Stafix Security Centres is a South African-owned company committed to providing customers with a choice of quality imported and locally manufactured products that meet the needs of the electronic security market.
Read more...
---
Texecom launches latest SmartCom 4G Communicator
Perimeter Security, Alarms & Intruder Detection
Texecom announced the upgraded and enhanced version of its SmartCom 4G communicator. Signal sensitivity on all the main bands has also been improved, increasing the usable range from masts, in some instances, by up to four times.
Read more...
---
SafeQuip introduces lithium fire extinguishers
Fire & Safety Products & Solutions
With the use of Lithium batteries increasing in many types of portable devices and battery storage solutions, SafeQuip, in partnership with AVD Lithex, is introducing a fire extinguisher aimed at suppressing and extinguishing, and also preventing re-ignition of lithium fires.
Read more...
---
New generation of cyber-focused controllers
Gallagher News & Events Access Control & Identity Management Products & Solutions
The C7000 gives users an opportunity to leverage their hardware and firmware to build a platform designed to catapult their organisation into the future, with cybersecurity baked in from inception.
Read more...
---
Nextivity CEL-FI ROAM R41 boosts your cell signal
IoT & Automation Products & Solutions
Designed for cars, trucks, and boats, it is the industry's most powerful cellular coverage solution for on-the-go applications. It features the 4th generation IntelliBoost chip to deliver channelised coverage for mobile network operator (MNO) signals.
Read more...
---
Olarm advances smart security with Texecom integration
Olarm News & Events Perimeter Security, Alarms & Intruder Detection Products & Solutions
Following Olarm's achievement as the OSPA 2023 winner of 'Outstanding Security Integrator', it has taken another significant step in its innovation journey with the announcement of its integration with Texecom Premier Elite.
Read more...
---
Enhanced security at Xanadu Nature Estate
Turnstar Systems Access Control & Identity Management Products & Solutions
Turnstar Systems recently installed two bicycle turnstiles at the 240-hectare Xanadu Nature Estate, set in the Magaliesberg, the perfect location for secure communal living catering to the lifestyle of residents.
Read more...
---