printer friendly version
No excuse for slow alarm responses
September 2013 Perimeter Security, Alarms & Intruder Detection, Products & Solutions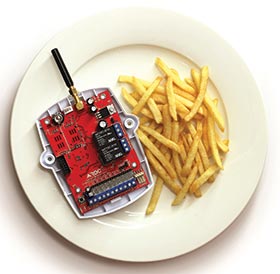 At best, a monitoring company's slow response to an intruder alarm will infuriate the property owner who may decide to move his business to another service provider as a result. At worst, it could result in injury or loss of life.
That's why it's critical for alarm monitoring companies to use the fastest, most reliable communicators available, says Zane Greeff, technical director of Elvey Security Technologies.
Fast response times will not only forestall disaster, they will also ensure an alarm company's continued existence in what has become an incredibly competitive market, he maintains, adding that customers are less forgiving of tardy reactions to intruder alarms.
"There's no excuse for sluggish responses, given the sterling job that South African Internet service providers are doing with regard to connecting residential and business owners to networks," says Greeff, who says constant advances in Internet and GPRS technology are not only making life easier, but they're actually saving alarm companies money in the process by enabling them to bypass the costly old telephone line.
The traditional landline or PSTN network still has a place in modern-day communication systems, he continues, but no longer as the primary connection. "Many of the leading alarm companies are using the Internet as their primary connection, with PSTN or RF radio as a secondary system. Others are backing up their Internet connections with GPRS. Since both options use wireless technology, communication between end-user and control room is impervious to Internet downtime."
The use of cellular technology in alarm systems might come as a surprise to some, owing to its reputation for dropped calls and poor connections, but, says Greeff, used in a static environment, it's an extremely reliable form of communication. "Whereas cell phone users are usually on the move, the alarm communicator remains in a fixed position at a location that offers good reception. This ensures that communication to the control room is extremely reliable."
Testimony to this is market leader RDC's new GPRS bi-directional communicator, which is equipped with dual SIM-redundancy on both the MTN and Vodacom networks. This enables the system to roam from one service provider to another in the event of a GSM network outage or any other technical problem without hampering the path of a trouble signal to the control room.
GPRS alarm communication offers a number of advantages to the modern-day security installer, he continues.
RDC's GPRS unit contains nine hardwired inputs and Contact ID connection as well as two onboard relays for simple home automation. Security installers can programme the system to trigger either of the two relays which can be used to control any electronic devices stipulated by the user. The system is also able to report the exact zone that triggered the alarm.
Another of the unit's time saving benefits is that installers can access and programme it remotely via a PC application – subject, of course, to the property owner's approval. Security installers can also download up to 100 event logs without going to the end-user's premises.
"This is an important feature," says Greeff, "because it provides protection to the installer in the event of a burglary taking place during the time the alarm is deactivated. Further to this, the event logs, which store event information, will show if the owner forgot to switch on his alarm system."
GTXConnect
For property owners wanting the ultimate in GPRS-based communication, Greeff recommends RDC's GTXConnect. "This is a Web-based portal that makes RDC's GPRS-based communication system more powerful than any other system on the market," he asserts.
The portal features various access levels, allowing only the appropriate features to be available to security company technicians and end-users. SIM activations, user accounts and access levels are managed through a simple and easy-to-use interface. The 'Mobi Site' essentially empowers end-users with the ability to log in to the mobi site, which gives them access to control the onboard relays. Since end-users will be logging on from various mobile devices and tablets, the layout of the site makes it easy for them to navigate. Further, property owners can access a variety of control functions as value-added or chargeable services through a generic branded Web interface linked to their own website.
For more information contact Elvey Security Technologies, +27 (0)11 401 6700, priyesh.jagjivan@elvey.co.za, www.elvey.co.za
Credit(s)
Further reading:
Texecom launches latest SmartCom 4G Communicator
Perimeter Security, Alarms & Intruder Detection
Texecom announced the upgraded and enhanced version of its SmartCom 4G communicator. Signal sensitivity on all the main bands has also been improved, increasing the usable range from masts, in some instances, by up to four times.
Read more...
---
SafeQuip introduces lithium fire extinguishers
Fire & Safety Products & Solutions
With the use of Lithium batteries increasing in many types of portable devices and battery storage solutions, SafeQuip, in partnership with AVD Lithex, is introducing a fire extinguisher aimed at suppressing and extinguishing, and also preventing re-ignition of lithium fires.
Read more...
---
New generation of cyber-focused controllers
Gallagher News & Events Access Control & Identity Management Products & Solutions
The C7000 gives users an opportunity to leverage their hardware and firmware to build a platform designed to catapult their organisation into the future, with cybersecurity baked in from inception.
Read more...
---
Nextivity CEL-FI ROAM R41 boosts your cell signal
IoT & Automation Products & Solutions
Designed for cars, trucks, and boats, it is the industry's most powerful cellular coverage solution for on-the-go applications. It features the 4th generation IntelliBoost chip to deliver channelised coverage for mobile network operator (MNO) signals.
Read more...
---
Olarm advances smart security with Texecom integration
Olarm News & Events Perimeter Security, Alarms & Intruder Detection Products & Solutions
Following Olarm's achievement as the OSPA 2023 winner of 'Outstanding Security Integrator', it has taken another significant step in its innovation journey with the announcement of its integration with Texecom Premier Elite.
Read more...
---
Enhanced security at Xanadu Nature Estate
Turnstar Systems Access Control & Identity Management Products & Solutions
Turnstar Systems recently installed two bicycle turnstiles at the 240-hectare Xanadu Nature Estate, set in the Magaliesberg, the perfect location for secure communal living catering to the lifestyle of residents.
Read more...
---
BMS for smaller businesses
Security Services & Risk Management Products & Solutions Risk Management & Resilience
Small businesses can also benefit from tailored energy management solutions just like large corporations. Effective energy management is essential for more sustainable and efficient operations.
Read more...
---
Mobile access to multiple locations
Suprema Access Control & Identity Management Products & Solutions
A central security network was used to link multiple sites across VPN connections to allow the Suprema CoreStations installed at various locations to talk to the remote server.
Read more...
---
Securing a luxurious estate
Access Control & Identity Management Residential Estate (Industry) Products & Solutions
Turnstar Systems recently partnered with Balwin Munyaka Residential Estate to secure the entrance to its Crystal Lagoon, ensuring only authorised residents and guests can access the site.
Read more...
---
Body-worn evidence
Technews Publishing Forbatt SA Betatrac Telematic Solutions Secutel Technologies Surveillance Residential Estate (Industry) Products & Solutions
Body-worn cameras are no longer just a good idea or a luxury item; in fact, they are gaining popularity and finding use in various situations, one of these being in residential estates.
Read more...
---