printer friendly version
Rip-and-replace retail IP conversion
September 2013
CCTV, Surveillance & Remote Monitoring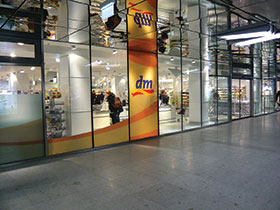 When the German giant, DM Drugstores, decided to upgrade its existing CCTV solution for each of its stores across the country, it chose Hikvision.
Christian Berkigt, chief development officer at VeViTec (the developer of this solution), remarked, "Obviously quality is a huge issue for any German corporation. In this regard, we felt confident that Hikvision would fully meet the demands of both DM Drugstores and VeViTec. What equally impressed us was Hikvision's technical support; it really made this solution come together."
This solution was not a simple one-step process that is often customary in large CCTV solutions of this variety. Instead of the traditional melding of pre-existing analogue and newly purchased IP components into a cost-saving hybrid model, VeViTec chose an altogether different route.
Following the German model of total commitment to quality, VeViTec initially utilised two Hikvision PCI compression cards, the DS-4008HCI and the DS-4016HCI. Both cards feature similar technology, such as H.264 (MPEG-4/Part 10) real-time video compression and up-to real-time 4CIF recording, with the main difference being the number of channels each can connect to (8 and 16, respectively). However, these compression cards were meant as only a stop-gap.
The IP future
Initially, prior to January 2012, DM Drugstores was using an exclusively analogue system. These Hikvision compression cards allowed the older analogue cameras to function to the top of their ability. "These are really good cards, providing great quality, and they allowed us to get the best possible video quality on PC monitors in the store locations," explained Berkigt. However, January 2012 brought a turning point for DM Drugstores.
Instead of moving into the often-used analogue/IP hybrid, DM made a total switch to IP. This shift entailed discarding all pre-existing analogue technology for this brand new IP solution.
For DM Drugstores, every centimetre of its store must elicit quality. This goes for mundane aspects such as store maintenance, the type of CCTV security the store uses, and obviously the product selection DM offers its customers. DM Drugstores wanted to place large HD monitors over the registers for its customers. Not only does this provide an elegant touch of class, it also provides a powerful visible deterrent for any would-be thief.
However, DM Drugstores had an unusual request: it wanted a specially designed HDMI output on the adjacent IP camera so as to provide the ability to directly plug this camera into the HD monitor and eliminate cabling back to the server – providing efficiency, a saving of installation costs, and cleanness not often associated with bulky CCTV installations.
For this request, Berkigt worked with Hikvision to design an indoor custom Hikvision megapixel vandal-proof network dome camera to place within all of DM Drugstores' retail stores throughout Germany. Two thousand five hundred of these custom models, the DS-2CD753F-EZ, were built to feature a variety of special features tailor-made for this application and the larger German apprehension of quality.
Custom-made quality
To begin with, the DS-2CD753-EZ's vandal-proof housing elicits a sense of durability and high standard. Additionally, the aforementioned custom-made HDMI output allows the DS-2CD753-EZ to be placed directly under and connected to the HD monitor. Furthermore, a special lens was specifically developed to provide automatic focus, thereby allowing DM technicians a saving of time and effort. "Both the HDMI output and special lens are critical aspects in Germany. We don't want to waste time, efficiency or effort. Another representation of this is the appearance, which is a perfect white colour, and DM wants everything perfect," Berkigt explained.
Securing the outdoors is the DS-2CD752MF-IFB 2.0 megapixel vandal-proof network dome camera featuring infrared LED. Unlike the previous Hikvision IP camera, this unit is a standard catalogue model. One unit of this camera is placed outdoors near the back exit used by employees before leaving the store after their shift. Similar to the already-noted HD monitor used by customers, an HD monitor is placed indoors near the back door for employees to initially check before exiting into the already dark evening, hence the importance of the DS-2CD752MF-IFB's infrared ability.
In essence, this camera is a security precaution for DM employees. Concurrently, a high-resolution video preview of 1600×1200 pixels provides the details to ensure that any potential threat is identified well before an employee might encounter it outdoors. Additionally, owing to the German sense of uncompromising quality, a custom bracket was designed allowing the DS-2CD752MF-IFB weather protection against the harsh winter conditions.
Credit(s)
Further reading:
Reinventing network camera security
Issue 1 2020, Axis Communications SA , CCTV, Surveillance & Remote Monitoring
Now in its seventh generation and celebrating its 20th anniversary, the Axis ARTPEC chip was launched in 1999 designed to optimise network video.
Read more...
---
Cloud-based fleet and driver management
Issue 1 2020, Graphic Image Technologies , CCTV, Surveillance & Remote Monitoring
Graphic Image Technologies (GIT) has announced the availability of a cloud-based dashcam designed to improve on-the-road behaviour and assist in improving fleet management.
Read more...
---
Seven key trends for 2020
Issue 1 2020, Hikvision South Africa , Editor's Choice
Hikvision looks at a few trends that will affect the security industry in 2020 and beyond.
Read more...
---
Cathexis specialises in integration
Issue 1 2020, Cathexis Technologies , CCTV, Surveillance & Remote Monitoring
The integration of multiple systems is intrinsic and essential to the goal of creating an effective and efficient operational environment.
Read more...
---
Video and audio convergence
Issue 1 2020, Hikvision South Africa , Perimeter Security, Alarms & Intruder Detection
Hikvision has introduced its video and audio convergence solution to the market, featuring an innovative real-time intrusion deterrent feature.
Read more...
---
Do wireless networks meet modern surveillance demands?
Issue 1 2020, Duxbury Networking, RADWIN , CCTV, Surveillance & Remote Monitoring
It is predicted that video will account for 15,1 zettabytes (1 zettabyte = 1 trillion gigabytes) of data annually, which is more than any other IoT application.
Read more...
---
Traffic doesn't have to be this way
Issue 1 2020, Dahua Technology South Africa, Axis Communications SA , CCTV, Surveillance & Remote Monitoring
More effective traffic management is something that would save us all a lot of frustration and wasted time, and it's one of the areas where AI and big data can have a significant impact.
Read more...
---
Dahua launches Hunter Series
Issue 1 2020, Dahua Technology South Africa , CCTV, Surveillance & Remote Monitoring
Dahua launches a new dual-PTZ camera that enables flexible and multi-scene panoramic monitoring.
Read more...
---
8 MP fisheye camera
Issue 1 2020, Dallmeier Electronic Southern Africa , CCTV, Surveillance & Remote Monitoring
Dallmeier's new 8 MP fisheye camera combines AI-supported object classification and H.265 in a compact design.
Read more...
---
Using ANPR to enhance security
Issue 1 2020, Duxbury Networking , CCTV, Surveillance & Remote Monitoring
Deep learning and AI-based algorithms enable ANPR cameras and their associated software to detect and recognise number plates with an extremely high level of accuracy.
Read more...
---