printer friendly version
ACTing in France
September 2013
Access Control & Identity Management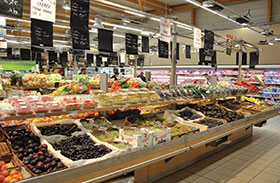 French retail chain Hyper U is using an access control solution from ACT at one of its largest stores, a 20 000-square-metre property with 200 full-time personnel at the western town of Savenay in the Loire Estuary.
The integrator is 2ACOM, which has installed the equipment in two phases after the end-user found the ACT solution to be robust, reliable and with the functionality needed to both secure the site and improve logistics by reporting on staff activity.
Hyper U wanted to control and log movement of staff around the shop floor, office block, delivery areas, car parks, lifts, stock rooms and perimeter. The client also needed a hierarchical rights management system so that staff would only access certain groups of doors associated with their job function and at appropriate times of day according to their shift. Hyper U found the flexibility they needed in ACT's door stations, door controllers, readers and ACTWin software.
The software's graphical interface is simplifying database management for Hyper U and has allowed supervisors to create 71 user groups, so promoting complete visibility of staff movement and enhancing health & safety at a store with long opening hours where there is activity 24 hours a day. While the human resources department can intervene if workers are not in the right place when they should be, the access control system also contributes to staff welfare by creating an audit trail. This ensures that workers do not become stranded in remote areas or spend excessive amounts of time in locations such as refrigeration rooms.
The door security also ensures that prospective thieves remain on the shop floor and are denied entry to areas where high-value items are stored. It should be noted that French supermarket retailers make extensive use of the concession system whereby there is a gallery of boutique suppliers of items such as smart phones and tablet computers operating under the same roof.
Areas that are commercially sensitive (e.g. cashier's office, luxury electrical goods) as well as loading bays where the presence of vehicles puts a premium on safety have a twin level of security with both keypads and proximity readers being used.
Serge Tureau is export sales manager at ACT. He said: "Hyper U can take advantage of the sophisticated card editing and printing offered by ACTWin Pro as well as the software's unlimited log events and auto-discovery of door stations and controllers on the network. Facilities managers will appreciate the ACTpro4000 door controller which offers TCP/IP networking, low bandwidth requirements and voltage monitoring.
"But at the manual level it is units such as the outdoor ACTpro 1030PM proximity reader which sits flush against a wall and is reinforced by a steel plate that will assist staff who are required to move goods in safety-critical areas, often with the use of forklift trucks."
The ACT units cover 60 doors and the equipment is working in conjunction with intruder alarms, CCTV and perimeter intrusion protection.
For more information, contact Access Control Technology (ACT), +353 1 466 2570, info@accesscontrol.ie, www.accesscontrol.ie
Further reading:
Protecting our most vulnerable
Access Control & Identity Management
In a nation grappling with the distressing rise in child kidnappings, the need for innovative solutions to protect our infants has never been more critical. South Africa finds itself in the throes of a child abduction pandemic.
Read more...
---
New generation of cyber-focused controllers
Gallagher News & Events Access Control & Identity Management Products & Solutions
The C7000 gives users an opportunity to leverage their hardware and firmware to build a platform designed to catapult their organisation into the future, with cybersecurity baked in from inception.
Read more...
---
New T&A terminal features revolutionary AI technology
Suprema News & Events Access Control & Identity Management AI & Data Analytics
Suprema has launched BioStation 2a, the world's first deep learning-based fingerprint recognition solution, providing powerful access control features and an improved ability to extract templates from low-quality fingerprints.
Read more...
---
Unlocking efficiency and convenience
OPTEX Access Control & Identity Management
The OVS-02GT vehicle detection sensor is the newest member of OPTEX's vehicle sensor range, also known as 'virtual loop', and offers reliable motion detection of cars, trucks, vans, and other motorised vehicles using microwave technology.
Read more...
---
Access to data centre secured
Suprema Access Control & Identity Management Infrastructure
GBM required a modern access control system to increase the security of its facilities in a productive environment without affecting the operation of the offices and the data centre, which are carried out 24/7/365.
Read more...
---
Enhanced security at Xanadu Nature Estate
Turnstar Systems Access Control & Identity Management Products & Solutions
Turnstar Systems recently installed two bicycle turnstiles at the 240-hectare Xanadu Nature Estate, set in the Magaliesberg, the perfect location for secure communal living catering to the lifestyle of residents.
Read more...
---
Digital identity verification checks to pass 70 billion in 2024
Access Control & Identity Management News & Events
A new study from Juniper Research has found that the number of digital identity verification checks will surpass 70 billion in 2024, growing 16% on the previous year's number of 61 billion.
Read more...
---
Reliable access management for famous film location
Paxton Access Control & Identity Management Residential Estate (Industry)
The Royal Connaught Park features a private swimming pool, health and fitness suite, outdoor tennis court and onsite parking, with over 100 residents coming and going every day.
Read more...
---
Smart opener for gates and garages
Smart Home Automation Access Control & Identity Management
The Smart Gate and Garage Opener allows consumers to control and monitor gates and garage doors that have already been fitted with automation devices via the Yale Home app on their smartphone.
Read more...
---
Mobile access to multiple locations
Suprema Access Control & Identity Management Products & Solutions
A central security network was used to link multiple sites across VPN connections to allow the Suprema CoreStations installed at various locations to talk to the remote server.
Read more...
---